Star Wine List Trade helps organising the industry – free of charge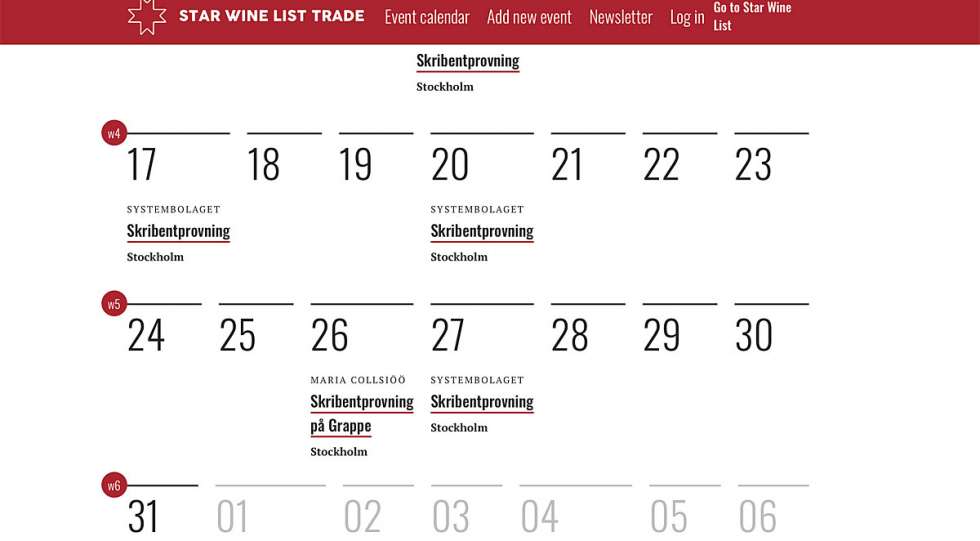 In August last year, Star Wine List launched a new website for the wine trade: Star Wine List Trade. The first version is a calendar of industry events for the Swedish wine trade that is now used and appreciated by many players in the Swedish wine industry.
"With the help of Star Wine List Trade, we now have a way to plan our tastings without double booking or colliding with other events. We can also plan tastings and visits from producers with respect to the valuable time of writers and sommeliers. The fact that the tool also can be used free of charge is something that we really appreciate," says Pauline Ekberg Åhlin, marketing director at importer Johan Lidby Vinhandel.
Star Wine List Trade, https://trade.starwinelist.com, is a new site, separate from the regular Star Wine List site and app, and it is available for both computers and smartphones.
"We know how hard it is to organise events that don't collide with others, and how difficult it is to get an overview for sommeliers, importers and media. Therefore we launched this solution where all industry players can post their events, for free," says Krister Bengtsson, Star Wine List's founder.
"We are about to launch the trade calendar in more markets, contact us at info@starwinelist.com if you are interested in having it in your market. Or if you are a trade player and would like to log in to our current calendar," says Krister Bengtsson.
Published 13-January-2022
News