Ryan Bailey: "The LA wine scene has grown rapidly"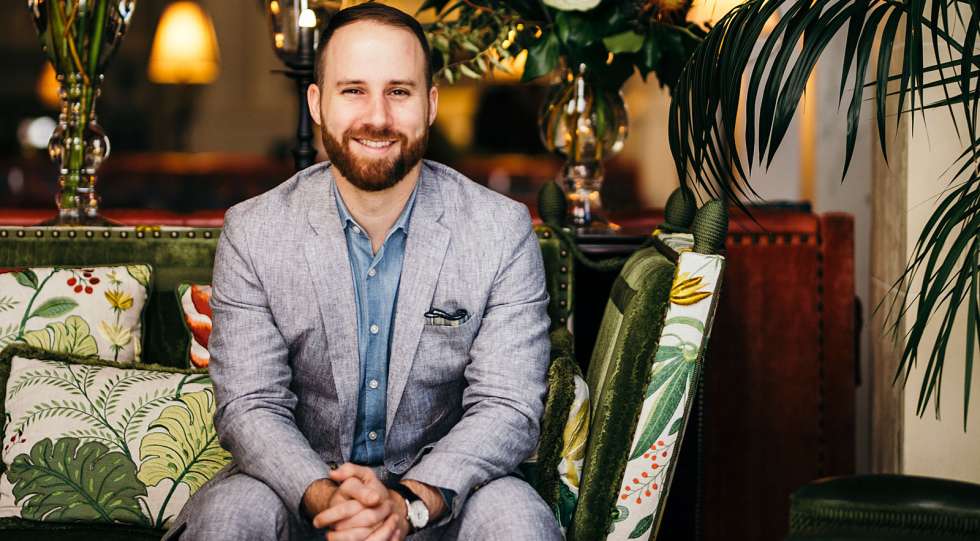 For four years Ryan Bailey, Star Wine List's LA Ambassador, was the Head Sommelier at The NoMad in New York, and two years ago he moved to Los Angeles to become the Wine Director of NoMad Los Angeles.
"The wine bar scene in LA is relatively new but is quite exciting. As the city grows, each local wine bar seems to become a meeting place for each neighborhood," he says.
Ryan Bailey was first exposed to wine while in high school and working extra at the General's Daughter back in Sonoma, California, at age 17. He began studying by reading every book he could get his hands on, and then he passed his sommelier exam at the age of 21.
"I always thought wine was a way to pay my way through college while studying Physical Therapy, but once I graduated, I realized what my passion actually was, and refocused my career. Knowing I needed a bit more of formal education, I enrolled at CIA (Culinary Institute of America, Editor's note) Greystone and began pursuing every alternative certification I knew of in sake, beer, and wine," Ryan says.
His first serious sommelier job was at the Michelin-starred The Kitchen in Sacramento, and after four years there he picked up his whole life and moved to NYC, joined the team at The NoMad and soon became Head Sommelier. Two years ago he became the Wine Director of NoMad in Los Angeles.
"I oversee a team of four sommeliers and a cellar with nearly 20,000 bottles. The 3,500 selections on our list represent not only my past in California but also my love for classic old-world wines."
Ryan describes the wine scene in LA as relatively new, but exciting.
"As the city grows, each local wine bar seems to become a meeting place for each neighborhood. Places such as Esters in Santa Monica have a local draw, yet also bring people from the hospitality industry across LA. Also, the community-focused Prado was recently purchased by the longtime manager, solidifying its place as an Echo Park watering hole. You can barely get to the door of the back patio on Monday nights at Tabula Rasa!"
There is absolutely no shortage of incredible people who have really helped build the LA wine community
What would you say about the general level of knowledge among the wine drinkers in LA?
"The diversity of drinkers is incredible, whether just getting started, or have been amassing a cellar for decades. One common thread is their enthusiasm and passion to learn more about what is in the glass. I find myself constantly bumping into guests I have taken care of at the Nomad, at more formal, industry-driven, educational experiences."
How has LA changed as a wine city over the last years?
"The LA wine scene has grown rapidly, and now encompasses the most formal to the most casual elements of wine. When I was younger and visiting LA, I remember having to go to fine dining restaurants to enjoy wine, but now even the most simple, spirit focused neighborhood bars have an exciting wine selection."
Any specific bars and people that have been particularly influential?
"There is absolutely no shortage of incredible people who have really helped build the LA wine community. Especially the abundant amount of inspiring retail shops. Jill Bernheimer at Domaine LA, Helen Johannesen at Helen's, Lou Amdur at Lou's, George Cossette, Randy Clement and April Langford at Silverlake Wines, and the Knight brothers at The Wine House. All of them are inspiring the next generation of wine drinkers with their well thought out selections and unique spaces."
"On the floor and behind the bar, both Taylor Parsons and Matthew Kaner have helped put LA on the map. Taylor made Republique a nationally know wine destination and Kaner took a huge gamble at Bar Covell with its never-permanent wine list that has changed how people think of ordering wine."
What are the most significant wine trends in LA right now?
"I don't want to say trend, because that implies it comes and goes, but outside of Montreal and Paris, I feel like Los Angeles has embraced a true Vin de Soif mentality. This has really helped to get wine on to the table instead of say cocktails or beer, and furthermore, fuelled a passionate natural wine following. Seriously there is no shortage of places to find a glass of wine, where the story behind it is more about how it was farmed and made rather than brand and packaging."
How do you think the wine scene in LA will develop in the coming years?
"To be honest, it's hard to say, but I know one thing; it's definitely growing! It wouldn't surprise me to see wine cement itself as the choice beverage for every adult in a few years in this town. That might sound crazy, but with how approachable wine has gotten over just the last year alone and how prices have mellowed out, it's totally possible to see great wine in locations you would have never thought of a ways back."
In 2018 Ryan Bailey was named Best New Sommelier by Wine & Spirits magazine, and he represented the US in the Copa de Jerez Competition in 2019.
Check out Ryan's wine list at NoMad LA through the link below.