Restaurant Grön won Sustainable Wine List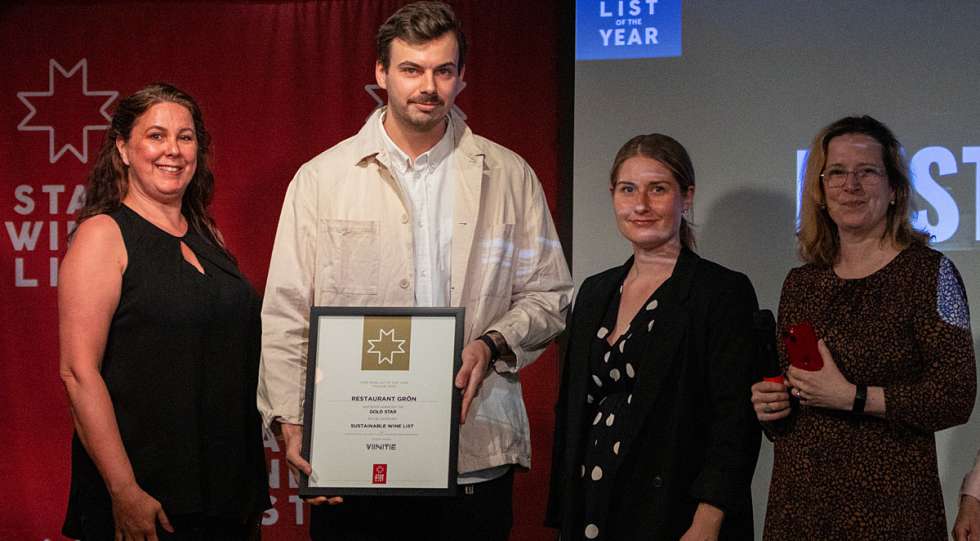 On 22 May, Star Wine celebrated the best wine lists in Finland – for the fourth time. The Gold Star in the category Sustainable Wine List, presented by Viinitie, went to Restaurant Grön in Helsinki. Restaurant Grön also won the Best Austrian Wine List category.
"The winner has a very good sustainability program. In general, sustainability has taken major steps forward in the last few years. It would be wonderful to see non- glass formats when serving wine," says jury member Terhi Oksanen-Alén about the winning wine list.
The Sustainable Wine List category evaluates both the venue's wine list and how they work sustainably at the venue.
The silver medalists were:

Basbas Kulma, Helsinki
Wino, Helsinki

The first Star Wine List celebration in Finland took place in 2020, and on 22 May it was the fourth time the competition was held in Finland.
The event was judged by a line-up of exceptional judges: Piotr Pietras MS, Julie Dupouy-Young, Jan Konetzki, and Terhi Oksanen-Alén. (Note: Terhi Oksanen-Alén has not scored venues in the Muru group due to personal connections. This is standard procedure for our awards.)
Categories and criteria
Star Wine List judges the wine lists in several categories such as the Best Sparkling Wine List and Best By the Glass List. These categories are the same across all of the awards. In addition, local categories may be added. We have commercial partners for certain categories, such as the Best Austrian Wine List, presented by Austrian Wine. The commercial partners are, however, never involved in the selections of finalists or winners - that is completely up to our independent jury panel.
The criteria for the jury are straightforward but not so simple: Vote for the most exciting wine list representing the category.
Restaurant Grön is now qualified for our International Final in June, where they will face off with the category winners from other countries and continents, such as South Africa, Australia, UK and Sweden.
Read about the terms and how Star Wine List judges the wine lists here.
Premium: Search more than 2000 wine lists in 35+ countries. Download an unlimited number of wine lists.