Meet Katie Exton at Lorne in London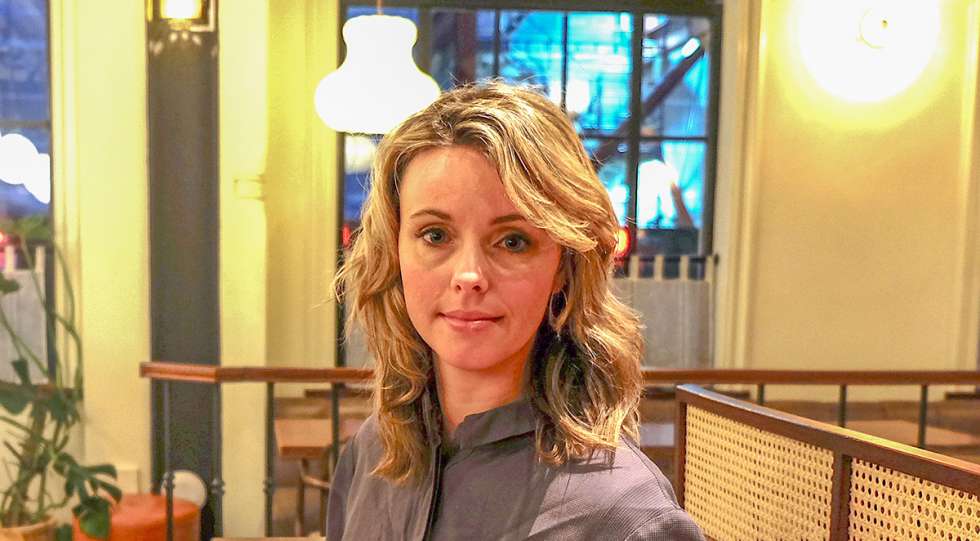 After an impressive career looking after the wine for some of London's gastronomic institutions, Katie Exton joined forces with chef Peter Hall to open Lorne in Pimlico, a hidden gem of a neighbourhood in central London.
Lorne is the kind of place every neighbourhood should have – casual-luxe vibe, delicious yet polished food and an ever-growing wine list of old and future classics, with special features to finish.
Tell us a bit about your career so far.
"After university whilst trying to decide what to with the rest of my life, I got some work experience on a vineyard in East Sussex where I met Peter Hall who owns Breaky Bottom and an interest in wine was sparked. There was this whole world I suddenly discovered that I knew nothing about, and I wanted to know more. I did more travelling via vineyard and cellar work in Canada and Australia before moving back to London and getting a job at Majestic. I lived in Clapham and had heard about Chez Bruce, I sent my CV and with no experience, the Head Sommelier Terry Threlfall, took a gamble on me. I started as a Commis Sommelier and worked up to Assistant Head Sommelier. Terry was a great mentor and it was a fantastic place to work. I then went to work at The Square with Phil Howard before returning to Chez Bruce to be Head Sommelier. After seven years, it was time to move on and I had the pleasure to work at The River Café as Head Sommelier before opening my own restaurant Lorne in February 2017. "
In a nutshell how would you describe the list at Lorne?
"It's a growing, evolving list reflecting the way the restaurant is growing and evolving. We started with 150 wines from producers I knew, so the list was highly connected to me. Now it's bigger other people contribute and we know more about what Lorne regulars drink. As the business has become more established we've also been able to invest more in fine wines and started buying some to lay down. I like to think the list is a balanced offering of wines from around the world, but in reality I think it's still more biased to my palate, which I guess would probably be described as pretty classical. I like fruit driven wines that really speak of where they come from, I like wines that charm me."
When you're writing a list from scratch where do you start?
"The first thing would be thinking about who I'm writing the list for - who is going to be drinking these wines, why are they going to be drinking from this list and what food (if any) will they will be eating alongside. Then the practicalities come in - what's the budget, how many wines should the list contain, what's storage for the wines like etc. Once I have the framework and ethos of the list in place I'll probably know a few wines, either all-time favourites or new finds I'm keen to include, then it's time to taste with suppliers and fill the gaps until I have the list drawn up. Well, the first draft at least, because it's never that simple is it! "
A lot of restaurants and bars claim to regularly change their list, whereas in reality this isn't always the case. Do you think it's important to do so?
"Well, wine is constantly changing with vintages and these days price increases, so sometimes the wine list changes itself even if you don't want it to. I think it's great to be able to change the list if you have the infrastructure to do it properly. I'd prefer a restaurant that keeps a wine list stable and the staff know the wines, everything is in stock and the list is up to date rather than try to be too ambitious, make lots of changes and not execute it well. At Lorne we regularly discuss the list, we have 250 wines so each one has to justify its position. If no one is fighting for a wine, we'll choose to de-list it, but that could take one week or three months until all the stock is sold and we can replace it with something new."
You have an extensive list of old Vin Doux Naturel wines which is something you don't see so much these days. Have they been popular?
"Yes, and this has been a great surprise to me! We listed them at very affordable prices and offered most by the glass, so I think the opportunity for guests to try something old and often from their birth vintage at under £15 a glass was appealing. "
Do you think it's important for the kitchen team to be familiar and knowledgeable about the list and wine in general, as the sommeliers often are with the food?
"I think most people still chose food first and wine second so in general sommeliers need to pair wine with food rather than vice versa meaning we need to know the food more than the chefs need to know the wine. I guess it depends on your product but where I've worked wine has always been a key part of the restaurant, so I think it's been beneficial for chefs to know and enjoy wine but not necessarily all the ins and outs of the list."
What do you think about wine pairings? Do you choose them when you dine out?
"As I get older I'm more sure of what I like and I've definitely become more risk-averse. I work five nights a week, so on the two nights I can enjoy wine, I really want to enjoy it. This means I tend to order a bottle of something I know I'll like and I'm not so fussed about whether it's a perfect pairing with my food or not. If the wine is good and the food is good, I'm happy. That said some of life's classic pairing like fish and chips with champagne or jamon with sherry are pretty outstanding."
Biggest challenges of writing and maintaining a great list in London?
"Well, wine prices and ever-increasing duty is an ongoing challenge for anyone wanting to maintain a good and affordable wine list in London. As classic regions like Burgundy become more expensive, wine lists and drinkers are exploring exciting affordable alternatives so there can often be a positive resolution to a challenge. In London and at Lorne we get such a range of guests each week and trying to cater for everyone's taste and budget is definitely a challenge."
How do you think London compares to other cities for drinking wine?
"I'm definitely biased because I live in and love London but I really think it's a great city to drink wine in and it's getting better all the time too. From the old school wine bars in the City like The Wine Library, to new generation wine bars like Noble Rot and 10 Cases via more natural wine-focused places like The Remedy, London has it all covered. Even our art galleries like Tate Modern have great wine lists."
Three things that make a good wine list?
"Good range of prices, good value and easy to read. "
Three things that make a bad wine list?
"I don't like a physically huge wine list that makes you feel like you've been shrunk, you can't see or hear your dining companions over this wall of a list, it's just anti-social. I also have a short attention span, so I don't like really long lists, I just get bored and again I don't like leaving who I'm eating with to just stare into space whilst I spend 15 minutes reading it. Finally, wine lists that aren't up to date so lots of the wines are unavailable, or with the wrong vintage or wrong price - not good."
Three favourite places to drink in London?
"10 Cases for wine, Bar Termini in Soho for an aperitif and Dukes for a martini."
Check out Lorne's wine lists through the link below!
By Ruth Spivey
Published 31-January-2019
Interview / London
Premium: Search more than 2000 wine lists in 35+ countries