Meet Annette Bruley at Midfield Wine Bar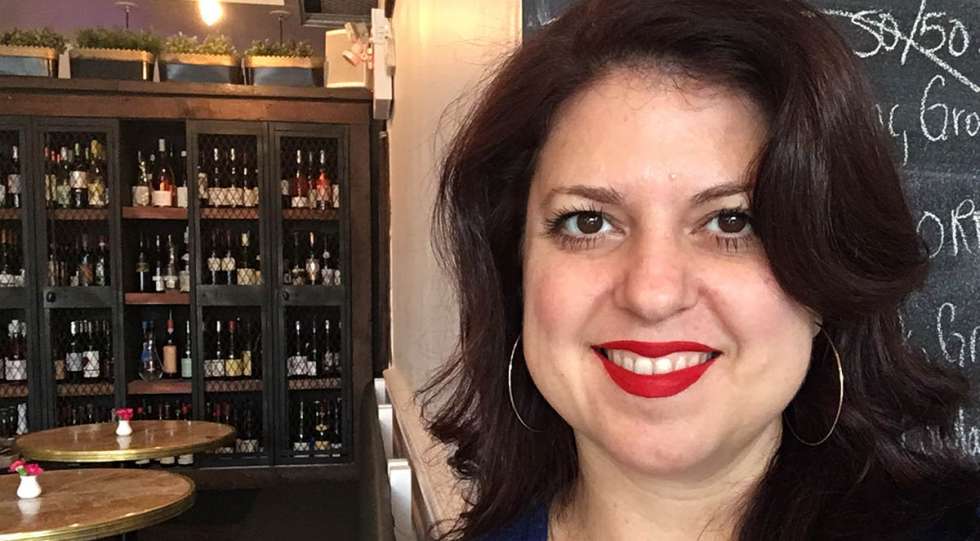 Sommelier Annette Bruley is the manager and Wine Director at Midfield Wine Bar in Toronto.
Tell us a bit about your career so far – where you're from, how you got into wine and what you're currently doing?
I'm from Thunder Bay, Ontario and moved to Toronto in 1988. I decided to enter in to hospitality after leaving the corporate graphic design industry. I worked on cruise ships for 2 years and came back to Toronto all jazzed to get into the restaurant business. I was infected with the wine bug from the first place I got a job as a hostess, at the Jamie Kennedy Wine Bar. I've been lucky to continuously work under enthusiastic Sommeliers who made the wine world very approachable and appealing. I took over my first wine list in 2013 and haven't looked back. Now I'm at Midfield Wine Bar as Manager & Wine Director and love love love playing with that list.
Do you have any general advice for your guests when it comes to choosing wine?
Have an open mind but don't drink it if you don't like it. There's nothing worse than watching someone try to choke back something they dislike just because they think they're supposed to like it.
What are your favourite wines at the moment?
Specifically, Bainbridge & Cathcart wines from the Loire…super fun and joyful wines that disappear quickly once you pop the crown cap. I also have a thing for German pinot noir and love the ones from Mosel. Lastly, any and all sparkling dry reds.
Which wines are overrated, in your view?
Really funky, dirty, flawed natural wines. I don't mind a bit of "au natural" when it's made well but bad AND expensive natural wine drives me crazy!!
How do you think your city compares to other cities for drinking wine?
I've recently been referring to Toronto as being in its teenage years but maybe we're more in our early 20's. We've grown up a bit and gone from offering an old school, very staid selection that was found everywhere around the city. Since the food scene has grown and garnered more attention in Toronto the wine scene has had a chance to blossom and it feels like it's kind of gone all over the place. The great thing about it is that everyone seems to be working towards exposing our customers to wide options and getting them excited about incorporating wine regularly into their dining practices. There's still a lot of work to do and while this latest boon has been great I feel like the general public still sees wine as being elitist and expensive and something you drink on special occasions. Wine is food, I think it's the perfect thing to drink with your food, it's not always expensive and it's something that can be approachable and fun and doesn't have to be over analysed all the time.
Name three places where you like to go out to drink in your own town?
Archive Wine Bar, Tennessee Tavern (they have fun selection but I love that one of their cheapest glasses of red is from Croatia and they have a nod to Eastern Europe that suits what they're all about), and sadly, yes, I love drinking wine at Midfield. It used to be my afterwork hangout for many years so I can't seem to break the habit.
Name three things that make a good wine list?
1. If you can't have a large selection by-the-glass then have a tight, precise and thoughtful selection…something for everyone and appropriate for the food being offered.
2. A good range in pricing that allows someone on a tight budget to still buy a bottle of great value wine but something for the wine keeners who have a little more padding in their wallets.
3.Something that's not on the list. Surprising a customer with a great bottle of wine that you pull out of "secret reserve" is always a bit of a showstopper.
Any pet hates about wine lists?
I never understand when a restaurant's wine listings are completely inappropriate for the cuisine being offered. I've had moments when I'm out dining and all I can land on is a glass of innocuous sparkling wine because everything else on the list would pulverize the food. I also dislike bad typesetting. I find it frustrating when wine listings are crammed together to the point where my eyeballs wig-out from trying to read the jumble.
What is the philosophy behind your own wine list?
Midfield has a strong focus on low-intervention wines including the classics and the list is beefed up by natural wines. We carry wine from all over the world and our price range is anywhere from very affordable to touching on some premium selections but currently there's hardly anything over $250. We avoid buying wines that are at cost, in a price range that are more likely being bought by the wine agencies' private customers and don't seem to suit the approachability that we're trying to cultivate. There is a healthy selection of sparkling wine, rosé, white, skin contact white and red on by-the-glass all the time. We encourage people to not think of wine as seasonal.
How many wines you do you list and how often do you update the list?
We offer a 50+ by-the-glass selection and have a 300+ bottle list. The BTG list is updated weekly and the bottle list is updated once a month.
When you start writing a list from scratch, where do you actually start?
Food is definitely one of the top drivers of the selection along with the establishment's agenda and customer base. Cash flow is always an issue but I think figuring out how to be resourceful is a fun challenge.
Do you have any limitations when you are building your wine list?
Biggest challenge for me so far has been storage. Two of the places I've worked (am working at) have had expansive selections in contrast to the physical size of the establishment. You don't want to jeopardize the list so you have to become very creative in how you coordinate deliveries, sell your wine and where you store your inventory. I think people become really crafty when it comes to getting what they want and keeping the integrity of their lists…which is also another fun challenge.
Do you have a favourite wine and food-pairing that guests should not miss?
Right now we have a beef flank tartare with lumpfish roe, smokey mayo and sweet pickled beech mushrooms. The lean but vibrant & peppery Clos de Tue Boeuf Vin Rouge (gamay from the Loire) is a joyous pairing…lots of complementary and enhancing flavours coming together. But we change our menus so often it might be gone by the time you get here. Luckily there's other great dishes on the menu with which to pair delicious wines!
Read more about Midfield and browse the wine list here
And read Annette Bruley's interview with guest Peter Obradovich here!
Published 24-October-2018
Interview / Toronto