Lambrusco – a bubbly for the wine lists?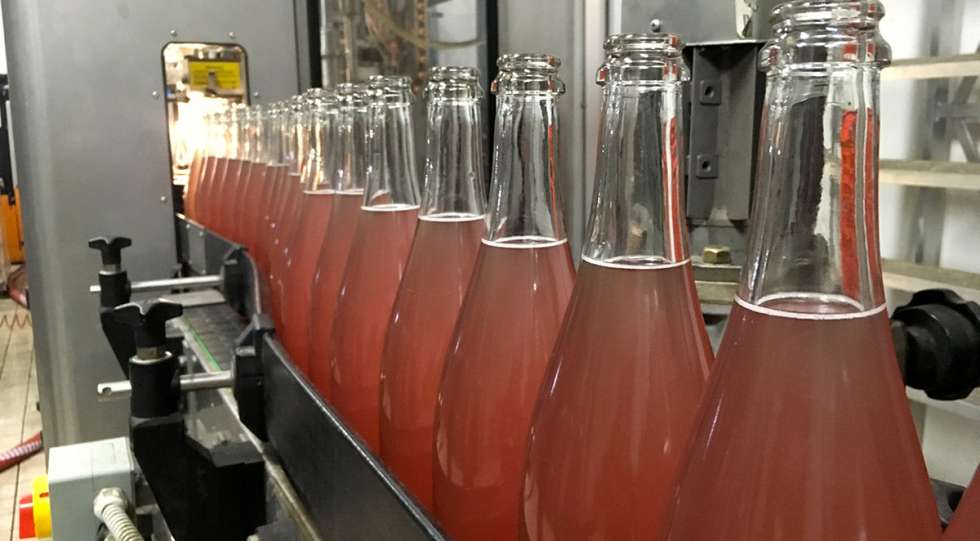 Red and sweet with forgiving bubbles? Forget the lambrusco of yesterday – now the best are vinified like Champagne. The question is how big it can get in Sweden.
"I love it!" says Rory McCoy, the manager of the little duck empire in London with the wine bars, Ducksoup, Rawduck and the newcomer Little Duck/The Picklery. They took in their first lambrusco three, four years ago and it was love at first sip.
"You can tell it's personally made and since we have a good reputation I want to help people find lambrusco. The english, like everybody else, still think that lambrusco is a sweet, cheap trash wine from the 70's."
McCoy prefers the wine with prosciutto, olives, bread and cheese, like in Italy.
Lambrusco producers still fight the myth of being a grown up alternative to Coca-Cola. But a lot has been happening the last couple of years. Growers have worked to improve quality, both in the vineyard and the cellars.
Lambrusco is not just one wine and one grape. It is rather a common denominator for a number of different styles and grapes. In a family of around 60 clones, six or seven are used more often than others.
The most elegant is Lambrusco di Sorbara, a light-coloured wine with aromatic bouquet and sky-high acidity. It is best enjoyed with the local food – charcuterie, cheese and pasta – where the acidity and bubbles cut through the fat. If you want more grit, choose Lambrusco Grasparossa di Castelvetro. Darker in fruit and colour, with a pleasant bitterness towards the end. In between you can find, among others, Lambrusco Salamino di Santa Croce, a deep red with a vinous perfume of mature grapes, but still easy to drink.
But you have to choose producers with care, because there are still bad wines out there. A few personal favourites are Paltrinieri, Camillo Donati, Quarticello, Garuti, Saetti, Denni Bini, Crocizia and Fattoria Moretti, all with an uncomplicated approach to winemaking.
Most of today's lambruscos are made with the charmat-method, with the second fermentation in tank. But there are producers that hold on to the traditions and let the carbonisation happen in the bottle (metodo ancestrale), which happens if you bottle before all sugar has fermented. The results are obvious – the bubbles are creamier and you get a different body and feel to the wine. Then you have the producers who go an extra mile and do like in Champagne – with a second fermentation in the bottle.
A few years ago, metode ancestrale was the rule; now the trend is to do a second fermentation in the bottle. At Massimo Bottura's three star restaurant Osteria Francescana in Modena, Bellei's Lambrusco di Sorbara is served as aperitif. Bellei is a producer with a hundred years experience that now vinifies all its lambrusco like champagne. The expression is more sober and complex, while keeping a fine red berry fruit as a backbone.
Keep track of the words secco and amabile too, the former means that the wine is dry, the other is at the sweeter end. But don't be afraid of a bit of residual sugar. An amabile made of Grasparsossa has its place on the table, the acidity supports the sweetness. Just make sure to drink it well chilled.
Do keep an eye on the alcohol. A real lambrusco has at least 10-11 per cent alcohol. Any lower and it could be a sugar bomb. Most lambruscos are made to be drunk young. The most likely oldest lambrusco on the market is Cantina della Volta's "DDR" 2009, a Lambrusco di Sorbara with 84 months on the lees. Traditional method and 13 per cent alcohol. The combination of fruit, maturity and freshness defends the higher price tag.
Anna Mellfors, Tranan and La Colline, tried Lambrusco the other week.
"I might get it in spring. It may not be for Tranan but well for La Colline where we have snacks, charcuterie, cheese and plates to share. It is a bit more easy going, and then lambrusco works."
But she thinks it may take some time to introduce.
"Lambrusco is something that Swedes drink abroad and then forget when they come home, a bit like German Riesling where people still think it's sweet. But there are so many styles, Camillo Donati for example has a good tannin structure."
She compares lambrusco to orange wine, a few years ago not many knew what it was and many turned up their nose at it. Today it's almost a status wine, orange in the glass shows that you know what's happening.
"Lambrusco will probably never be a big thing, but it does not have to be mainstream. It can work in places like Babette and Café Nizza, where people go who are curious and interested."
Lambrusco is at the moment not listed in many wine lists – but search in the search at the top to keep an eye out for it.
Published 01-February-2018
News / Sweden