How to win the Best Sommelier of the World in three steps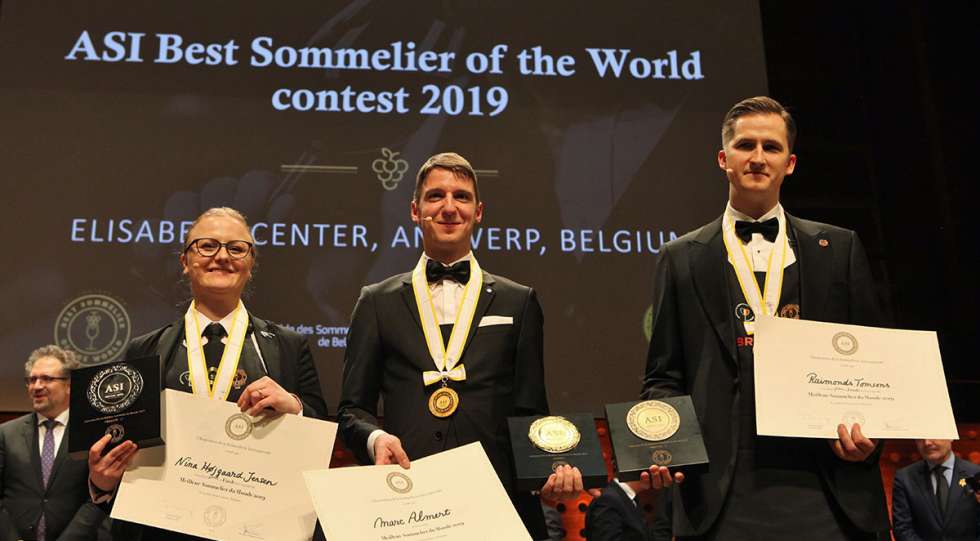 On Friday, Germany's Marc Almert won the Best Sommelier of the World 2019. Star Wine List gives you a three-step plan if you want to follow in his footsteps and win the next time. Facebook plays a big part.
Held only every three years, the stakes are huge for the competitors in the Best Sommelier of the World. This week, 66 national and continental winners from all parts of the world went to Antwerp in Belgium to compete in blind tastings, theory tests and service tasks - all designed to separate the great from the best.
In the end Marc Almert from Germany won the gold medal before Denmark's Nina Højgard Jensen and Latvia's Raimonds Tomsons. Experienced favourites and former finalists like France's David Biraud and Ireland's Julie Dupouy-Young had to leave empty-handed.
Do you feel like taking up the challenge and grabbing the gold in 2022? We have analysed this year's competition and offer three tips for winning, good luck!
1. Be young
World champion Marc Almert is 27. Second placed Nina Højgaard Jensen is 26. When all the top contenders have done their 10,000 hours of studying and training at an early age, there is no obvious edge to being more experienced.
Instead, the top two displayed a supernatural control of their nerves in the final in Antwerp this week - Marc Almert effortlessly enjoying himself on stage and charming the audience of 1100 with comments like "thank you for ordering that wine Sir, I have never tasted Vega Sicilia before" - Højgaard Jensen dealing with an ordeal at the hands of an unprepared Elisabeth Center staff that messed up her microphone and even made her drop and break glasses.
At 38, third placed Raimonds Tomsons was the senior in the final. The reigning European champion, father-of-three and one of the top favourites, afterwards admitted that the pressure had gotten to him. When he fumbled the first practical task - a fairly simple serving of aperitifs to a table of three - there was no coming back. Tomsons was graceful in defeat and told the press conference afterwards that he was not sure he would compete again.
2. Be European
The corridor talk before the final included the top sommeliers from Canada and Japan, both sending two sommeliers as they were their continent's winners. In the end, mirroring the football World Cup's Euro-centric winners in recent years, the top eight sommeliers in 2019 were all Europeans working in Europe.
On the morning after the final, a quarter-final sommelier based outside Europe had already drawn the conclusion: "I have quit my job, I am moving to London to work. I need to taste more."
3. Delete Facebook
The humble and soft-spoken Marc Almert's life has changed. For the rest of his career he will be one of the most famous sommeliers and wine professionals on the planet. A thousand wine companies and people will want to be his new best friend. But if you want to hook up with him on Facebook, it won't happen soon.
On the morning after the win, Marc, fresh and sharply dressed like a junior Zurich banker at the hotel breakfast, explained why:
"I have looked at Facebook but I thought it could interfere with my studying. I have thought about it, but when I do it I want to make it right because I am a perfectionist. Perhaps I will open an instagram account."
Premium: Search more than 2000 wine lists in 35+ countries. Download an unlimited number of wine lists.