Château Palmer releases "rocking" 2010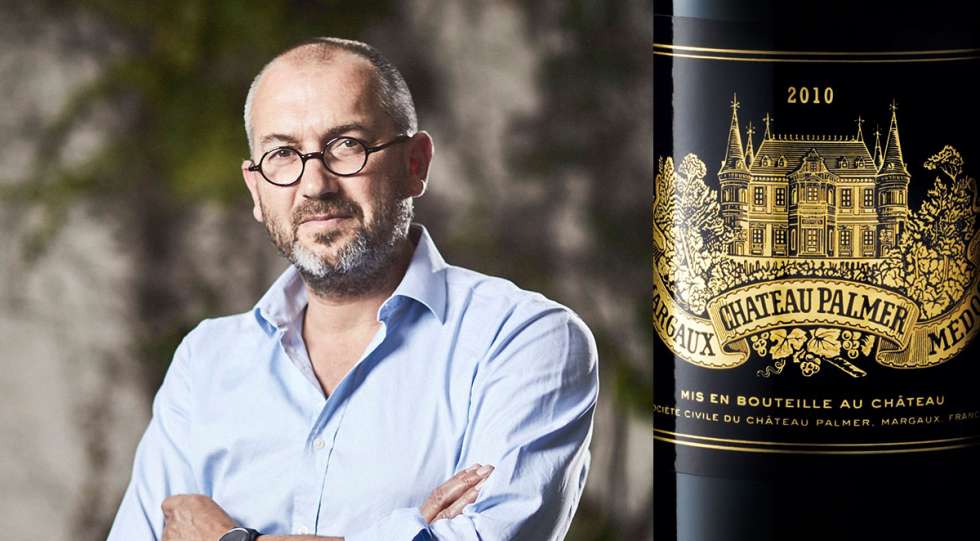 On 24 September, Château Palmer released its 2010 vintage, directly from the chateau's cellars. Star Wine List's chief Bordeaux drinker Krister Bengtsson caught up with Palmer winemaker and CEO Thomas Duroux on zoom to get the story straight.
Star Wine List partner story with Château Palmer
"Last year, I opened the 2010 to the harvesting team at the Gerbaude, the feast at the end of harvest. The 2010 had been so closed before but wow! It was rocking, incredibly open and showing all its complexity. Of course, it will keep 50 more years, but this is a first plateau, a first stage in the wine's life," says Thomas Duroux.
Thomas Duroux is not your average Bordeaux Grand Cru winemaker. Even though he is from Bordeaux, he had spent most of his career abroad, in places like Tokaj, South Africa and at Ornellaia before he was recruited to Palmer in 2004, only 34 years old.
"I am not very Bordelais. I respect its tradition, its history and the style. But I love to take risk, I love to go off the road."
How do you go off the road with a Bordeaux Grand Cru Classé?
"For example the direction to go with biodynamics, which was not very common in the classified growth world, and still isn't. We also like to make experiments. We don't only make the grand vin, we have small confidential, crazy cuvées. Some are known, others are secret and not on the market. We are in Bordeaux, we are in Margaux, we are a classified growth, we are happy to be one, but we are also happy to be free."
"In the end, all those places where I have been before have contributed to balance two things: respect and risk. Respect and adventure. The owners of Palmer are not always happy when I say I like to take risk but it's important!"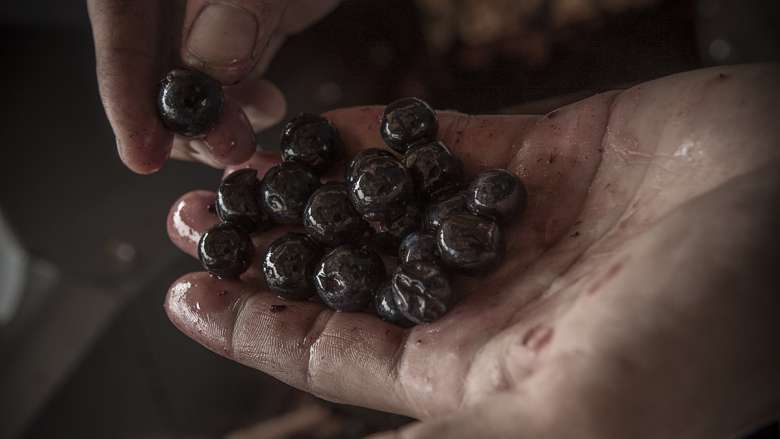 Among those experiments: In 2008-2009, half of a Merlot plot was farmed biodynamically, the other half conventionally. After that, there was no going back and today the entire estate is converted – which took some convincing of owners. (Château Palmer has 85 individual owners, mostly from the Bordeaux families Mähler-Besse and Sichel).
Today Château Palmer is a farm that supplies much of what it needs by itself; it employs 15 cows to produce manure and sheep to mow the cover crop.
When disaster struck
In an Atlantic climate like in Bordeaux, farming without chemicals can be risky. In 2018, spring brought heavy rains and the vine's nemesis: mildew.
"We lost two thirds of our crop in 2018. The owners were mad at us. But we worked hard to convince them: Rome was not built in a day. The health of a vineyard takes time. It's not only that people want organic or biodynamic wine and to protect the environment, all of that is true. But for me, the main reason is that we make wines now that are more sincere, that have a soul. I love that."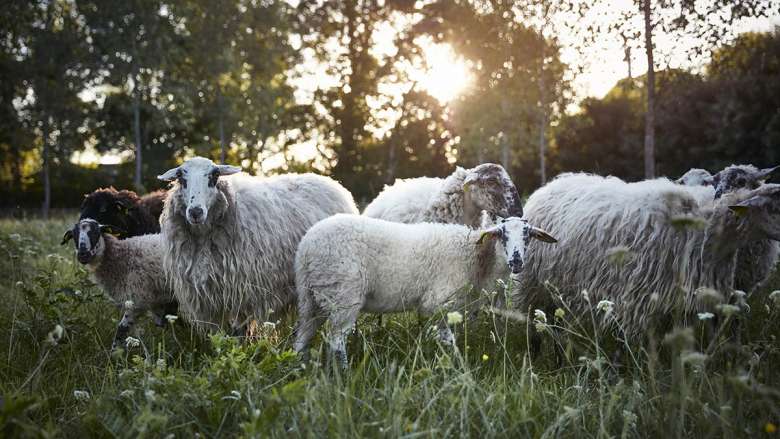 If this might lead you to think that Château Palmer is now fully on the natural or low intervention train, think again. Like in top Burgundy domaines, Duroux and his team uses biodynamic farming to harvest the best fruit possible and parcellar vinification to get the most precise expression of each terroir. And sulphur levels are definitely lower than what they used to be and even banished from the vat room. But it's not hands-off winemaking.
"Volatile acidity in a wine is not a sign of origin or terroir. It is a defect," says Duroux.
2010 - 10 years on
The decision to hold wines for 10 years is very long term, how did you arrive at that?
"The world has changed. Some people still want to buy en primeur but there are also people who have no time or no space to build a cellar and want to buy what they can enjoy now. That is why we decided to hold back a serious percentage of our production and to offer it again later," says Duroux.
"And this year, when we were locked down for three months, we had time to think about the future. You know the famous enology professor in Bordeaux, Émile Peynaud. He said that he never opened a classified growth before it was 10 years old. So, we decided that it was a good inspiration. This last Thursday of September we will release the 2010, a legendary vintage, 10 years on. And next year at the same time, we will release vintage 2011, and so on, every year."
What would be the ideal dinner with the 2010 Chateau Palmer?
"I would probably go to a little place north of Palmer, the Lion d'Or restaurant. It's a bit early but in November I would order hare, lièvre à la royale, with foie gras and truffle. Rich but precise at the same time. I think the power and sophistication of Palmer 2010 would perfectly match with it."
What do you think about Bordeaux, and the lack of it, in many restaurants today?
"I think there has not been enough attention to the main Bordeaux production which offers some of the best quality and value in the world. Like Entre-deux-Mers or the Crus Bourgeois in the Médoc. They are inexpensive, absolutely fantastic and have an incredible ability to age. Plus a huge variety of terroirs and diversity. There are wines for every taste. I hope it will change, everything has a cycle."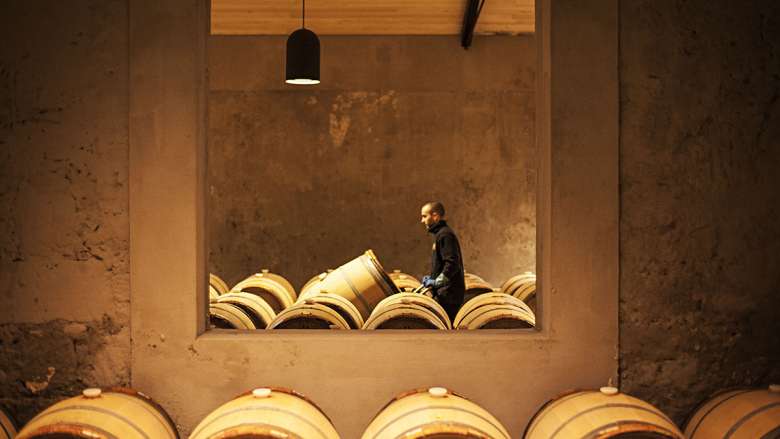 Right now, it's harvest time at Château Palmer. There was plenty of rain early in the season, but it did not cause as much problems as in 2018. Of course, 2020 has come with its own major challenge: corona. Luckily, the harvesting team has not been affected.
"To be honest this year my greatest concern has been to get the fruit in. We are halfway done."
What are your plans for the future?
"In the vineyard I think we have not arrived just yet. We keep experimenting, we plant trees in the middle of the vineyard. We have a garden, we grow our own fruit and vegetables. We have started distilling. We produce our own meat and we are crazy about food and wine. We will definitely go much further with the food and wine association."
From today, 24 September, the 2010 Château Palmer 10 years on is released through 30 négociants in Bordeaux who then distribute the wines to merchants around the world. Check with your local Bordeaux merchants and importers to get your offer.
Find Château Palmer on top wine lists in more than 25 countries with Star Wine List's search engine, search for Chateau Palmer here.
Facts: 2010 Chateau Palmer
Blend:
Merlot 54%
Cabernet Sauvignon 40%
Petit Verdot 6%
Harvested 22 September to 20 October 2010.
14.5% alcohol
Krister Bengtsson is Star Wine List's founder. He has lived in Bordeaux, travels there every year and has been named Commandeur de Bordeaux.
Premium: Search more than 2000 wine lists in 35+ countries. Download an unlimited number of wine lists.