Sunday wine guide Toronto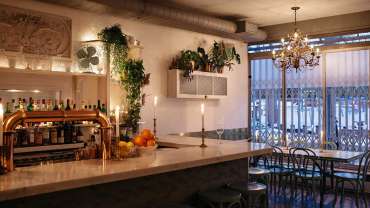 So it's Sunday and we want to go out for good wine and good food, where do we go? Perhaps you have a favourite that you always return to and want to check out new wine bars and wine restaurants? We have gathered the wine places on Star Wine List in Toronto that are open on Sundays – cheers and have a great Sunday!
Archive

Phone: +1 647-748-0909

Address: 909 Dundas St W, Toronto, ON M6J 1V9, Kanada

Archive is a casual Toronto wine bar with small plates for sharing. The wine list is constantly changing with a wide range of regions from small local Ontario producers to Jura, Morgon, Niederösterreich and Barbaresco. Wine lovers have fun and try the blind flight or periodic mystery wine challenge on Instagram.

Barberian's Steakhouse

Phone: (416) 597-0335

Address: 7 Elm St, Toronto, ON M5G 1H1

Barberian's steakhouse is a Toronto institution with charcoal grilled favourites like the Ribeye that should not be missed. The wine list is deep with top producers and vintages across Bordeaux, Rhone, Burgundy, Italy and California. If you get the chance, book the private cellar table overlooking the massive wine cellar in the restaurant.

BlueBlood Steakhouse

Phone: +1.416.353.4647

Address: 1 Austin Terrace, Toronto, ON M5R 1X8

The restaurant BlueBlood Steakhouse resides in the historic castle Casa Loma in midtown Toronto and is fast becoming a steakhouse destination in Toronto. The wine list at BlueBlood Steakhouse is extensive with a focus on France, Italy and California and several large format choices.

Edulis

Phone: +1 416-703-4222

Address: 169 Niagara St, Toronto, ON M5V 1C9

Edulis restaurant in Toronto offers 5 or 7 course meals chosen from seasonal ingredients and is served in a cozy and welcoming setting. The food is largely seafood & vegetable inspired and there is a special black & white truffle menu when truffles are in season. The wine list is old-world based with several new world (Ontario) wines shown. There is a good selection of grower Champagnes as well as Sherry/Port/Madeira to match the rotating cheese selections.

Grey Gardens

Phone: +1 647-351-1552

Address: 199 Augusta Ave, Toronto, ON M5T 2L4

Grey Gardens is a wine bar in Kensington Market in Toronto with small and medium sized dishes of international cuisine. The wine list has diverse selections from well known regions like Burgundy, Rhone and Loire to lesser known regions like Jura and Canary Islands with a focus on natural wines.

Jacobs & Co Steakhouse

Phone: +1 416-366-0200

Address: 12 Brant St, Toronto, ON M5V 2M1

Jacobs & Co is an elegantly decorated fine dining steakhouse restaurant in Toronto. In addition to the temperature controlled wine cellar, Jacobs & Co also has an in-house dry-aging room for their steaks. A very extensive and deep wine list accompanies the menu at Jacobs & Co, with everything from DRC and Bordeaux to Barolo and California. And for the very thirsty, the large-format selection on the wine list has a fair amount of 6L and 12L offerings.

La Palette

Phone: +1 416-929-4900

Address: 492 Queen St W, Toronto, ON M5V 2B2

La Palette is a casual and cozy French bistro restaurant in Toronto that serves classic dishes as a great neighborhood spot. The wine list at La Palette rotates quickly and leans toward French wines with a focus on wines by the glass as well as by the bottle.

Le Sélect Bistro

Phone: +1 416-596-6405

Address: 432 Wellington St W, Toronto, ON M5V 1E3

Toronto restaurant Le Sélect serves classic French bistro fare in a beautiful Parisian inspired interior. You can pair classic dishes like steak tartare, cassoulet and confit de canard with wines from one of the most extensive wine lists in Toronto. The wine list at Le Sélect has great depth in the selection across France from Bordeaux, Burgundy to Loire and Rhone with other great options from US, Italy and Spain.

Midfield Wine Bar & Tavern

Phone: +1 (647) 345 7005

Address: 1434 Dundas St W, Toronto, ON M6J 1Y7

Midfield is a relaxed and casual Toronto wine bar focusing on small plates, cheese and charcuterie to complement the interesting and always changing wine list. The wine list at Midfield Wine bar & tavern focuses on smaller producers ranging from classic old world regions like the Loire Valley, Burgundy, Piedmont to Burgenland and Catalonia.

Momofuku Kōjin

Phone: +1 647-253-6227

Address: 190 University Ave, Toronto, ON M5H 0A3

Kōjin is the newest addition to Momofuku Toronto. Located on the 3rd floor, Kōjin combines Colombian inspired wood fired cooking techniques with local Ontario meats and produce. The menu and offerings change daily based on freshness and availability. The Kōjin wine list has a wide range of wines from places such as Champagne and Canada to Loire and New Zealand. (What Kōjin means? It's the Japanese god of fire, the hearth and the kitchen). Corkage fee: $30 per 750 mls for the first two bottles and $50 for each subsequent bottle.

Opus Restaurant

Phone: +1 416-921-3105

Address: 37 Prince Arthur Ave, Toronto, ON M5R 1B2

Opus restaurant in Toronto resides in the affluent Yorkville neighborhood with European inspired cuisine and top notch service. Brother's Tony and Mario Amaro built a massive 52,000 bottle wine list at Opus with breadth and vintage depth across old world classics and icon wines like DRC, Petrus, Mouton Rothschild and Sassicaia.

Paris Paris

Phone: +1 416-535-5656

Address: 1161 Dundas St W, Toronto, ON M6J 1X4

The Toronto wine bar Paris Paris offers patrons to enjoy wine in a fun, unpretentious setting (Rock and Pop classics from the 1990s fill the room). The food menu has some original gems showing French/Chinese influence. The wine list at Paris Paris focuses on natural, organic and biodynamic producers with often 20+ by-the-glass selections each night.

TOCA

Phone: +1 416-572-8008

Address: 181 Wellington St W, Toronto, ON M5V 3G7

TOCA restaurant is located in Toronto's Ritz-Carlton hotel and offers Italian cuisine from local ingredients. The wine list at TOCA follows suit with a good coverage of Italian regions, styles and producers. France and Ontario are also well represented on the wine list. Don't forget to check out the Cheese Cave to find something to pair with your wine!

Via Allegro

Phone: +1 416-622-6677

Address: 1750 The Queensway, Etobicoke, ON M9C 5H5

Via Allegro Ristorante is a fine Italian dining restaurant in Etobicoke, west of Toronto. With a well-established reputation for its wine service, Via Allegro's wine list is 5,000 references strong.

360 Restaurant

Phone: +1 416-362-5411

Address: 301 Front St W, Toronto, ON M5V 2T6, Canada

360 Restaurant atop the CN Tower in Toronto is home to the world's highest wine cellar. At 351 metres, the cellar has a 9,000 bottle capacity complete with climate controls. The wine offering is coupled with a breathtaking view. Although the focus of the 360 Restaurant wine list is Canada first, there are plenty of other wine regions for wine lovers who are not afraid of heights.

Café Cancan

Phone: (647) 341-3100

Address: 89 Harbord Street, Toronto

Pink and pastels reign supreme at Harbord Street's restaurant Café Cancan in Toronto. With flamingo accents and confetti-speckled floors, the bright yet warm room has a unique, inviting ambiance. The wine list is smart and concise, leaning towards French, with a nod towards Burgundy; which pair expertly with the restaurant's take on classic French fare.