Meet the new ASI president William Wouters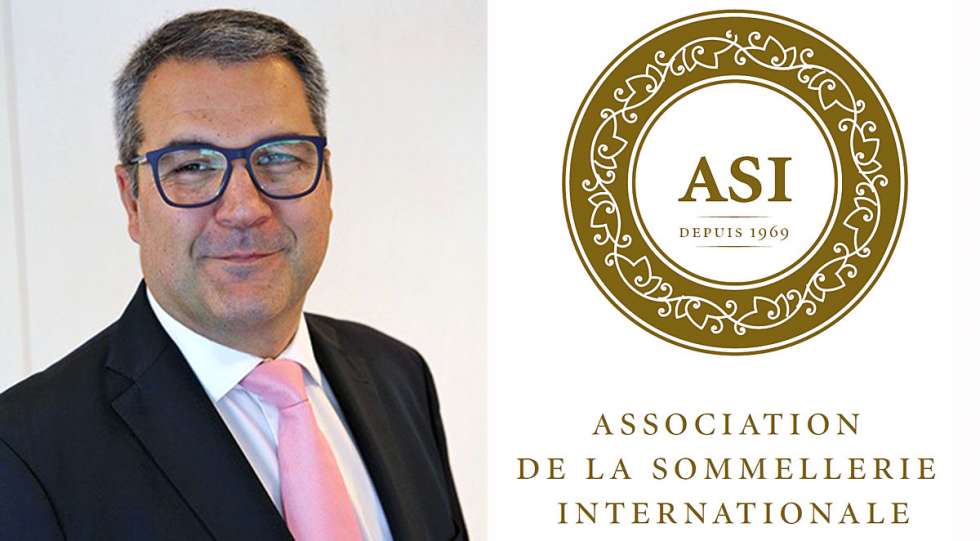 Belgian sommelier William Wouters was recently elected the new president of the International Sommelier Association (ASI). Star Wine List caught up with him for a talk about his new role and the challenges and goals ahead.
"I think maybe Einstein said it best of all: 'Life is like riding a bicycle. To keep your balance, you must keep moving'. This for me says it all. My team and I are ready to work together toward the betterment of ASI as a community and as an institution," says William Wouters.
William Wouters is a well-merited sommelier and competitor and is already well-known within the organization as a national president and ASI Board member. Together with his wife Filipa Pato he also makes wine in Bairrada, Portugal.
When it comes to his new role, he says that supporting the national associations is paramount for the organization's future success and that he looks forward to working with them both individually and collectively to raise the profile of sommellerie in all the different countries.
"It will, as always, be important for us to support them through educational tools and platforms and help them raise awareness of the art of sommellerie via our communication tools supported by our international partners. Also of importance to this administration is a focus on sharing the tools and resources we have in the more established countries with our newer members and observer nations. We were thrilled to see Zimbabwe, for example, voted in at the most recent General Assembly as an observer nation," he says.
What are the main goals for ASI in the upcoming years?
"Our goal, for it truly is our goal and not my goal, is to transition from a contest-focused association to one that places equal weight on governance, professional development and education. With a team-driven vision, the new ASI board is committed to supporting our member countries through strong and collaborative communication and supporting their sommeliers to achieve success."
"As part of the commitment, we will be focusing attention on providing our member countries' tools for the successful training of their sommeliers to a world standard. Increased emphasis will be placed on the ASI Diploma as a means of providing an international standard for sommeliers to aspire to."
Our members can work from wherever, flexibly, armed with an excellent understanding of both wine and people
What are the biggest challenges for ASI right now, in your opinion?
"The impact of COVID has been especially challenging on our sommelier community, of course. While as an organization, we are powerless against a global pandemic, we are taking this time to evaluate what it means to be a sommelier now and in the future. Our goal is to support all sommeliers whether they are working in a restaurant, as an agent, working in a retail environment or as an educator and even online wine personalities."
How do you think the profession has handled the pandemic?
"Sommeliers are tremendously resilient and adaptable. And the pandemic has clearly shown that our members can work from wherever, flexibly, armed with an excellent understanding of both wine and people. This is reflected in the ASI's ethos: sommeliers are communicators of wine, and it is our job as an organization to support them as they find the path that fits them and their lifestyle."
How would you say that the sommelier profession has changed/developed since you started your career?
"Customers today are so much more well informed than they were when I started. With the click of a button or a swipe on the screen, they have access to more information than ever about wine. Sommeliers today must continue educating themselves, staying on top of trends, regions, and issues. The modern somm needs to understand how to talk with, not at, the guest, how to educate rather than explain, and how to convince the guest to accompany him or her on the wine experience from the confines of a restaurant table… or in today's world, a Zoom screen."
Originally from Belgium, you ended up making wine in Portugal – how and when did that happen?
"Love. That's it. Met my wonderful wife. Never looked back."
What's your opinion about the Portuguese wine scene right now?
"I see tremendous movement in recent years. Certainly the classical regions – Douro, Dão, Bairrada and Lisbon – are going beyond just rethinking how they work. I'd say they're truly revolutionizing the face of Portuguese wine. The most amazing part is how much room for growth there is; I can think of 30 to 40 wineries whose winemaking has made leaps and bounds but which aren't even in export, yet, at all."
What are the most interesting wine regions at the moment, for you personally?
"Honestly, I'm open to everything. For me, focusing too strongly on current favourites can make you lose perspective. What matters is that the wines express a true sense of place and character. That helps us professionally as well because it makes it easier to understand and appreciate where each wine can best fit into your menu, list or portfolio."
Premium: Search more than 2000 wine lists in 35+ countries. Download an unlimited number of wine lists.