Somm Annette Bruley meets guest Peter Obradovich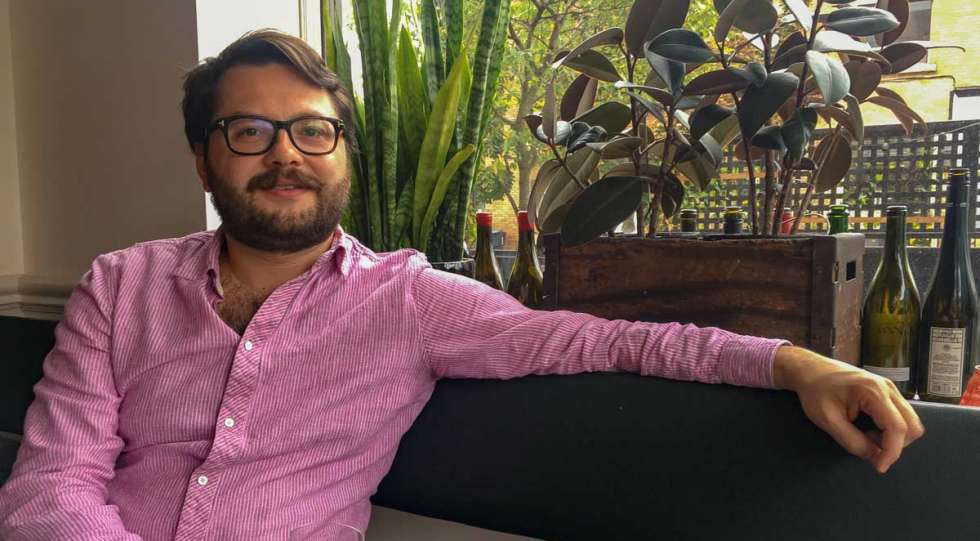 In a new series, we let Star Wine List sommeliers interview their guests about their wine experiences and what they look for when going out. First out, Annette Bruley interviews Peter Obradovich in Toronto:
Wine lover Peter Obradovich is the Director of Operations for a self storage company.
What is your impression of the Toronto wine scene?
It has come a long way in a short period of time. I first started getting into it when I was in university about 15 years ago and at that time it was still what you describe as more old school, geared more to fine dining and big wines. It took us a little while to catch up to other trends that are now more commonplace, with lighter wines, removing a lot of the stuffiness from the whole experience, and also just proper wine service. I remember it would be common to get a glass of red wine that had been sitting on a counter underneath hot light, and sort of warm and weird.
How often do you dine out in a month?
Probably three or four times. It kind of varies month to month and even week to week. If there are special events being held where you can sit down with a winemaker I always make time for that and other special wine events.
Does a restaurant's wine list impact your decision when deciding where to dine out?
100%. If there's a restaurant I want to try I go on their website. It's pretty easy to look at a list and say, "Oh, yeah, this is just LCBO general list stuff." I don't have high hopes for that restaurant on the whole because they're not putting enough effort into their wine list.
Similarly, I'll see a lot of bottles that are popular and it's the same thing everyone's carrying, which can be good but I do find that sometimes restaurants fall into that trap and they're not picking wines that actually pair well with their cuisine. I usually try to find somewhere that is going to have some bottles I don't recognize because that tells me they've done a deep dive into what pairs well with their food and that hopefully I will be pleasantly surprised.
What are your expectations of wine service in a restaurant/bar?
I would say that in an ideal world, even if they don't have a sommelier, I would like to talk to somebody who knows a little bit about wine, hopefully, more than I do, especially in a dining environment and they can recommend something that will pair well with food.
How important is it to you to pair wine with your food?
It's something I've actually started to put a lot more focus on recently. I think I used to be focussed on the wine and not understanding how it would play into the food and now that I'm spending more time on it I want to make sure that even if it's not a perfect pairing, I'm not going to have a food that's going to totally ruin the taste of the wine, like a meat dish with a sweet fruit reduction or something that's going to make your wine taste like nothing. Similarly, if I'm having a high fat food, I enjoy pairing those with high acid wines as I think most people do and also similarly, I've recently been pairing a lot of Asian foods with Rieslings since they can stand up to it.
Most memorable meal with wine?
Definitely the Sunday service at Edulis who do only one seating so you're not rushed. It's a multi course meal, and their bottles are all half price. They have a tremendous wine list that has a lot of thought put into it. They are also very good at helping you pick something that will pair well with your whole meal so obviously you're not going to be switching glass to glass every course. There's just something about that whole experience when it's cold outside and the sun's pouring in through the window and you're in your happy place on a Sunday afternoon.
What would your perfect night out in Toronto involve?
Starting out with some sort of cultural activity, whether that be just popping into a local art gallery or going to a museum or something like that, then meeting up with two to six people total for dinner somewhere and having a really outstanding meal. Then of course popping over to a wine bar for a nightcap and, you know, depending on how your night's going, perhaps more than one night cap, and making sure you're exposed to new things, and you can help expose some other people to new things and have a good time.
Published 20-October-2018
Interview / Toronto