Sekt from Austria - the three-tier quality pyramid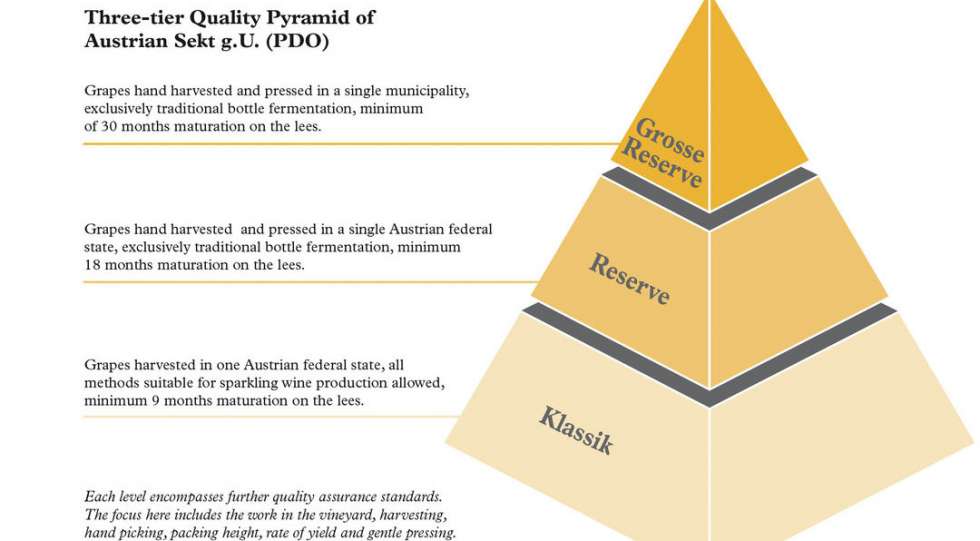 The three-tier system in America is perhaps more known but do you know about the three-tier quality pyramid for Austrian sparkling wine? The top category is on par with the highest standards for Champagne and Franciacorta, and in certain aspects even surpasses them.
(This post is sponsored by Austrian Wine)
2015 will go down in the Sekt history as a milestone for the Austrian Sekt sector. Under the leadership of the Austrian Sekt Committee, founded just in 2013, and with the energetic participation of the Sekt producers, the structure of a three-tier quality pyramid for Austrian Sekt was been established and in 2016, it was made into law by means of a decree by the Agricultural Minister.
In principle, the regulation applies that "Austrian Sekt with Protected Designation of Origin" ("Österreichischer Sekt mit geschützter Ursprungsbezeichnung") may be offered on the market exclusively in connexion with the supplemental terms "Klassik", "Reserve" or "Grosse Reserve" (Grande Reserve), under the conditions laid down by decree. In this, the product designation will be composed of the category designation ("Qualitätsschaumwein" or "Sekt"), the name of the protected designation of origin (federal state and – where applicable – municipality or district thereof) and the term "Protected Designation of Origin" ("geschützte Ursprungsbezeichnung"). The term "Hauersekt" (tirage, disgorgement and expedition performed by the grape grower) may additionally be used.
The first level "Klassik" establishes stricter minimum requirements for Austrian sparkling wine of quality. Above all, it requires that the grapes must have their origins in one of Austria's federal states, as well as stipulating a minimum period of nine months spent on the lees independant of the production process.
As of the second level "Reserve", Sekt must be produced according to the traditional method of bottle fermentation. The grapes and base wines must be grown and vinified in one of Austria's federal states, and a maturation period of at least eighteen months on the lees is prescribed.
In the top category of bottle-fermented Sekt "Grosse Reserve", the grapes may be harvested only from a single winegrowing community (such as Poysdorf, Langenlois, Gols or Gamlitz), whereby vineyard site designations become possible as well. After a minimum of thirty months bottle-fermentation and maturing on the lees, Sekt in this category may first be released to the market three years after the harvest.
The individual levels incorporate additional standards focussed upon ensuring quality, including viticultural practices, hand harvesting, level of packing, size of yield and gentle pressing.
Published 06-December-2018
Sponsored
Premium: Search more than 2000 wine lists in 35+ countries. Download an unlimited number of wine lists.