Penny Setti: "The skill of a sommelier lies in making it simple"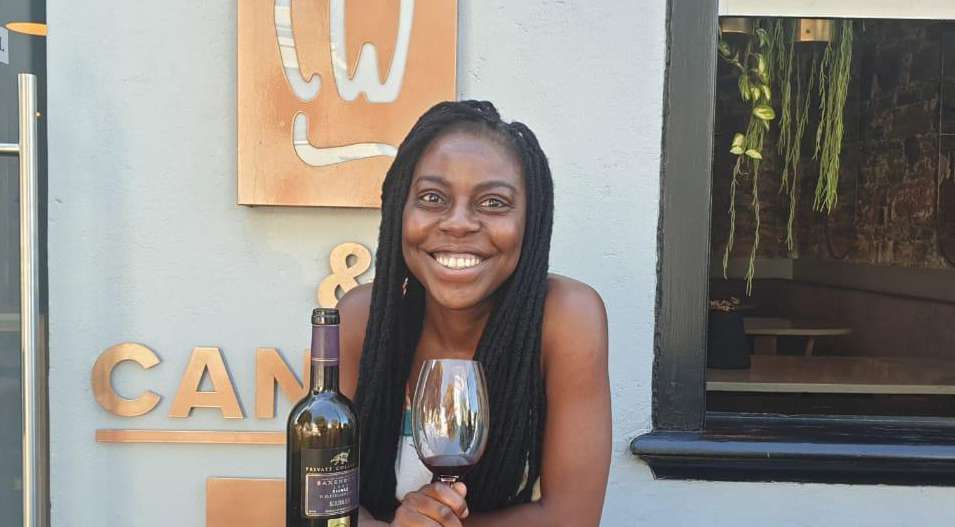 It's yet another in a series of uncharacteristically cool windy days in what has become a very strange vintage in the Cape Winelands when I sit down with Penelope Setti, or "Penny" as she's usually called, of Chefs Warehouse and a glass of Dominique Piron's Beaujolais Villages.
"I want to create a customer experience without technical jargon. Few people care whether their Pinot came from a BK5 or some Dijon clone. The skill of a sommelier lies in making it simple", she says.
She cuts a very unique picture. All smiles, tight braids. Shorts. Flip flops. One partially severed toe, compliments of an old run-in with a falling sculpture. Twirling a glass of wine in one hand while the other is bent at almost ninety degrees in plastic cast running halfway up her forearm.
What is with the cast?
"Oh, this? This is from trying to catch a falling beer glass, severing the ligaments in my hand and refusing to go to the hospital until the ligaments had retracted into my forearm and then having to get surgery to put the whole thing back together again."
"I'm basically a baby giraffe. Lots of legs. A baby giraffe with nine lives."
Penny arrived in South Africa from Zambia in 1999. She went to high-school and then university, where she studied politics. Then, straight out of school, her first job was as a waitress at a high-end Italian restaurant named La Galleria.
"I would say that is where I got my first bug for wine. I clearly remember my boss there said 'you can't sell something that you don't know', and then she passed me this glass of Terra Del Capo. After that I was just hooked," says Penny.
South Africa's wine scene is evolving so fast it's hard to keep up
Eventually, she moved to Cape Town, got a job at Restaurant Sevruga, and started going to a lot of tastings in the Winelands.
"Then I started working at Savoy Cabbage in Cape Town, where I was before I came to Chefs Warehouse. The manager there was really really into wine, and that's where I just started giving in to it."
So, there was a recent discussion that trended on social media arguing that South Africa lacked the wine culture for formally trained sommeliers. What's your perspective on the matter?
"Perhaps not in the traditional sense of the word. I don't think there is much room left in the market for white tablecloths, mature Bordeaux's and tastevin's. But South Africa's wine scene is evolving so fast it's hard to keep up. There are so many new, often small scale, winemakers expanding and fragmenting the industry, often pushing the boundaries of convention, that now more than ever we need sommeliers to translate that to consumers."
"But it's still a young industry, and I still find myself struggling to explain to people, like my mom, what it is that I do for a living."
We know what it is that you do for a living, but how would you say you do it differently? What sets you apart?
"I don't know if I'd do it differently, but I'm certainly all about personal experience. I don't really like set pairing menus for instance. I want to find out what my guests like and build an experience around them. Like if I went to a restaurant and saw a Sauvignon Blanc on the pairing menu, I would be reluctant to try it. It might work perfectly with the dish, but it's still Sauvignon. Side note: Spioenkop 1900 Sauvignon Blanc from Elgin is one of the few exceptions to that reluctance."
What's your advice then for young sommeliers coming into the industry.
"First, you got to make peace with the long hours and hard work. And that you're not going to become a sommelier overnight, it takes a lot of hard work. Like everything in life, sommellerie is about practice. I'm lucky enough to work in a restaurant with scores of spices and ingredients. Smell. Taste. Remember. Try various combinations. And study."
Where do you drink wine in Cape Town?
"Of course, I would say Chefs Warehouse. I mean it's my list, haha. But if I'm not there, I'll probably go to Publik. It's the kind of place a lot of industry people hang out and because we know each other there's always something interesting open to taste."
What's your wine of the month? What has you interested at the moment?
"I'm not a hipster, but I like wines with a story. With a bit of heritage. Something more than just flirty, fruity wines. Like the Wightman & Sons Chenin Blanc."
Check out Chefs Warehouse's wine list below.