IFTM Educational Restaurant wins Special Jury Prize 2020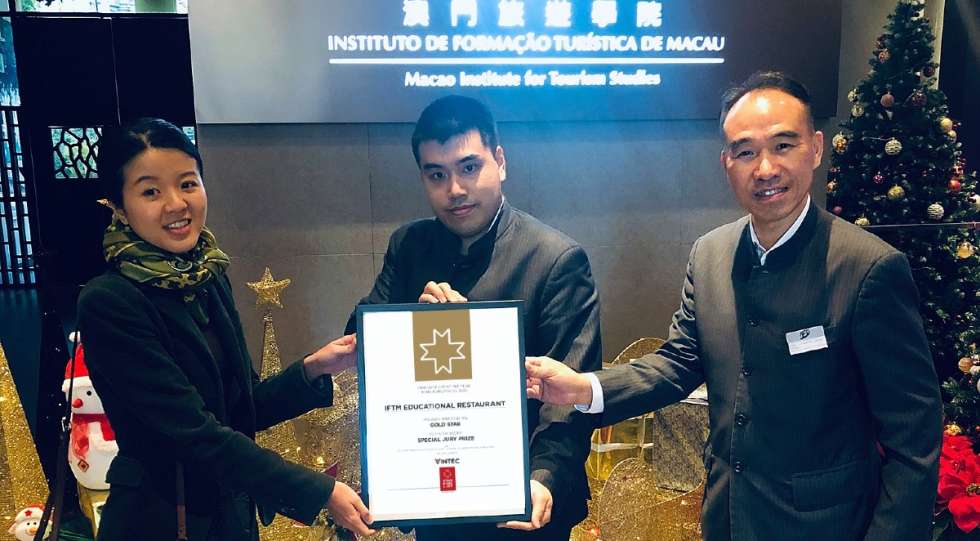 IFTM Educational Restaurant in Macau was awarded the Special Jury Prize at this years' Star Wine List of the Year Hong Kong & Macau. The category, presented by Vintec, recognizes a venue that has done something extra with their wine list, such as the direction, the style or the value.
"The Jury Awards IFTM Educational Restaurant for it's broad and deep selection of Portuguese wines. Not an easy job to make a balanced list of old and new half a world away. Admirable and fun!" says jury member Arvid Rosengren, ASI Best Sommelier of the World 2016, about the winning venue.
The two silver medalists in this category are Buenos Aires Polo Club, Hong Kong and L'Atelier de Joël Robuchon, Hong Kong.
How does it feel to win this prize?
"Thank you very much for Star Wine List giving this prize to us. Our F&B team would also like to thank you for the support from our school management. We hope there are more people to recognize Portuguese wines and feel surprised with the quality and value of Portuguese wines," says Tommy Chan at the IFTM Educational Restaurant.
What's the philosophy behind your winning wine list?
"Portuguese wines have a long history and a strong presence in the local wine scene. For many years, people have been coming to Macao searching for the exquisiteness of the Portuguese food and of course their wines. IFTM Educational Restaurant compiled a list of the best Portugal has to offer and it's not only a wine list but a guide and a knowledge fountain...Being a school, our aim is to quench people's thirst for knowledge, and that is exactly what we wanted to achieve with this list. We hope this list helps shed some light regarding Portuguese wines and that by the end of your experience you will be equipped with more knowledge and a better understanding of Portuguese wines."
What's your opinion about the wine scene in Hong Kong and Macau in general?
"French, Italian wine, and even Australian wine are always on the list in a lot of restaurants in Hong Kong and Macau, since they are more easy to sell and more well known for guests. For some minority selections, a lot of guests are not familiar with it and restaurant staffs may need to spend more time to explain to guest while they are trying to sell. I can see that somehow a lot of restaurants, especially hotels in Macau, are trying to keeping less or even not putting too much of these wines on their list, since those wines may become slow moving items which may not be effective on cash flow, especially during this COVID-19 pandemic period."
In addition to the honour and diplomas, IFTM Educational Restaurant is invited to the Global Final of Star Wine List of the Year in Vienna, May 28, 2021.
Published 08-December-2020
News / Macau
Premium: Search more than 2000 wine lists in 35+ countries. Download an unlimited number of wine lists.