Daniel Stojcic – from novice to sommelier champion in two years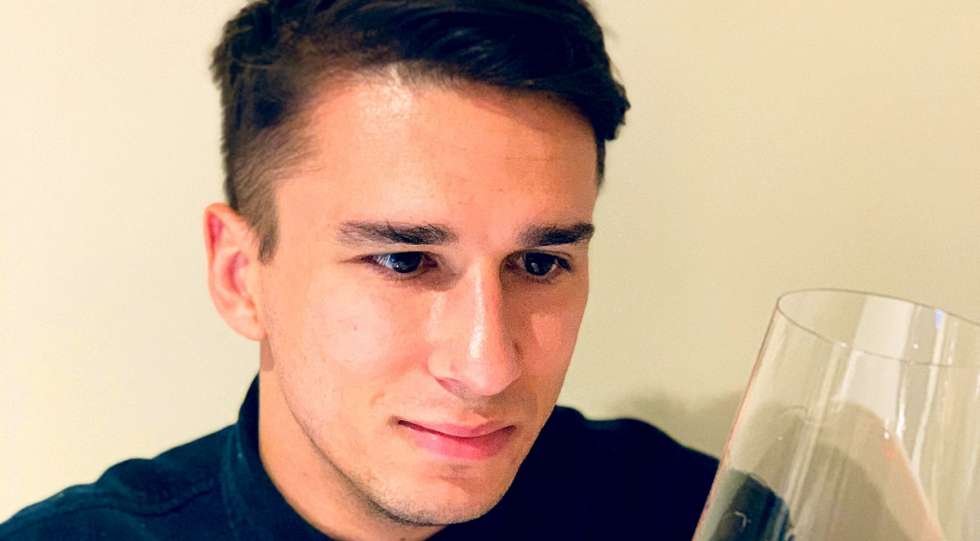 Back in 2018, Daniel Stojcic hardly ever drank wine, even less knew anything about it. Two years later he won Ireland's Best Sommelier, and today he is a sought-after sommelier at restaurant Noble just outside of Belfast. And Star Wine List has been (at least a small) part of the journey.
"I found the Star Wine List app and started to check out wine lists at top restaurants all over the world to get familiar with names and pricings. And I use it a lot in my daily work too," says Daniel.
Going from zero wine knowledge to becoming a top sommelier in less than two years? To enter your first competition ever and ending up the national champion? I guess many of us thought of ourselves as ambitious, but we've got nothing on Daniel Stojcic.
"Well, you know, I'm 34 years old. I felt I needed to catch up. I needed to go fast to level up with other sommeliers my age," he says.
Born and raised in Vienna and working in the tech industry, he left Austria in 2012 to travel the world. His first stop was England, and then a job came up in Belfast in Northern Ireland, where he settled down for a few years. Then, in 2018, he was offered a temporary job at three-star restaurant Geranium in Copenhagen. There he worked alongside director Søren Ledet and the rest of the team, both in-between service and during service.
"I wanted to test myself and put my knowledge to the test, and I wanted to try and work with people, hospitality and experiences, which was very different from what I was doing in tech. I presented wines as well as dishes and took guests on tours through the restaurant towards the end of their experience. I really loved working at Geranium, and I was actually offered a steady job there, but I wanted to go back to Belfast," Daniel says.
The months at Geranium opened his eyes for the world of wine – and that is also where his dream of becoming a sommelier came to life.
"Up until that point, I never had really drunk wine and had almost no wine knowledge at all. But the months at Geranium opened my eyes to wine and made me believe that it was possible to become a sommelier. I remember drinking a white Rully at Geranium, and I felt I enjoyed it and understood it, for the first time in my life."
Daniel started studying at the Court of Master Sommeliers and was preparing for his Certified Sommelier Exams – but due to the pandemic, the exam was cancelled and postponed several times. During the same time, he read about the Ireland's Best Sommelier competition. He entered the competition – and won.
I found the Star Wine List app and started to check out wine lists at top restaurants worldwide to get familiar with names and pricings
Today he's the sommelier at Noble, a small bistro-style restaurant 15 minutes outside of Belfast that, while writing this article, got awarded the 2021 Best Service & Welcome Award in the UK and Ireland by the Michelin Guide.
"It's a huge honour for our small front of house team in a small market in Northern Ireland, and also another personal achievement for myself that I can be very proud of. Life is good!" says Daniel about the award.
I know you used Star Wine List quite a lot when studying, can you tell me about that?
"Yes, I discovered Star Wine List early last year when I was preparing for my exams. I watched many previous competitions and noticed that there were quite often an element where you should find errors in wine lists. So I found the Star Wine List app and started to check out wine lists at top restaurants worldwide to get familiar with names and pricings, building producer profiles – and looking for spelling errors and stuff. And in the Ireland's Best Sommelier competition we actually got a wine list with errors, and I had ten out of twelve answers correct which was an essential part for me winning."
Do you use it in your daily work as well?
"Yes, I use it a lot. For inspiration, and to see what wines to have, how to use them, and price them. Star Wine List is the only wine app I use regularly, and it's also useful because you can follow trends in different parts of the world. I love to watch wine lists; I can sit for hours!"
Now it's time for the first-ever Star Wine List of the Year UK, what's your view on a competition like this?
"Having an award like the Star Wine list of the Year UK is great, and I'm sure it's greatly appreciated by the people who create and work with these lists. In times like these, it will certainly also be a moral boost for our industry as we're currently in lockdown and not able to do what we love to do!"
What is the Belfast wine- and food scene like?
"Things have been happening very fast here only in the eight years that I have been here. But we don't have a single wine bar in a real sense, since you need to have a pure drinks license for that, which is very expensive. So we mainly have restaurants that also sell wine, but there are plenty of good ones."
What's next for you in your career?
"Right now, Belfast is in lockdown, and we don't know for how long. Of course, that is very frustrating, but we're doing takeaway at Noble, and it's going very well, so we can't complain. Apart from that, I have my next exam in May, at least I hope for that. And my main goal is to prepare for the Best Sommelier of Europe later this year. It's hard to predict what will happen and what to do, but at least you can dream."
Daniel's three favourite wine spots in Belfast:
• The Muddlers Club "A Michelin one-star restaurant that only does tasting menus. It's a fine dining place but in a rough style, very rock'n'roll with skulls and Harley Davidson stuff. When it comes to wine, they do a regular wine pairing menu and a prestige one. It's a great spot to go to, and it's always interesting to see what they do."
• The Crafty Vintner "A wine merchant that just opened in December last year. They have around 1,000 references, and also some Enomatic wine dispensers. It's definitely a place to look for when the lockdown is over."
• The Merchant Hotel "By far the best hotel in Belfast. Very strong at cocktails, but they also have a great wine list and excellent service. They used to have live jazz during the weekends. It's a place I personally really liked to go to."
Premium: Search more than 1900 wine lists in 35+ countries