Hotel de Goudfazant
Restaurant
Amsterdam, Netherlands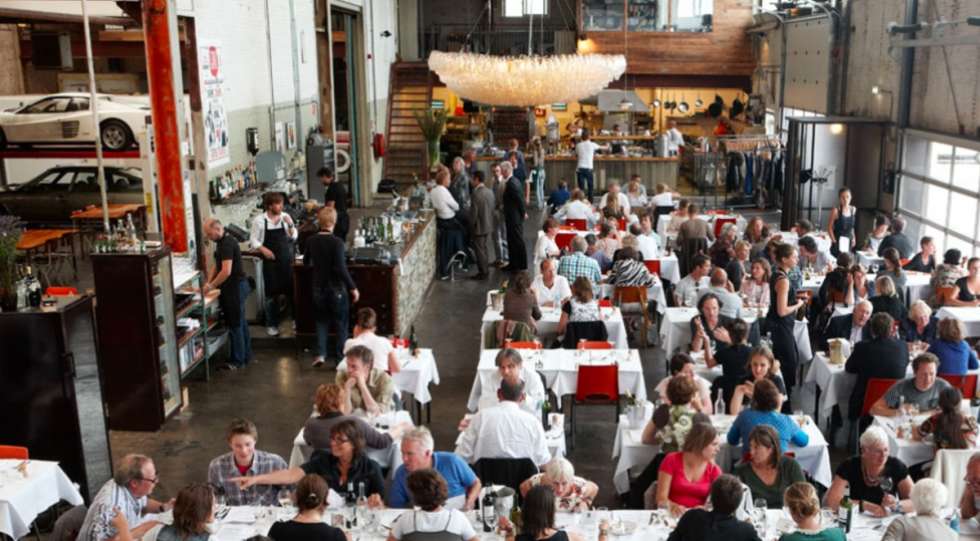 About Hotel de Goudfazant
​It's not a hotel, and there's no golden pheasant. But it is one of Amsterdam's truly unique dining experiences. Housed in a vast warehouse (partly filled with vintage cars), in a gritty industrial part of Amsterdam North, Goudfazant regularly serves 300 customers on a Saturday night. If that sounds crazy, it is – but what's even crazier is the excellent quality of the food and the efficiency of the service, given this massive scale.
The cuisine is based around French bistro classics, with a daily changing menu that can be configured as a set or a la carte. The team who run Goudfazant are uncompromising; Nothing is done by the book, all ingredients and drinks are carefully and independently sourced, and the wine list was quietly converted to being 100% natural in 2014 – with no fanfare and no press announcement.
There's a real buzz about eating here – and it's always busy. Goudfazant is, of course, the perfect space for large groups and festivities, with so much space on offer. The possibility to sit out by the waterfront with your after-dinner glass (or aperitif) adds to the attraction. Don't come if you're looking for intimacy and cosiness: do come to eat and drink very well and marvel at the logistics of running a high-class restaurant of this size.
About the Hotel de Goudfazant Wine List
The all-natural list focuses mainly on France, with occasional detours to other parts of Europe. Your menu will claim a dozen or so wines by the glass, but it's always worth asking staff as there are often additional off-list choices.
It is fabled that there's a full list of wines somewhere, but your best bet is to accost anyone who comes to your table and register an interest. The cellar includes fine offerings from the likes of Domaine Gressac, Mosse and Yann Durieux. The staff knows​ what they're doing with the wine, and you'll be able to taste by-the-glass offerings before committing.
Wine Tasting at Hotel de Goudfazant
The restaurant frequently hosts consumer and trade tastings in its back room. Check posters or online information.
Great for