26 wine spots in Stockholm that are open Monday nights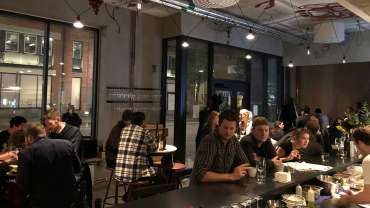 A glass of great wine on a Monday night is the best way to kick off the week – but where in Stockholm should you go? Here's the guide to the wine bars and wine restaurants in the ​Swedish capital that are open Mondays!
Phone: +46 8 578 828 60

Address: Brunkebergstorg 6, Stockholm

Blanche & Hierta is the wine bar at hotel At Six in central Stockholm. The wine bar shares its ambitious wine list with the restaurant at the hotel: At Six Dining. Blanche & Hierta is open seven days a week and you can also get breakfast and coffee here. In summer there is an outdoor terrace to take a break in the middle of the city center.

Phone: +46 8-20 85 81

Address: Nybrogatan 15, Stockholm

Brasserie Astoria in central Stockholm is the latest Frantzén group address and it is an impressive opening. A venue to behold, and the same goes for the crowd. The cuisine is respectful of the classics and the service is at the level you would expect for a top venue like this. Sommelier Kim Pettersson (previously at Djuret and Sturehof) has built a solid wine book from the start, including an impressive number of back vintages and a few natural producers as well. He will need to keep up the smart buying, considering the flow of great wine during Astoria's opening.

Phone: +46 8 661 25 62

Address: Linnégatan 69, Stockholm

Brasserie Elverket has turned 20 and is located next to Dramaten's theatre stage by the same name. The brasserie serves lunch and dinner and once a month, a ton of oysters in the lively bar. Elverket's wine list has both classics like Bordeaux but also newer producers of natural wines.

Phone: +46 8 509 022 24

Address: Roslagsgatan 6, Stockholm

Best Short List of the Year Sweden 2020

As the name implies, the Stockholm restaurant and wine bar Babette is a feast in itself. A place for lively discussions over delicious small plates and some of Stockholm's most tasty pizzas. But don't miss the other plates from the chef's menu. In summer the crowd spills out onto a small terrace.

Phone: +46 8 660 03 18

Address: Storgatan 12, Stockholm

French and Swedish classics are expertly cooked in a French way by Roger Lindberg and Ingela Persson at this cosy little Östermalm bistro. The ambiance is a mix between Paris and Östermalm and you'll see many regulars.

Phone: +46 8 640 99 50

Address: Åsögatan 171, Stockholm

Best Short List of the Year Sweden 2020

Café Nizza is one of Stockholm neighbourhood Södermalm's hottest restaurants and wine bars, serving a menu of delicious food with French and Italian influences. The bistro also has a bar and from the wine cellar flows mostly natural wines with one or two classical cousins in the mix. Café Nizza's wine list is mostly sourced from the Old World's wine regions. Since 2021, Cave Nizza is its little sibling wine bar next door.

Phone: +46 8 673 74 00

Address: Tulegatan 7, Stockholm

German Wine List of the Year Sweden, presented by Wines of Germany 2019

Farang takes guests on a journey to Southeast Asian cuisines. The restaurant is located in an old factory hall and the rustic backdrop contrasts with the warm atmosphere. The restaurant is decidedly high end - great food. The bar in the front is cool and serves simpler dishes. For a fine dining lunch experience, this is one of my main choices in Stockholm.

Phone: +46 8 610 66 00

Address: Karlbergsvägen 14, Stockholm

Grus Grus is the wine bar opened by Tranan just next door on Odenplan in Stockholm's Vasastan neighbourhood. Snacks, small dishes and larger dishes to share are served in the cosy space. The Grus Grus wine list offers mostly wines from small-scale producers, often with an organic and natural focus. But be sure to check out the shelves in the wine fridge, where unlisted treasures from the Tranan "secret" wine cellar can be found at very attractive prices.

Address: Magnus Ladulåsgatan 8D, Stockholm

Gemla Vinbar & Studio is the new creation from well-known Stockholm natural wine sommelier Anna Mellfos. It is opened in a furniture factory space and oozes style. Simple wine friendly dishes are served as well as cheese and charcuteries.

Phone: +46 8 679 35 00

Address: Södra Blasieholmshamnen 8, Stockholm

South African Wine List Of The Year Sweden, presented by Nederburg 2020

The grandest hotel in the city also boasts one of the grandest wine cellars, including a bottle from the year the hotel opened, 1874. The wine list is massive and accessible in the hotel's classic Veranda restaurant and Cadier bar, as well as in the Mathias Dahlgren restaurants Rutabaga and Matbaren.

Phone: +46 8 22 00 21

Address: Hornsbruksgatan 24, Stockholm

The corner place in the hip Hornstull part of Södermalm is part of entertainment fixture Tjoget. A great benefit here, besides the knowledgeable staff: Late night opening hours.

Phone: +46 8 519 421 53

Address: Humlegårdsgatan 14, Stockholm

Hillenberg mixes Scandinavian and Southern European influences in a large but cosy setting close to Stureplan in central Stockholm.

Phone: +46 8 121 321 60

Address: Sturegatan 15a, Stockholm

What can we say? The food is amazing, which is a given with chef Stefan Ekengren. Great ambiance, service and with a concise and modern wine list. Sweden, Kazakhstan and USA mingle with producers from more classical wine regions, but not necessarily made in classical styles. Lots of good things to choose from, at decent price points.

Phone: +46 8 21 53 10

Address: Tunnelgatan 1A, Stockholm

Mancini is one of Stockholm's most classical Italian restaurants. White tablecloths, top fresh ingredients and plenty of Italian ambiance (don't miss the seafood risotto). Open for lunch too which is a bonus.

Phone: +46 8-444 48 88

Address: Reimersholmsgatan 5, Stockholm

Take a seat on a wooden chair, listen to some vinyls and enjoy a nice glass of wine. The wine bar at Reimersholme Hotel offers a relaxed atmosphere. Don't expect a written wine list, instead you have to trust Alvaro Ovalles knowledge about low-intervention wines, where quality comes before quantity. The selections changes weekly to keep regulars happy. Thanks to a collaboration with one of the best importers of natural wine in Scandinavia, the wine selection is a mix between internationally well-known producers like La Sorga and up and coming stars like Remi Pujol. Finally, Stockholm has a pl...

Phone: +46 8 545 035 60

Address: Birger Jarlsgatan 4, Stockholm

The restaurant has been named Riche since 1893 and carries the Swedish gastronomic legacy from master chef Tore Wretman. The cuisine is classically Swedish and the wine list boasts over 900 listings with the majority coming from classic French districts. The US, Italy and Germany are also represented.

Phone: +46 8 10 16 96

Address: Tegnérgatan 41, Stockholm

When winemakers arrive in Stockholm, it's not rare to find them here. The hearty French-inspired classical bistro cuisine is very wine-friendly and with its generous opening-hours all days of the week - it's a sure bet if other places are closed. But even though it's been open for ever (or more than 30 years), it can still get packed - reservations are wise. The restaurateurs are Johan Jureskog and Klas Ljungquist - the team behind AG.

Phone: +46 8 440 57 30

Address: Stureplan 2, Stockholm

Rhône Wine List of the Year Sweden, presented by Paul Jaboulet 2020

Sturehof, founded in 1897, is one of Stockholm's most classical brasseries and it has become an institution, serving fish and seafood 365 days per year to a mixed crowd in the heart of Stockholm. The wine list is classical with a special love for Burgundy.

Phone: +46 76 609 86 07

Address: Tegnérgatan 4, Stockholm

Low intervention / Natural Wine List Of The Year Sweden 2020

Savant is a wine bar in Stockholm that changes profile during the day. From early morning it's a café and later in the day it turns into a neighbourhood wine bar with charcuteries and some small dishes. Everything is built around sustainability and the wines are in the natural style. Photos: Dan Lepp, Sandra Backlund

Phone: +46 8 88 16 58

Address: Nybrogatan 19, Stockholm

The name might take you to New York and you will indeed find a Reuben sandwich on the menu, next to snacks and dishes with a more Swedish and European heritage. The team behind Schmaltz also runs Babette and Café Nizza, which is a guarantee for a laid back and professional service.

Phone: +46 8 663 33 55

Address: Nybrogatan 42, Stockholm

Original Wine List of the Year Sweden 2019

Spanjorskan (The Spanish lady) has opened with warm colours and tasty Spanish food at Östermalm. The wine list is packed with Spanish wines, for which we are grateful. The wine list boasts a good selection of Sherries, several of them by the glass. But also wines from a large number of other Spanish wine regions, such as Aragon, Rioja, Ribera del Duero, Galicia, Bierzo and the islands of Majorca and the Canary islands.

Phone: +46 8 14 60 00

Address: Rosenborgsgatan 20, Solna

The Winery Hotel is the impressive modern urban winery and hotel that has opened just north of Stockholm. It houses a winery, hotel, bar, restaurant and conference rooms. The wine list has wines from the hotel as well as Italian producer Terreno which shares the same owner, but also everything from natural wines to mature Bordeaux. In the bar a number of wines are available by the glass and in oenomatic machines. These wines rotate often and are not listed.

Phone: +46 8 519 422 77

Address: Brahegatan 4, Stockholm

South African Wine List Of The Year Sweden, presented by Nederburg 2020

Tyge & Sessil is a busy wine café or wine bar near Stureplan in central Stockholm but with a more casual manner than many of the other local hangouts in this rather posh part of town. Delicious small dishes are delivered by the little kitchen. Tyge & Sessil is one of the foremost natural wine places in Stockholm.

Phone: +46 8 678 00 01

Address: Götgatan 29, Stockholm

At the heights of Götgatan, Södermalm's artery, The Hills has taken over a grand space with large windows and a small terrace that lends itself to people watching. Here you will find classic French-Swedish bistro dishes made à la maison. The herring and salmon shares the menu with entrecôte and paté campagne. (The latter's mustard is worth a return visit on its own)

Phone: +46 8 21 61 69

Address: Birger Jarlsgatan 29, Stockholm

Vassa Eggen is a classic large scale Steakhouse a stone's throw from Stureplan in central Stockholm. The ambiance is lively with a big bar and a great location. With more than 20 years of service, Vassa Eggen is a classic in Stockholm.

Phone: +46 76 556 65 26

Address: Roslagsgatan 15, Stockholm

Vineriet or The winery has opened a few steps down from Roslagsgatan and it's a cosy environment. The small kitchen turns out some classic tasty dishes, cheese and charcuterie. Founder Antoni Daoud has loaded the wine list to the brim with an impressive range, including a lot of mature stuff. Lovers of Piedmont and Tuscany are especially well taken care of.