16 top wine bars in Sydney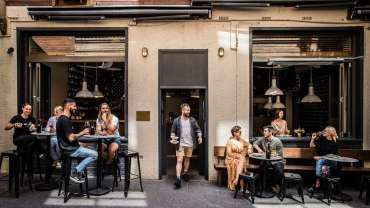 Great wine bars in Sydney.
In partnership with Vintec

Vintec is a global leading specialist in premium climate-controlled wine cabinets and cellars.

Read more about Vintec

Phone: +61 2 9360 3310

Address: 10 William Street, Paddington

Nestled in an unassuming hole in the wall along a typical picturesque Paddington row, this little wine bar is nothing short of a Sydney institution. It's been a firm favourite since doors swung open in 2011, and though the offering has evolved, it's remained uncompromising and confident. The menu starts with tricked up takes on classic antipasti and bar snacks, and continues the semi-Italian theme with their famed plays on pasta. You can sit up at the small bar and spy into the kitchen, or grab one of the tables by the door or the corridor-esque dining room upstairs. Either way, you'll proba...

Phone: +61 2 9437 3700

Address: 69 Willoughby Road, Crows Nest

Annata is a small restaurant and bar located on the high street of Crow's Nest in Sydney. Part cocktail bar, part wine bar, part restaurant, this little venue has a lot to offer and brings inner city buzz to the North Shore. It's a long, narrow, split-level space, with bare brick walls and dark wooden floors. Wine racked against the walls lends a semi cellar aesthetic, red leather banquettes add warmth, and a splashy marble bar below adds a sense of grandeur. Large arched windows look out onto the street side terrace, and offer a spot to perch and people watch. Regulars prop themselves up at...

Phone: +61 2 8214 0505

Address: 27 O'Connell Street, Sydney

Bentley Restaurant and Wine Bar has found a new lease of life since moving into the grand dining room of the Radisson Blu Hotel in the heart of Sydney's city. With the move, it's evolved from neighbourhood wine bar to CBD heavy hitter, oozing style and confidence. The restaurant is very much it's own space within the hotel – black steel scaffolding lends a moody yet polished warehouse vibe that's worlds away from the hotel lobby. The offering is multifaceted; you can sit at the bar and sample from a creative snacks menu, or opt for the main dining room and choose between à la carte or degusta...

Phone: +61 2 9362 4680

Address: 7 Bay Street, Double Bay

Bibo is a wine bar and restaurant in Sydney, New South Wales. It is recommended by GT WINE Magazine for our guide to great wine bars and wine restaurants in Australia. GT WINE Magazine Guide

Phone: +61 2 9550 6196

Address: 131 King Street, Newtown

​The second incarnation of Cafe Paci has found a home on King Street in the eclectic inner western suburb of Newtown. Part wine bar, part restaurant, this lively, bustling little venue is well placed in this quirky, offbeat suburb, and often has queues snaking down the street. The more formal, tasting menu of the former Paci is gone, replaced with a very on-trend wine bar offering of down-sized sharing dishes. Dark molasses rye bread, potato dumplings with XO sauce, and devilled eggs with trout roe are just a few of the current staples, by Finnish-born chef & owner Pasi Petanen. The dishes w...

Phone: +61 2 9326 9745

Address: 5/29 Orwell Street, Potts Point

​Down a little lane, off a little square, tucked away from the hustle & bustle of where Kings Cross meets Potts Point, sits a small wine bar called Dear Sainte Eloise. Sister to Darlinghurst's hole-in-the-wall Love Tilly Devine, DSE is the slightly more dressed up sibling. Tables spill out onto the laneway and bar seating runs along the large open windows, so there's many a spot to settle in and watch the world go by. And go by it does, as this little corner of Sydney is particularly eclectic. If people-watching isn't your thing, hop up at the copper bar and chat with whoever happens to be b...

Phone: +61 2 9114 7303

Address: 2 Ash Street, Sydney

Tucked away in the city centre, Felix Bistro and Bar occupies a substantial space on the small alleyway of Ash street. Felix is as much a nod to the brasseries of Paris as it is to the New York homage of those very same institutions – merging the kitsch, old-worldly aesthetics of the former with the hedonistic hustle and bustle of the latter. Dark wooden french doors open onto an orderly terrace, scattered with picturesque Parisian rattan chairs, and shaded by those red awnings so typical of the genre. Seafood is a must here, with a dedicated oyster shucker putting together endless iced-down...

Phone: +61 2 9232 2767

Address: 111 Elizabeth Street, Sydney

After years spent working as a sommelier in London, Stuart Knox returned to open Fix, an eclectic wine bar and restaurant on Elizabeth Street in Sydney's business district, just opposite St James station. In a decidedly corporate market, where tastes tend towards the conservative, Fix offers individuality and personality. The offering is split between the wine bar, lower streetside, and the restaurant, tucked upstairs. There's a high bar for solo drinkers and chatters, and small tables for twos and threes looking for a slightly more intimate experience. A terrace offers views of Hyde Park an...

Phone: +61 2 9326 9297

Address: 91 Crown Lane, Darlinghurst

In 2010, the cramped store room of long-standing wine retailer Best Cellars was lovingly refurbished into a hole-in-the-wall wine bar by ex-fine dining Sommelier Matt Swieboda. The laneway space is small – just 40 patrons, and that's a squeeze – and unpretentious, with a short, well-executed list of bar snacks to support the superb wine offering. In a city long hostile to wine bar culture, the comment "it's like a bar you'd find in Melbourne" was considered high praise. Perhaps as a snub to those inevitable comparisons, Love Tilly was named for famous Sydney folk figure, the notorious crime b...

Phone: +61 2 9797 8118

Address: 2 Moonbie Street, Summer Hill

Set in the old heritage-listed post office, One Penny Red is a small neighbourhood restaurant and bar in Sydney's inner western suburb of Summer Hill. There's a bright and airy dining room with big bay windows on the ground floor, and a smaller, cosier bar upstairs. The dining room below opens on to a sunlit terrace, facing out on to a picturesque little corner of this quiet suburb. The contemporary Australian food offering is share-friendly and runs from house-made charcuterie to crowd-pleasers like potato gnocchi or wood-roasted chicken. This is casual dining with well-informed​ service and...

Phone: +61 2 8964 3062

Address: 1 Angel Place, Sydney

This little wine & pasta bar is nestled into the side of the City Recital Hall at Angel Place in the city centre. A couple of seats along the footpath alert the passerby to its presence, as does the din of happy diners, but otherwise it's very discrete. Sleek and modern with concrete walls, dark leather banquettes and brass details, this venue is the perfect spot for quick lunches, long aperitifs, and pre/post theatre dinners. With just 38 seats, including those around the bar at the heart of the space, it's intimate and buzzy. From the team behind L​ove Tilly Devine and Dear Sainte Eloise,...

Phone: +61 9232 0881

Address: 15 Bligh Street, Sydney

Down a winding stairwell, this Belle Epoque inspired restaurant transports the diner from Bligh street in the city's centre to post-war Paris. Dining here feels like theatre. The scene is set with red velvet drapes and dark wood panelling, and a baby grand piano takes centre stage. Lit by the soft glow of candles dripping wax down old Burgundy bottles, and manned by a brigade of bow-tied​ waiters, the ambience here feels bizarrely authentic. Not a surprise really, considering that it's a Swillhouse offering; the team behind other themed venues in Sydney like Shady Pines Saloon, Baxter's Bar...

Phone: +61 402 611 783

Address: 530 King Street, Newtown

She Loves You is a wine bar in Sydney, New South Wales. It is recommended by GT WINE Magazine for our guide to great wine bars and wine restaurants in Australia. GT WINE Magazine Guide

Phone: +61 2 9368 7484

Address: 18 Oxford Street, Woollahra

​Opening in 2010, The Wine Library gained institution status almost immediately and has maintained that despite a changing of the guard. Tucked away at the Woollahra end of Oxford Street, this wine bar pleases locals with an expansive wine program and ever-changing menu. A bright and airy bar area greets the visitor on arrival, oft crowded and convivial. Grab a seat at the window and a glass of wine from one of the 60 on pour, and engage in a bit of good old fashioned people watching. There is a more spacious and civilized dining room out the back for those looking to partake in the short...

Phone: +61 406 991 384

Address: 236 Marrickville Road, Marrickville

Located in Marrickville, this little wine bar is right at home in Sydney's inner west. With bric-a-brac furniture, wall murals and a whole lot of quirky personality, brothers Jules and Dom have created an offbeat, bluesy, neighbourhood gem of a venue. Named for the third brother, Nick, who refused to be involved in the project at all and then later popped up for cameo shifts when short of cash, this is a bar that refuses to take itself too seriously. Set in an old cake shop with concrete floors and living room vibes, this venue nails the brief; wine service with professionalism, but withou...

Phone: +61 2 9212 7766

Address: entrance on, 50 Holt Street, Gladstone Street, Surry Hills

Wyno X Bodega, once separate venues now one, has been a favourite of Surry Hills locals for many years – and with good reason. Team Porteño, who are behind this vibrantly decorated, pint-sized delight, never fail to deliver stupendous Spanish/ Latin flavours, interesting wines and heaps of fun. The communal table seats up to 27 at a time, with well- versed staff delivering tapas dishes and wines from a list that traverses the globe. Guarantee there will be bottles you've never come across before. A Brothers Marami Rkatsiteli from the Czech Republic, anyone? The adjoining bottle shop runs the l...