Postcard from the harvest in Loire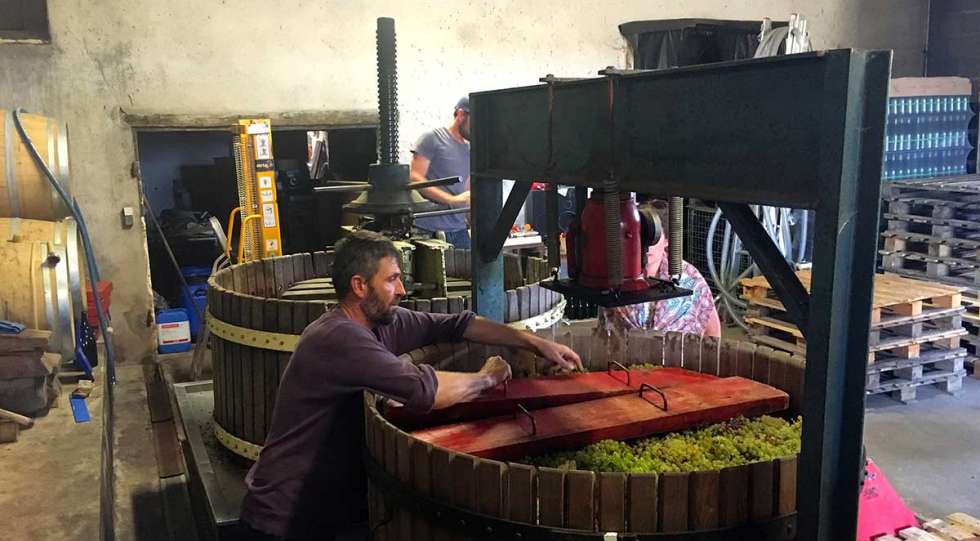 My fingers are stiff from the morning cold and sticky from grape juice. It is a challenge to bend the branches to find the umbilical cord to the reluctant Chenin Blanc.
There it is! A quick stab with the secateurs and the sweet juice starts flowing again. Two hours later, the morning coffee in a plastic mug tastes like vintage Champagne.
It is harvest time in Anjou in the Loire, 300 km southwest of Paris. And its another year when the weather turned on the growers. Last year the frost took the grapes. This year; the mildew. Usually, the rains come in spring. This year, in July.
The choice to make natural wine means that you are not willing to use all the treatments available and a tough year will take its toll.
"Some are losing half of their harvest," says Damiel Bureau who has three hectares spread around Beaulieu-sur-Layon.
His problem is another: he has too many grapes. With a cellar powered by human muscle – three basket presses – he does not have the capacity to take home his entire crop this year so he sells to friends who need more.
At 7:45 the harvest team meat up in Damien's kitchen. His wife makes something that is supposed to be coffee. But it gives warmth. At lunch, the sun heats the vineyard to 20 degrees centigrade, but in the mornings it is cold.
We jump on to the white truck like a herd of cattle and ten minutes later we enter the fields with a bucket in one hand and the murder weapon in the other. Damien loads plastic crates on his narrow tractor and enters between two rows. We split up and start the slaughter.
Chenin Blanc may be an angel in the glass, but it is a devil in the vineyard. The bunches like to grow two on each stem and gnarls around the branches, sometimes upwards, sometimes to the side, sometimes in between.
Every morning we get harvesting instructions. Sometimes we remove the botrytis grapes. Sometimes we let the violet, moldy bunches hang for a later harvest to make sweet wine. But this year Damien will not make any moelleux, the stocks are full as fewer people want residual sweetness in their wines. So the noble rot has to go, grape by grape. Soon the hands are sticky.
Another day we harvest everything. The heat has dried the grapes to raisins on one side. On the other, they are green and hard. But the combination with nicely developed fruit in the middle makes it perfect for pétillant naturel, pét-nat. Damien produces a thirst quencher that we down as lunch apéro each day.
"I would like to make it dry but it won't complete fermentation in my cellar so it gets to keep a bit residual sweetness. I don't want to force or influence the wine."
Four hours later a four-course lunch awaits us at Damien's parents. To sit down at a set table in dirty clothes is a wonderful feeling. Two hours later its' back to work and let the juices run along the arms. As we go home, Damien still has hours of work. Basket presses don't manage themselves. They have to be tightened manually and the crates with must emptied. At 1.30 AM Damien goes to bed.
Damien Bureau shares the harvest team with Cédric Garreu a few miles down the road. They each have around three hectares and the cooperation makes sense; there is work each which makes it easier to recruit. They also grow different grapes which mature at different times. When the sunny weather remained, Cédric decided to hold off on harvesting cabernet sauvignon and cabernet franc.
"They are not quite ready despite the sugar levels. When it gets too hot the maturation halts. The development is blocked," Cédric says and crosses his wrists.
The mildew did not hit Cédric too hard so he has enough grapes to try new things.
"I will let some Chenin Blanc macerate to make an orange wine. It's the first time so I don't know for how long, perhaps 10-12 days. Some time has to be the first."
In neighboring Rochefort-sur-Loire there is not only a church, butcher and bakery. There is also a candy store of a wine bar: Canon Canon. Late one night, Jérôme Saurigny sits outside. Jérôme is a specialist at no-sulphur Chenin Blanc, particularly sweet ones.
"This year I will make no sweet wine at all. I must have lost 50 percent of my grapes to mildew. For me, the harvest ended today."
Published 21-October-2018
News