Vasastan's wine bars & restaurants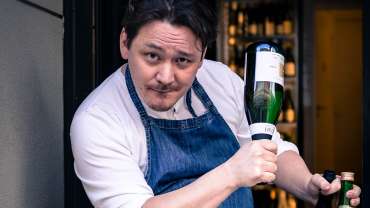 Vasastan in Stockholm is brimming with great bistros, fine diners and wine spots. Here are our top recommendations to wine bars and wine restaurants, in random order.
Tranan

Phone: +46 8 527 281 00

Address: Karlbergsvägen 14, 113 27 Stockholm

Tranan is a classic brasserie at Odenplan that is frequented by locals and tourists looking for genuine "husman" cuisine. But it is also a very interesting wine address. Tranan has 12000 bottles of wine in its cellar and is unique in that many of them are not on the list. Every now and then the Bordeaux, Burgundy and Italian treasures are brought up on the list.

Combo Vinbaren

Phone: +46 8 522 256 52

Address: Odengatan 52, 113 51 Stockholm

A wine bar in the Vasastan area of Stockholm with classic dishes, warm atmosphere, and a very wide range of wines on the wine list. And with a twist – the wines are all served by the glass and not by the bottle (most of the time).

Adam/Albin

Phone: +46 8 411 55 35

Address: Rådmansgatan 16, 114 25 Stockholm

Adam/Albin is one of Stockholm's hottest foodie-addresses. To go with the top notch-food and the great service, the wine list gives good Burgundy choices from village to Grand Cru along with a selection of wines from Bordeaux, California, Italy, Germany, Spain and Champagne.

Agrikultur

Phone: +46 8 15 02 02

Address: Roslagsgatan 43, 113 54 Stockholm

The wood-fired oven is like a warm heart in the cosy little restaurant on Roslagsgatan. Magical dishes are brought from it by chefs Filip Fastén and Joel Åhlin. The wine list covers around 125 wines with a nice balance between France, Germany, Italy and Spain.

Babette

Phone: +46 8 509 022 24

Address: Roslagsgatan 6, 113 55 Stockholm

As the name implies, the Stockholm restaurant and wine bar Babette is a feast in itself. A place for lively discussions over delicious small plates and tasty pizzas. As for the wine, the staff is very knowledgeable. The list is headlined by France and Italy with spices from many other winemaking countries. Check out the daily menu in the instagram feed below.

Farang

Phone: +46 8 673 74 00

Address: Tulegatan 7, 113 53 Stockholm

Farang takes guests on a journey to Southeast Asian cuisines. The restaurant is located in an old factory hall and the rustic backdrop contrasts with the warm atmosphere. The wine list at Farang is particularly impressive for an Asian restaurant with many classical districts represented. The focus is on Riesling and Pinot Noir.

Portal

Phone: +46 8 30 11 01

Address: Sankt Eriksplan 1, 113 20 Stockholm

The Swedish Chef of the Year 2012, Klas Lindberg, opened his dream bistro in 2016 and the accolades did not wait. The food is Swedish and superb and the wine list is superb and from all over. Since August 2018, there is also a separate bar and dining room across the portal(!) from the restaurant.

Rolfs Kök

Phone: +46 8 10 16 96

Address: Tegnérgatan 41, 111 61 Stockholm

When winemakers arrive in Stockholm, this is one of their favourite addresses. The hearty French-inspired classical bistro cuisine is very wine-friendly and the wine list is wine lover-friendly, with an emphasis on classical wines from classical wine regions in France, Italy and the USA.

Sushi Sho

Phone: +46 8 30 30 30

Address: Upplandsgatan 45, 113 28 Stockholm

Sushi Sho caused a splash when they were awarded a Michelin Star for their Omakase and Tsumami, the chef's choice of sushi and small dishes to die for. All is served over the counter at high speed, like a proper Tokyo hangout. The wine and sake list is short but well balanced, and the cellar is growing.

Svartengrens

Phone: +46 8 612 65 50

Address: Tulegatan 24, 113 53 Stockholm

Svartengrens states that it's about meat, cocktails and love. May we add wine to that description? The restaurant sources all its meat from small farmers in Stockholm's archipelago. The wine list sources from small producers as well and includes both natural and classical wines.

Ambar

Address: Tomtebogatan 22, 113 38 Stockholm, Sverige

Ambar is the Stockholm wine bar that likes to serve orange wines and beverages, hence the name that plays on amber. But there are plenty of other colours and types on the wine list. If you are hungry, there are delicious small dishes with touches of Japanese cuisine.

Lilla Ego

Phone: +46 8 27 44 55

Address: Västmannagatan 69, 113 26 Stockholm

Lilla Ego is well known for being run by three Chefs of the Year in Sweden and for being fully booked. However, you can come early and wait around for one of the drop in seats to be free, you will not be alone, nor disappointed. Although people come for the food, we also like to go there for the wine and relaxed ambiance. The Lilla Ego two wine lists are not the longest in town, but there is real breadth. The wine lists wines from well known wine regions like Burgundy, Piedmont, Wachau and California – some with good age too.