Stockholm Söder's 15 best wine bars and wine restaurants 2021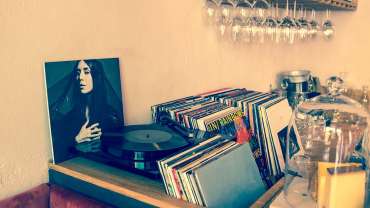 In Stockholm's hipster central Södermalm, you can find more than beer and beards if you know where to look. Here are our favourite wine bars and wine restaurants in the republic south of Slussen. Cheers!
Phone: +46 8-444 48 88

Address: Reimersholmsgatan 5, Stockholm

Take a seat on a wooden chair, listen to some vinyls and enjoy a nice glass of wine. The wine bar at Reimersholme Hotel offers a relaxed atmosphere. Don't expect a written wine list, instead you have to trust Alvaro Ovalles knowledge about low-intervention wines, where quality comes before quantity. The selections changes weekly to keep regulars happy. Thanks to a collaboration with one of the best importers of natural wine in Scandinavia, the wine selection is a mix between internationally well-known producers like La Sorga and up and coming stars like Remi Pujol. Finally, Stockholm has a pl...

Phone: +46 8 22 00 21

Address: Hornsbruksgatan 24, Stockholm

The corner place in the hip Hornstull part of Södermalm is part of entertainment fixture Tjoget. A great benefit here, besides the knowledgeable staff: Late night opening hours.

Address: Magnus Ladulåsgatan 8D, Stockholm

Gemla Vinbar & Studio is the new creation from well-known Stockholm natural wine sommelier Anna Mellfos. It is opened in a furniture factory space and oozes style. Simple wine friendly dishes are served as well as cheese and charcuteries.

Phone: +46 8 640 82 88

Address: Högbergsgatan 64, Stockholm

Café Cuvée is a French bistro at Södermalm and the menu is dedicated to snacks and smaller dishes that can be shared. And great cheese. The little space is busy with locals and cozy with, yes, a French bistro vibe. Experienced sommelier Tina Trigg is a partner in the restaurant and the wine list is mostly French with plenty of Burgundy at reasonable prices. Other destinations can also be found, like Austria and Germany. Do not miss the wine jukebox, a black board where three bottles are always served by the glass. When one is empty, the next guest can choose any bottle from the wine list to...

Phone: +46 76 128 91 87

Address: Swedenborgsgatan 1, Stockholm

Original Wine List of the Year Sweden 2019

Dryck Vinbar (Beverage Wine bar in Swedish) greets guests with warm colours and well stocked wine fridges in the Södermalm part of Stockholm. The bar menu lists small dishes along with cheese and charcuterie.

Phone: +46 8 678 00 01

Address: Götgatan 29, Stockholm

At the heights of Götgatan, Södermalm's artery, The Hills has taken over a grand space with large windows and a small terrace that lends itself to people watching. Here you will find classic French-Swedish bistro dishes made à la maison. The herring and salmon shares the menu with entrecôte and paté campagne. (The latter's mustard is worth a return visit on its own)

Phone: +46 8 36 93 99

Address: Mosebacke torg 9, Stockholm

Woodstockholm is both a local bistro and a furniture producer, hence the name. The bistro is small, cosy and serves top quality food with different themes throughout the year. The wine list has its edges in France and Spain and even lists one or two older Burgundies.

Phone: +46 8 509 005 30

Address: Stadsgårdshamnen 22, Stockholm

Fotografiska is a must-visit in Stockholm with its world-class photo exhibitions and incredible location and views of Stockholm on water. It is also part of that rare breed of great museum restaurants. The cuisine serves organic dishes with a vegetarian focus, although you can order animal protein on the side.

Address: Erstagatan 21, Stockholm

International By the Glass List, presented by Coravin 2021

Experienced sommeliers Béatrice Becher and Jonas Sandberg opened the Stockholm wine bar they wanted to visit themselves in this eastern Södermalm part of town. The name plays on the French word for madness, Folie. As you'll see on the interior, it's loosely related to Territoriet in Oslo. Folii is one of the best wine bars in town and they have won our wine list competition in the By the glass-category several times. There are tasty small dishes on the menu and if you are eager for a more full meal - drop in to their restaurant next door: Voisine.

Phone: +46 8 777 38 60

Address: Erstagatan 21, Stockholm

The crew from the top and hip wine bar Folii at Södermalm has taken over the neighbouring space (hence the name voisine, neighbour in French) and opened a casual French bistro. The food is casual, French and well made. The ambiance in the little space is cosy and friendly.

Phone: +46 8 702 12 22

Address: Åsögatan 176, 1Stockholm

Nook is an ambitious local bistro with a European background and with a few Asian influences, but all in all it's just really well made bistro food in a very cosy setting. The two three-course menus to choose from are real bargains and it's a very popular hang-out in eastern Södermalm. If the reservations are full, don't despair, there are drop-in places available, and a bar to wait in.

Phone: +46 8 640 99 50

Address: Åsögatan 171, Stockholm

Best Short List of the Year Sweden 2020

Café Nizza is one of Stockholm neighbourhood Södermalm's hottest restaurants and wine bars, serving a menu of delicious food with French and Italian influences. The bistro also has a bar and from the wine cellar flows mostly natural wines with one or two classical cousins in the mix. Café Nizza's wine list is mostly sourced from the Old World's wine regions. Since 2021, Cave Nizza is its little sibling wine bar next door.

Phone: +46 8 644 45 85

Address: Åsögatan 163, Stockholm

Italian Wine List of the Year Sweden, presented by Mandrarossa 2019

The Old Lady (yes, a Juventus connection) is still going strong on the east side of Södermalm. After a proper dish of pasta, you can work through the grappa selection in the bar. The wine list holds 200 Italian listings.

Address: Nytorget 4, Stockholm

Post Bar is a wine bar in Stockholm's Södermalm neighborhood. The food concept Urban Deli celebrate its first ten years with a new experience – at Post Bar with its own entrance, they are serving artisanal beverages and food with the same spirit. Relaxed attitude and cozy atmosphere with dark velvet and big windows. As made for an after work or a longer session with something from the seasonal menu, which get its inspiration from the food hall one floor up. Green is the color of both the interior and the plates. If you prefer other drinks than fermented juice, you can choose from creative cock...

Phone: +46 70 406 66 26

Address: Sofiagatan 1, Stockholm

Vina is a cosy wine bar on Södermalm in Stockholm that likes to serve wines from small producers who care for the nature. Many of the wines are served by the glass as well as by the bottle and if you're hungry, the little kitchen produces pintxos, cheese and charcuteries as well as main dishes.