9 great wine restaurants in Sydney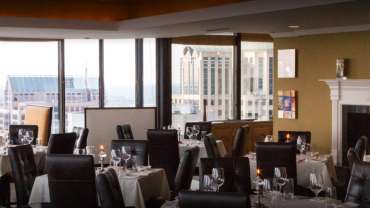 In partnership with Vintec

Vintec is a global leading specialist in premium climate-controlled wine cabinets and cellars.

Read more about Vintec

Phone: +61 2 9437 3700

Address: 69 Willoughby Road, Crows Nest

Annata is a small restaurant and bar located on the high street of Crow's Nest in Sydney. Part cocktail bar, part wine bar, part restaurant, this little venue has a lot to offer and brings inner city buzz to the North Shore. It's a long, narrow, split-level space, with bare brick walls and dark wooden floors. Wine racked against the walls lends a semi cellar aesthetic, red leather banquettes add warmth, and a splashy marble bar below adds a sense of grandeur. Large arched windows look out onto the street side terrace, and offer a spot to perch and people watch. Regulars prop themselves up at...

Phone: +61 2 8214 0505

Address: 27 O'Connell Street, Sydney

Bentley Restaurant and Wine Bar has found a new lease of life since moving into the grand dining room of the Radisson Blu Hotel in the heart of Sydney's city. With the move, it's evolved from neighbourhood wine bar to CBD heavy hitter, oozing style and confidence. The restaurant is very much it's own space within the hotel – black steel scaffolding lends a moody yet polished warehouse vibe that's worlds away from the hotel lobby. The offering is multifaceted; you can sit at the bar and sample from a creative snacks menu, or opt for the main dining room and choose between à la carte or degusta...

Phone: +61 2 9332 2100

Address: 50 MacLeay Street, Potts Point

Set in an old bank building on Macleay Street in Potts Point, Bistro Rex has all the grandeur one expects from the genre. Marble accents, high ceilings and beautifully detailed floors make for an impressive setting, the large space broken up by curved leather lounges. Splashes of copper across booth backs and doors bring warmth, in a playful nod to the old copper pots of the French kitchen. Rex may be shiny and beautifully maintained, but the offering remains decidedly down to earth. The classics like chicken liver parfait, tartare, and steak frite are well executed, and the menu offers luxur...

Phone: +61 2 9550 6196

Address: 131 King Street, Newtown

​The second incarnation of Cafe Paci has found a home on King Street in the eclectic inner western suburb of Newtown. Part wine bar, part restaurant, this lively, bustling little venue is well placed in this quirky, offbeat suburb, and often has queues snaking down the street. The more formal, tasting menu of the former Paci is gone, replaced with a very on-trend wine bar offering of down-sized sharing dishes. Dark molasses rye bread, potato dumplings with XO sauce, and devilled eggs with trout roe are just a few of the current staples, by Finnish-born chef & owner Pasi Petanen. The dishes w...

Phone: +61 2 9232 2767

Address: 111 Elizabeth Street, Sydney

After years spent working as a sommelier in London, Stuart Knox returned to open Fix, an eclectic wine bar and restaurant on Elizabeth Street in Sydney's business district, just opposite St James station. In a decidedly corporate market, where tastes tend towards the conservative, Fix offers individuality and personality. The offering is split between the wine bar, lower streetside, and the restaurant, tucked upstairs. There's a high bar for solo drinkers and chatters, and small tables for twos and threes looking for a slightly more intimate experience. A terrace offers views of Hyde Park an...

Phone: +61 2 9797 8118

Address: 2 Moonbie Street, Summer Hill

Set in the old heritage-listed post office, One Penny Red is a small neighbourhood restaurant and bar in Sydney's inner western suburb of Summer Hill. There's a bright and airy dining room with big bay windows on the ground floor, and a smaller, cosier bar upstairs. The dining room below opens on to a sunlit terrace, facing out on to a picturesque little corner of this quiet suburb. The contemporary Australian food offering is share-friendly and runs from house-made charcuterie to crowd-pleasers like potato gnocchi or wood-roasted chicken. This is casual dining with well-informed​ service and...

Phone: +61 2 9969 4088

Address: D'Albora Marinas, Spit Road, Mosman

​Ormeggio is an Italian fine dining restaurant situated at The Spit, overlooking Middle Harbour on Sydney's North Shore. Set on the D'Albora Marina, this restaurant aspires to bring the Italian Riviera to Sydney. Large open bi-fold windows allow for a wonderful view of the water and the glittering multimillion-dollar mansions across it, interrupted only by sleek yachts and powerboats bobbing on the tide. If you're looking to vacation via a long lunch and indulge in a bit of La Dolce Vita, then Ormeggio is the place to do it. Offering both degustation and à la carte, this two hat restaurant do...

Phone: +61 9232 0881

Address: 15 Bligh Street, Sydney

Down a winding stairwell, this Belle Epoque inspired restaurant transports the diner from Bligh street in the city's centre to post-war Paris. Dining here feels like theatre. The scene is set with red velvet drapes and dark wood panelling, and a baby grand piano takes centre stage. Lit by the soft glow of candles dripping wax down old Burgundy bottles, and manned by a brigade of bow-tied​ waiters, the ambience here feels bizarrely authentic. Not a surprise really, considering that it's a Swillhouse offering; the team behind other themed venues in Sydney like Shady Pines Saloon, Baxter's Bar...

Phone: +61 2 9572 6666

Address: 83 Percival Road, Stanmore

​Set in the unassuming neighbourhood of Stanmore in Sydney's inner west, Sixpenny is a small fine dining restaurant. With just 34 seats in total, and only one sitting per night, this little restaurant has been making waves in the dining scene since opening in 2012, and now serves a single seven-course degustation menu. Housed in a federation building, the interior of the restaurant is surprisingly contemporary. Wooden tables are left unclothed, and the aesthetic is pared right back. The white walls are hung with simple artworks of Australian natives, and a single large copper basin, serving...