7 great wine places in the Swedish skiing resorts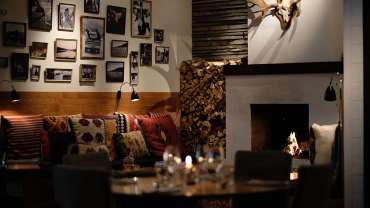 Snow, skiing and spectacular views. But what about the wine? Don't worry, there are some great places to drink wine in the Swedish skiing resorts. Check out the guide.
Phone: +46 647 515 60

Address: Tottvägen 127, 837 52 Åre

Italian Wine List of the Year Sweden, presented by Mandrarossa 2020

The hotel and restaurant Granen in Åre has received weary skiers with comfortable armchairs and an open fire since 1916. The restaurant serves well made "Husmanskost" with fine local produce, and in the summer months snacks and drinks. The wine list at Granen was fine before, but with the arrival of Swedish rapper and wine lover Petter as a partner, things have escalated. On the Granen wine list you will find fine wines from France, Italy and the USA, both by the bottle and by the glass. But on Petter's wine list, you will find large amounts of unique mature vintage Piemonte wines, particularl...

Phone: +46 647 143 00

Address: Åre Björnen, Åre

Once you've zig-zagged your way up this mountainside in Åre you will find Copperhill Mountain Lodge and will be rewarded with views of the lake and Åre mountain. Copperhill is a design hotel with a serious restaurant, serving a Nordic cuisine with local produce.

Phone: +46 647 502 40

Address: Årevägen 72B, Åre

Fjällpuben is found a few minutes walk from the square in Åre. The menu is local with influences from Jämtland and the rest of the north of Sweden.

Address: Stationsvägen 11, 837 52 Åre

The wine bar in Åre has become a must see for wine lovers in the mountain resort. Small dishes are served in a cosy setting and the menu changes every week with the season and produce available.

Phone: +46 647 505 05

Address: Årevägen 95, 837 52 Åre

Werséns is a French and "Jämtland" brasserie at Åre square, open year-round. The menu is varied and you can also get pizza.

Address: Sälens Högfjällshotell, 780 67 Sälen

Högfjällshotellet dominates the ski resort Sälen with its 13 restaurants and bars. Three of its restaurant has been ranked in the top five in Dalarna by White Guide. Högfjällshotellet's wine list has an impressive number of wines from many classical wine regions such as Burgundy, Mosel and Wachau.

Phone: +46 280 210 90

Address: Fjällvägen 21, 780 67 Sälen

Lammet och Grisen (=The lamb and the pig) has served hungry and thirsty skiiers in Sälen since 1991. The menu has a trilogy of filets (lamb, pork and beef) at the centre. The wine list is massive with a thousand listings. The classical wine regions of Italy and France are well covered, including mature vintages, from Champagne, Bordeaux, Burgundy, Piedmont, Tuscany and Veneto. There is a vertical of Mas La Plana going all the way to 1970. And newer wine countries like South Africa, Australia and USA are also well represented on the Lammet och Grisen wine list.