3 great wine bars and wine restaurants in The Hague 2022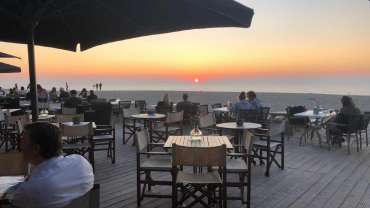 Heading to the The Hague and looking for some nice places to eat and drink wine? Here is our guide to the best wine bars and wine restaurants in the city!
Phone: +31 70 219 6848

Address: Nobelstraat 13, Den Haag

Owned by the young couple, chef Rik van der Laar en maître/sommelier Saskia de Kuijer, 6&24 is a modern, energetic place in the heart of The Hague. The owners have worked at well-respected restaurants like 3-star De Librije in Zwolle and 2-star Amber in Hong Kong. Saskia also has experience at established wine shop Peeters in Rotterdam. Their passion for good quality produce and eye for detail is exemplified by Rik's morning walks to the local market and Saskia's perfectionism in service. Guests experience the warmth and hospitality in pure expressive food and a generous welcoming atmosphere.

Phone: +31 70 780 3563

Address: Denneweg 83, Den Haag

Winebar Bouzy is, what else would you expect, THE place in The Hague to find a great glass of Champagne. On the corner of the famous shopping and restaurant street 'Denneweg', overlooking the canal, this is a great place to have an afternoon drink and a small bite. During summer there's a cosy terrace, but the homey feel inside is what sets this place aside from most other bars and restaurants in the royal city. The love for food and wine is reflected in both the atmosphere and the winelist. No pretentions here, just a welcoming feeling, friendly staff and easy snacks & fingerfood. If you wa...

Phone: +31 70 355 5615

Address: Strand Zuid 7, Den Haag

With over 20 minutes walk through the dunes, De Kwartel is a hidden gem in the south of Hague, far away from touristy Scheveningen. Here you will find mostly locals and regulars. No designer chairs, trendy lounge sofa's or branded umbrellas here, just laid-back family-style seating. De Kwartel will make you feel at home. After the place burnt down a few years back, crowdfunding kicked off the same day, and in no-time, the venue was rebuilt. That's how much people, primarily regulars, care about it. You would think a buzzing place like this would be on every investor's top list, but a change...