14 great wine bars and wine restaurants in Mexico City 2021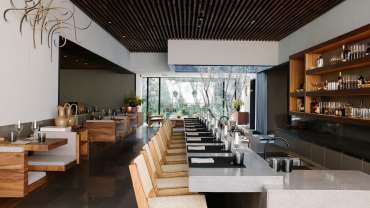 Mexico City is a vibrant and eclectic wine and food city, where you can find both local flavours and international cuisine. You can also find old and new world wines – and, of course, a lot of Mexican wines. Check out this guide to the best wine spots in the city!
Phone: +52 55 5327 7766

Address: Campos Elíseos 218, Polanco, Ciudad de México

Inside the Hotel Presidente Intercontinental at Polanco, you will find this Italian restaurant. Here, the first thing you'll notice is all the photos of local and international artists, as well as the terrific architecture in the elegant dining room. A bright wall full of glassware near the inside cellar, and an open kitchen to see the handmade pasta being made.

Phone: +52 55 5592 5571

Address: Calle General Prim 95, Juárez, Ciudad de México

"Weird wines" is the motto here, which hits you right at the entrance of the restaurant when seeing the big wall full of wines. The creator of this Mediterranean-style place is one of the owners of Bichi Wines, a well-known Mexican natural winery. The interior is all about wood and graffiti-covered walls, which gives a casual feeling even though high-end food is served. Don't forget to ask about Nazas, their famous cumbia parties.

Phone: +52 55 7098 1422

Address: Avenida Veracruz 38, Roma Norte, Ciudad de México

A small french bistro-style place located at Colonia Roma (yes, where the famous Oscars' awarded movie took place), which opens early in the day if you want a nice and sophisticated breakfast to share. Also, don't miss the cheese plate, sausages and the home-made marmalade.

Address: Calle Dinamarca 44, Cuauhtémoc, Ciudad de México

Cicatriz is located in the trendy neighbourhood of La Juarez, right at a corner where their big black doors are wide open. This is a cosy, casual place with a long bar, a lot of wine and other specials of the day. The interior is sparse, with nothing on the walls except a little blackboard where you find the wines offered by the glass. Also visit the bathroom, which is more like an art exposition.

Phone: +52 55 8848 4442

Address: Hamburgo 310, Juárez, Ciudad de México

Elly's is a Mediterranean restaurant with Mexican ingredients. The whole place feels like you are in the '70s, and they have an imposing vinyl collection. Upstairs you will find the wine bar, which is more like a speakeasy, with some seats around the marble bar.

Phone: 55 5941 5257

Address: Avenida Álvaro Obregón 228, Roma Norte, Ciudad de México

One of the most recent wine bars in the city, dedicated to art and wine (and some mezcal if you are lucky). This modern bar, developed by the former architect owner, has a small place inside for artists and their expositions which change every month; take a look at their social media to see the current one.

Phone: +52 55 5550 1692

Address: Avenida Revolución 1426, Guadalupe Inn, Ciudad de México

Down Revolución Avenue, mid-south of the city, this Mediterranean restaurant serves food straight from the charcoal grill. It's a casual place, greek-style and full of white and copper decorations. At the back is the cellar, with a cosy light that exalts every bottle in there.

Phone: +52 55 5514 6983

Address: Tonalá 23, Roma Norte, Ciudad de México

Located in a classic old building from the Mexican revolution, where you will find long halls, tall ceilings, wooden floors, and a lot of European art, in this case, wine art. They only have ten tables, which will be filled with small plates to share. Ask for a reservation in the speakeasy upstairs if you want to enjoy a drink and some indie music after dinner.

Phone: +52 55 5545 4111

Address: Tennyson 133, Polanco IV Sección, Ciudad de México

Pujol is the most emblematic restaurant in the country and ranked on the 50 Best Restaurants list. A few years ago, the restaurant moved to a new and bigger location. You need to reserve your table in advance to be able to choose between the tasting menu or the taco omakase. If you eventually get here, don't forget to take a kitchen tour, and to finish your meal with the mandatory mezcal at the terrace. (César Garduño, previoiusly sommelier at Pujol, is also Star Wine List's Mexico City ambassador, Editor's note)

Phone: +52 55 5280 2680

Address: Newton 55, Polanco IV Sección, Ciudad de México

Over Newton street in Polanco, a small greenhouse with the name "Quintonil" over your head will lead you to this big hall, divided into two sections. The first section is more formal, full of wood and big mirrors, while the second one is bigger, with a terrace and a casual feeling. Quintonil serves a tasting menu based on seasonal products, always taking care of traditional Mexican flavours.

Phone: +52 55 4437 4285

Address: Zacatecas 126, Roma Norte, Ciudad de México

Si Mon is located in the limits of Colonia Roma, in a small place that looks like a basement, with brick ceilings and walls, and dim light (though enough to see the shelves full of local wine). Si Mon has gone from a closed space dedicated to wine tastings to an open wine bar with a selection of Mexican cheeses and tapas. "Bulk wine" is their catchword as a part of the idea to make wine more approachable.

Phone: +52 55 5568 4777

Address: Boulevard de la Luz 777, Jardines del Pedregal, Ciudad de México

Sud 777 is located south of the city, in one of the most beautiful neighbourhoods, called Jardines del Pedregal. It looks more like a home than a restaurant and harbours a few antiques and a lot of rooms with tables, like you were in a living room in a 50's movie.

Phone: +52 55 5536 5974

Address: Georgia 84, Nápoles, Ciudad de México

Located in Colonia Nápoles, a quiet neighbourhood south of the city, Tinto MX is like an art gallery. The difference is that you can take the piece, or in this case the bottle of wine, from the vertical cellar that occupies the entrance hall, and sit down at a table and order something from the Mexican food menu. They also organise a wine festival, all about Mexican wine.

Phone: +52 55 2211 0826

Address: Copenhague 23, Juárez, Ciudad de México

The worldwide competition "Concours Mondial de Bruxelles" placed their first wine bar here in Colonia Juarez, near Reforma Avenue. This British/European-style house of three floors holds a wine bar, with every wine with a medal from the competition, as well as a couple of lounges if you want some privacy. The top floor is dedicated to wine education, and here you will find the headquarters of the Escuela Mexicana de Sommeliers and the Escuela Mexicana de Té (Mexican sommeliers school and Mexican Tea School).