The wine guide to 3 Michelin star restaurants in Oslo 2022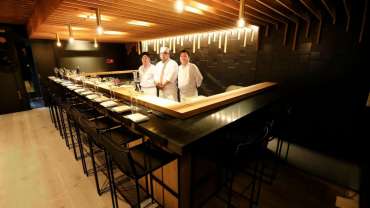 In Oslo and looking for some high-class food – paired with​ some amazing wine? Here is the guide to the best Michelin starred restaurants with great wine lists in the Norwegian capital.
Phone: +47 22 41 88 00

Address: Rådhusgata 11, Oslo

Statholdergaarden is a classic fine dining restaurant in the Oslo city center. High ceilings, beautiful flower decorations and elegant chandeliers set a warm scene for a gastronomic experience with roots in the French kitchen. The wine cellar has around 500 labels, going deep into the most classical areas. While Statholdergaarden's wine list is fine wine oriented, there are surprising elements when it is studied more closely. If you cannot manage to book a table, the informal restaurant in the cellar shares the wine list with Statholdergaarden – at a discount.

Phone: +47 456 85 022

Address: Ruseløkkveien 3, Oslo

Omakase is a Japanese restaurant offering an "omakase" menu, which means "to trust the chef". With only 15 seats around the counter, Omakase offers a unique, personal Tokyo style eating experience. The Omakase Oslo beverage menu is broad with classical Japanese pairings like beer and a wide range of sakes, but the wine list has a selection to match the wide range of produce offered. Champagne and German riesling are well represented together with other major classic regions and a few surprises.

Phone: +47 21 60 01 01

Address: Maridalsveien 15a, Oslo

Californian Wine List of the Year Norway, presented by California Wines 2021

Kontrast is located in the culinary area of Vulkan which used to be an industrial area by the Akerselva river. The Michelin starred restaurant offers the best produce of the season in both tasting menus and a la carte with beautiful presentations. If you choose one of the wine pairing menus you might be surprised by the modern touch to it, but Kontrast's wine list is also worth a serious study before you dig in.