Sweden's biggest wine lists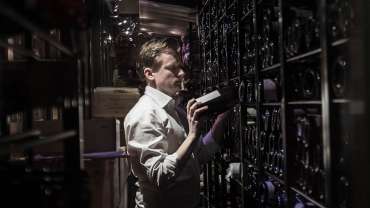 More may not always be better, but it is more. For the wine lovers who want to have plenty to choose from – we have put together the wine guide for you. Here you find the wine lists that top 1000 wines, and the biggest of them all is PM & Vänner in Växjö with over 4000 wines, followed by Djuret in Stockholm with over 2300 wines, and Dorsia in Gothenburg with nearly as many. Enjoy the wine list browsing! (The guide covers several cities and towns in Sweden, and the map will follow as you go through the list.)
PM & Vänner

Phone: +46 470 75 97 00

Address: Storgatan 22-24, 352 31 Växjö

PM & Vänner is a gastronomy hotel and an ambitious bistro where Småland meets France. The PM wine list aims to embrace the greatest wines of the world with an open mind to the always changing wine scene. PM Wine list currently offers as selection of 4,200 different wines covering a wide variety of styles, prices, regions, producers and vintages. PM wine list highlight wines that reach maturity and are ready to drink.

Djuret

Phone: +46 8 506 400 84

Address: Lilla Nygatan 5, 111 28 Stockholm

Djuret (The animal) is always evolving and it is therefore a good idea to check their website to see what the kitchen is up to at the moment. Whatever it is, it will be tasty and comfortable. At the bar the menu is a la carte and specials often including great wine deals. The wine cellar is legendary, good value and its wines can also be ordered from the sister venues Flickan and The Burgundy.

Grand Hôtel

Phone: +46 8 679 35 00

Address: Södra Blasieholmshamnen 8, 103 27 Stockholm

The grandest hotel in the city also boasts one of the grandest wine cellars, including a bottle from the year the hotel opened, 1874. The wine list is accessible in the hotel's classic Veranda restaurant and Cadier bar, as well as in the Mathias Dahlgren restaurants Rutabaga and Matbaren.

Sturehof

Phone: +46 8 440 57 30

Address: STUREPLAN 2, 114 35 Stockholm

Sturehof, founded in 1897, is one of Stockholm's most classical brasseries and it has become an institution, serving fish and seafood 365 days per year to a mixed crowd in the heart of Stockholm. The wine list is classical with a special love for Burgundy.

Operakällaren

Phone: +46 8 676 58 00

Address: Operahuset, Karl XII:s torg, 111 86 Stockholm

Operakällaren in Stockholm's Opera House is probably the most beautiful dining room in Sweden. And the service is like a scene from the Opera stage, professional, classic and warm. The menu is French-inspired, classical and executed at the highest level (one Michelin star). The wine list is massive, classical and carries over 1500 listings.

Oaxen Krog & Slip

Phone: +46 8 551 531 05

Address: Beckholmsbron 26, 115 21 Stockholm

Oaxen Krog stands for Nordic cuisine delivered at the highest level, rewarded with two Michelin stars. If there were a world cup in gastronomic beauty, Oaxen would win it. The presentations are edible works of art. The wine list at Oaxen is classical with only European selections and it includes verticals of both famous and lesser known producers. In Oaxen's bistro Slip, you can enjoy a simpler cuisine in a beautiful setting.

AG

Phone: +46 8 410 681 00

Address: Kronobergsgatan 37, 112 33 Stockholm

For years, AG has been one of the best steak restaurants in Sweden. It also boasts a lively tapas bar and a wine list featuring 1000 wines with large chunks of Burgundy, Piedmont and California.

Dorsia

Phone: +46 31 790 10 00

Address: Trädgårdsgatan 6, 411 08 Göteborg

Hotel and restaurant Dorsia in Gothenburg is like a world of its own, drenched in gold, velvet curtains and Belle Époque-style. The restaurant is spacious and international. Dorsias wine list is very extensive, with over 2000 listings, and ranges from Tawny Port from 1855 to timeless bottles from France, Italy and the United States.

Sjömagasinet

Phone: +46 31 775 59 20

Address: Adolf Edelsvärds gata 5, 414 51 Göteborg

Sjömagasinet in the harbour is one of Gothenburg's most classical venues. Here, restaurateur Ulf Wagner and head chef Gustav Trägårdh present innovative and classic seafood dishes. The airy restaurant has a relaxed atmosphere, and service is impeccable. The wine list is extensive, with a focus on Old World classics. Don't miss their selection of Burgundies.

Lammet och Grisen

Phone: +46 280 210 90

Address: Fjällvägen 21, 780 67 Sälen

Lammet och Grisen (=The lamb and the pig) has served hungry and thirsty skiiers in Sälen since 1991. The menu has a trilogy of filets (lamb, pork and beef) at the centre. The wine list is massive with a thousand listings. The classical wine regions of Italy and France are well covered, including mature vintages, from Champagne, Bordeaux, Burgundy, Piedmont, Tuscany and Veneto. There is a vertical of Mas La Plana going all the way to 1970. And newer wine countries like South Africa, Australia and USA are also well represented on the Lammet och Grisen wine list.