Sommelier champion Emma Ziemann's Gothenburg guide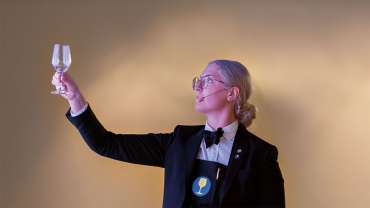 Emma Ziemann is the current Swedish sommelier champion of 2018. Emma works at the Michelin-star fine dining restaurant Thörnströms Kök in Gothenburg and has previously worked at Upper House Dining. Come along with Emma to her favourite wine spots in Gothenburg!
Barsac

Address: Viktoriagatan 8, 411 25 Göteborg

Barsac: in my opinion, this is the best wine bar in Gothenburg, a relaxed home from home with friendly sommeliers behind the bar. The Reuben sandwich is wonderful when you have drunk your way through the wine list and are getting peckish. This is where I usually end up if I am out. They also hold tastings and blind tasting competitions if you want to have some fun.

Champagnebaren Forssén & Öberg

Phone: 031-309 99 69

Address: Kyrkogatan 13, Gothenburg

The Champagne bar Forssén & Öberg: perfect for a drink after work, a glass of something warming or the last round of the evening. It's a wonderful Champagne bar with a cosy inner courtyard. What's not to like?

Project

Phone: +46 31 18 18 58

Address: Södra Vägen 45, 412 54 Göteborg

Project is one of the most interesting restaurants in Gothenburg at the moment. Great food and an intuitive feel for the matching wine. This is where I like to celebrate New Year.

Atelier Pigalle

Phone: 031-80 25 21

Address: Södra Hamngatan 2, Göteborg

The Atelier at Hotel Pigalle: I have a weakness for Art Nouveau. I come here with friends who aren't necessarily wine nerds. The list has something for everyone. Straight ahead quality and some real gems. The setting is fun, and you can alternate with cocktails. A place to relax and enjoy yourself.

Wine Mechanics

Address: Lilla Waterloogatan 15, 415 02 Göteborg

Wine Mechanics: worth a detour. There is no limit to the level of ambition of this project. I really admire this. It puts a big smile on the face of the hipster in me. While other guests are distracted by the wine production at the back of the premises, I focus on the wine list. It's fantastic! They also serve a good lunch and are open on Sundays.

Thörnströms Kök

Phone: +46 31 16 20 66

Address: Teknologgatan 3, 411 32 Göteborg

I hope I can include Kockbaren at Thörnströms Kök as well. The entire Thörnströms list available without having to go for the fine dining. Sit and enjoy the buzz of activity, circulate and perhaps have something to eat from the menu or a less formal bar snack. You can find me here behind the bar during service or sitting on a bar stool at one of our Wednesday events.