Sommelier Nina Jensen's guide to Copenhagen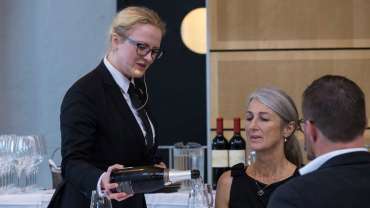 Nina Jensen is the sommelier at the Copenhagen classic Kong Hans Kælder. A sharp competitor, Nina Jensen has won the Danish Sommelier Championship, the Nordic Sommelier Championship, and the Castel young sommelier championship. Now she is preparing for the World championship and we are grateful that she has taken the time to guide us to her favourite Copenhagen wine venues - from the natural to the classic. (We have added her restaurant Kong Hans Kælder at the end so that you easily can find it)
Kanalen

Phone: 32 95 13 30

Address: Wilders Plads 2, København K

"A wine list oriented towards the classics with an almost dogmatic wine list, Kanalen has a nice selection with greath depth, especially in Champagne, Rhône and Burgundy, with more than fair pricing! Jeppe Foldager's creations from the kitchen are sharp and exquisite, and during the summer there is an extraordinary terrace. As one of the few places in the city, Kanalen is also open on Mondays AND for lunch, when you can enjoy the good stuff."

Anarki

Phone: 22 13 11 34

Address: Vodroffsvej 47, Frederiksberg C

"A small, intimate and cozy restaurant, where something new is always in the making. The service, atmosphere and food is down-to-earth in the just the right way, and one can eat and drink oneself merry for a song. The food is true comfort food and you can share the dishes, while the wine can be almost anything you want: From all corners of the world, without dogmas (hence the name) and quality-leaders from their respective appellations. Christian Thorsholt runs the list masterfully, and Anarki is the perfect place to go for the curious wine drinker. It is a place to return to again and again, because the team delivers every time in all sorts of ways: For a quick snack (the cheese waffle with truffle mayo & ham is a must!) accompanied by a good glass of wine as well as one hell of an evening with bottles and bottles of top wines."

Ved Stranden 10

Phone: 35 42 40 40

Address: Ved Stranden 10, København K

"A quirky but fantastic place: Expensive, classic, Danish design furniture is mix-and-matched to just the right understated Copenhagen-hipster-look and mainly natural wines are poured at the bar. Ved Stranden 10 has been groundbreaking for the wine bar environment in Copenhagen, and there is almost always a crowd (read: packed!). It is hard to find a better location than this during the summer time: Just on the Canal of Copenhagen. Even though natural wines is the main thing, there is a hidden treasure in their cellar: Ask politely and you may be granted access to the cellar where rarities of both the classic and funky worlds are to be found. Some things on the list can be expensive but there are also good deals to be made."

Enomania

Phone: 33 23 60 80

Address: Vesterbrogade 187, Frederiksberg C

"A place as Italian as can be in Denmark. Only open on Tuesday-Friday, it is closed Saturday-Monday and ALL holidays. The food is simple and good, but it is honestly the wine and the owner Damiano you come for. Here the more expensive the wine – the better the bargain. Meaning you can drink some of the best Burgundies and Barolos for a price often lower than retail. Damiano is a classic man, and this is reflected in the wine list – but to this, you could only say that there is a reason something is classic! There is a warmth and a love for both the wine and the guests at Enomania, which always makes it a joy to visit."

Bar'Vin

Phone: 33 12 58 03

Address: Skindergade 3, København K

"One of the coziest places in Copenhagen. It's both a wine bar and a restaurant, open for both lunch and dinner an everything served at this place is of the highest standard. Moreover, it is just around the corner from Rundetaarn – what's not to like? Niels Thyge who owns Bar'Vin is a veteran in the industry, and with a past at iconic places like Kommandanten and Ensemble he has more experience than most. At Bar'Vin there is an intense vibe that one should not overcomplicate stuff! To Niels it's all quite simple: The guests should feel at home, the food must be tasty and good wines taste good – then it doesn't matter as much how it's produced. Bar'Vin has some Francophile tendencies which are also reflected in the food, which is unpretentious, French, simple and very tasty indeed."

Kong Hans Kælder

Phone: 33 11 68 68

Address: Vingårdstræde 6, København K

Kong Hans Kælder was the first restaurant in Copenhagen to receive a Michelin star back in 1983 and it has kept its standards ever since. This small, basement restaurant on a small side street from Kongens Nytorv has been one of the most exclusive restaurants in the city for more than 30 years. Kong Hans Kælder specializes in French cuisine with a Nordic twist. The wine list of Kong Hans Kælder is driven by the award-winning sommeliers Peter Pepke and Nina Jensen. The wine list covers pretty much every area of the most important wine countries and regions, both the traditional old world coun...