5 fresh places to drink wine outside in San Francisco 2021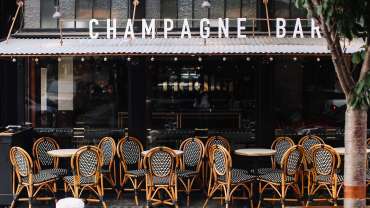 When the weather turns favorable in San Francisco and the fog peels back long enough to take off one's sweatshirt, locals will do whatever it takes to bask longer in that precious warmth. Here are some spots to hit up when you wish to enjoy your after work glass al fresco. (Bring the sweatshirt, just in case — San Francisco has a famously fickle microclimate!)
Phone: +1 415 771-2216

Address: 2355 Chestnut Street, San Francisco

A16 draws a mix of neighborhood patrons and international visitors to Chestnut Street in the Marina District with its James-beard-Award-winning wine list centered around the grapes of Southern Italy and an assortment of handmade pizza and pastas to match. The space recently underwent some remodeling, but the special atrium at the back of the restaurant remains a favorite hideaway for lunch, dinner, and wine events.

Phone: +1 415 551 1590

Address: 398 Hayes Street, San Francisco

Absinthe opened two decades ago just a stone's throw from San Francisco's Civic Center and quickly set the tone for the increasingly wine-friendly Hayes Valley we know today. This is one of the few restaurants in town where the best time to pop by sans reservation is actually around 7pm due to the odd ebb and flow of individuals attending nearby performances in the evenings. My preference is to tuck into a small table in the bar area at any hour (they offer continuous service throughout the day for most of the week), where one may enjoy smaller portions of bistro classics with a special bottle...

Phone: (415) 549-7612

Address: 458 Grove Street, San Francisco

To love Birba is to love Angie Valgiusti, the charming, outspoken owner of the small bar with an inviting back patio on a quieter side street in Hayes Valley. Aside from a splash of texture and color from Spanish tiles behind the bar and a few carefully selected pieces of rotating artwork along the walls, Birba is fairly austere on its interior. This is just as well, because the narrow space is easy to fill and less easy to navigate once it's fully packed and patrons are snacking on boquerones in every corner. Service is casual — don't be surprised if you end up pouring wine for other guests b...

Address: 639A Divisadero Street, San Francisco

Industry favorite Fool's Errand overlooks the hustle and bustle of Divisadero Street in the NoPa neighborhood. The rustic, wood-lined wine and beer bar is usually packed to the gills in the evening, due in part to limited space; but mostly because of specially sourced beers and particularly tasty wine selections — emphasis on the Riesling. When the weather is nice (enough), the wineminded can spill out of the bar onto what is reported to be the world's first parklet.

Phone: (415) 648-7600

Address: 2534 Mission Street, San Francisco

Foreign Cinema is a spacious, award-winning restaurant in the middle of the Mission District. The local institution has been luring locals and tourists alike with ample open-air seating in the interior courtyard, movies in constant rotation on a giant screen, and a menu focused on California ingredients through a creative Mediterranean lens. A sizeable, well-curated wine list provides just as much incentive to drop in.