Austria Wine List 2018: PM & Vänner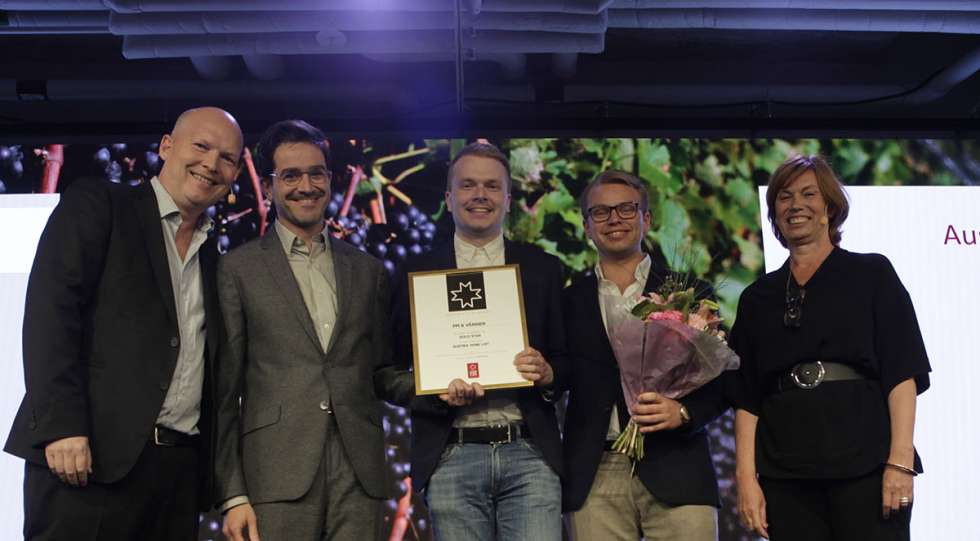 PM & Vänner tog hem priset för den bästa österrikiska vinlistan under Star Wine List of the Year 2018.
Det fanns totalt nio kategorier i Star Wine List of the Year 2018. Finalisterna och vinnarna i sju av kategorierna röstades fram av Star Wine Lists jury med Mischa Billing, Mark Andrew MW, Per Styregård, Erika Lindström och Krister Bengtsson.
En kategori röstades fram av läsarna av Star Wine list och en kategori röstades fram av sommelierer på ställen som är med på Star Wine List.
"Have to say, the overall standard was seriously impressive," sade jurymedlemmen Mark Andrew, MW och grundare av Noble Rot Magazine & Wine Bar.
PM & Vänner vann guldstjärnan och äran.
Övriga finalister fick en meriterande silverstjärna:
Bar Central, Stockholm
Djuret, Stockholm
Grand Hôtel, Stockholm
Heaven 23, Göteborg
Läs mer om Star Wine List of the Year här
---
KATEGORIN SPONSRAS AV AUSTRIAN WINE:
Wine & Fine Dining
Austrian wines offer the perfect accompaniment to an array of dishes and food styles, from Central European to Mediterranean cuisine, right through to Asian and Oriental dishes, Ethnic and Fusion food types. This is due to their compact and elegant body and fresh style; the result of climatic conditions.
The diversity of the Austrian wine landscape is reflected in the wide variety of wine styles. The balanced fruit-driven acidity and expressive aromas are apparent in all wines. One reason for this is the diurnal temperature variation between warm days and cool nights.
An increasing number of top-restaurants in major international cities from New York to Tokyo choose to list wines from Austria. This is because the best sommeliers can introduce these fresh and complex styles of wines to their guests and know that they will be enthusiastic about them. They can be sure to impress with difficult food and wine combinations such as "Asparagus & Wine". Compared internationally, the remarkably good value versus the quality that Austrian wine offers, is a further argument in favour of Austria's great wines.
During the International Congress of Chinese Cuisine & Wine in Peking, Singapore and Hong Kong, the Grüner Veltliner & Co wines were discovered to pair best with Chinese cuisine and many other Asian dishes. This is why we have chosen to focus on these combinations in our "Asian Cuisine & Wine" brochure.
Finally, Austrian wine is firmly established in the culinary centre of traditional Austrian food. Austria is the culinary epicentre of Central Europe, and combines the influences of the hereditary countries of the former Austrian Dual Monarchy in its "Viennese Cuisine". Favourite, classic combinations are listed in the "Austrian Food & Wine" brochure.
Linguine al Pesto, mushroom risotto or paella – to enjoy with a glass of Austrian wine! Find out which wine pairs best with these dishes in the new culinary brochure "Austrian Wine & Mediterranean Cuisine", published by the Austrian Wine Marketing Board.
In close cooperation with the "Verein Käsesommelier Österreich" (Association of Cheese Sommeliers), the best combinations of Austrian wines with Austrian and international cheeses have been compiled in the really useful "Cheese & Wine" handbook.
Read more on https://www.austrianwine.com/
Publicerad 07-maj-2018
Nyheter / Sverige
Premium: Sök bland fler än 2000 vinlistor i över 35 länder. Ladda ner obegränsat med vinlistor.