6 spots for late-night wine drinking in Oslo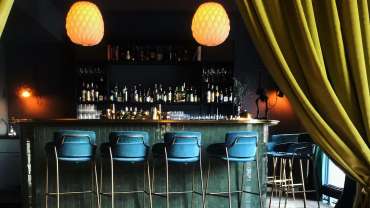 Finding a nice place to share a bottle of wine in Oslo has gotten a lot easier over the years. But since the majority of wine venues in the city are restaurants it can still be a bit tricky to find a good spot for late-night​ drinking, especially early on in the week.
Alcohol laws are quite strict here as well, and how long you can keep open depends even on the street you're located on. But fear not! The following places have great wine lists and good service, and above all take last orders not a minute before they're supposed to.
Phone: +47 23 65 31 50

Address: Youngs gate 19, 0181 Oslo

South African Wine List Of The Year Nordic 2019

If you're looking for a party as well as a nice glass of wine, Andre til Høyre is definitely your best option. It can get quite lively here in the weekends, and if someone in your group is grumbling about other drinks than wine they have a cocktail bar adjacent and a brewpub downstairs. The perfect way to keep everyone happy.

Last call: Monday-Wednesday 01.00, Thursday-Saturday 03.00

Phone: +47 23 32 83 00

Address: Mariboes gate 7B, 0183 Oslo

Arakataka has been one of the most beloved restaurants in Oslo for over a decade now. And while the restaurant is excellent, the real treat is their food bar, which is open from Wednesday to Saturday. Here you can grab a nice meal as late as 00.30 at night, the wine list is ridiculously good, and when you're finally kicked out, there are tons of other venues close by.

Last call: Sunday-Tuesday early, Wednesday-Saturday 00.30 (sometimes 01.30)

Phone: +47 482 41 489

Address: Thorvald Meyers gate 26C, 0555 Oslo

When Bass opened a few years ago they boldly told curious reporters that their concept was "no concept". There were a few mild sniggers at this but as the years have passed, Bass has held true to their words. You can go there for a beer and a chit chat, you can bring your date for a five-course meal, or you can descend on the place with your colleagues or friends for a few late-night​ bottles of wine and some left-over snacks. The list isn't huge but it's carefully curated, and the staff is more often than not just as much in a party mood as you are.

Last call: Tuesday-Saturday 00.30, Sunday 23.30

Phone: +47 923 38 293

Address: Nordre gate 2, 0551 Oslo

It's not easy to locate this hidden away wine bar, but if you do manage to find your way to the white old manor house by Akerselva river, you're in for a treat. It's easy to lose track of time here since you're practically enveloped by wine cabinets, but since they have a decent cheese selection and some charcuterie for those of us feeling peckish, there's really no need to leave until closing time.

Last call: Tuesday to Thursday 00.30, Friday-Saturday 03.00

Phone: 22 41 55 55

Address: Prinsens gate 18, Oslo

Einbar may look like an underground shisha bar, but they have a great wine selection, nice atmosphere and they're located in an area of Oslo where there really is little else of any quality worth mentioning. If you like techno, this is definitely your venue of choice, and for all of us who don't let me reassure you the kind they play here is quite calm and unobtrusive.

Last call: Monday-Thursday 01.00, Friday-Saturday 03.00

Address: Markveien 58, 0550 Oslo

By the Glass Wine List Of The Year Nordic 2019

Always busy and bustling, Territoriet is the place to go for a drink late in the evening. It can get a bit crowded, but luckily they're located in an area of town that has loads of other bars in case you can't get in. Don't forget to ask to see the wine list. Their wines by the glass can be a bit pricey but the bottle prices are a steal.

Last call: Monday-Sunday 00.30