Top Oslo wine bars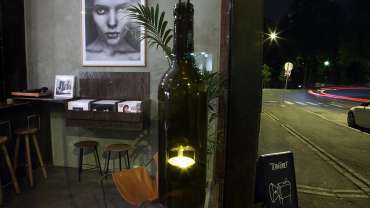 Oslo has an expanding scene of interesting wine bars for all tastes, from classical to natural wine. It could be argued that the wine bar Territoriet set a new standard when it arrived, but nowadays it's not alone in highlighting the personal and original. These are the places we return to for the best glasses in Oslo for the moment, and we list both pure wine bars and restaurants with bars that you can drop into for a glass.
For more guides to the Oslo wine scene, choose Wine Guides in the menu above. Cheers!
Andre til høyre

Phone: +47 23 65 31 50

Address: Youngs gate 19, 0181 Oslo

Situated at Youngstorget, you approach Andre til høyre (Second to the right) through the bar Håndslag and up the stairways. Beautifully decorated, the bar gives the feeling of an artful luxurious home. The wine bar is set up as an apartment and every day the scene is set for a house party, whether you hang out in the lounge or the kitchen. The wine list carries serious wines from classic areas like Burgundy and Champagne along with newcomers from South Africa and the USA.

Arakataka

Phone: +47 23 32 83 00

Address: Mariboes gate 7B, 0183 Oslo

Arakataka in central Oslo is a restaurant and wine bar which continues to build one of the most interesting wine lists in Oslo. In the restaurant a seasonal menu is offered while modern bar food is served in the more informal wine bar. Arakataka's wine list has an eclectic mix of contemporary and classic producers and there is always a good selection of interesting wines by the glass.

Bar Brutus

Phone: +47 22 38 00 88

Address: Eiriks gate 2, 0650 Oslo

The traditional Nordic cuisine has received a modern makeover at the wine bar and bistro Brutus. To go with the sharing plates there is nothing but natural wine chosen from farmers they trust. The natural wine selection is extensive and ranging from up-and-coming producers to natural wine makers finally receiving mainstream tribute. At Brutus you don't find a regular wine list, but you are invited to have a tour in their cellar and there's always a selection by the glass.

Bass Oslo

Phone: +47 482 41 489

Address: Thorvald Meyers gate 26C, 0555 Oslo

Bass Oslo is a trendy neighbourhood restaurant set in Grünerløkka. The dining room is sparsely decorated with an industrial feel, yet there is nothing industrial about the service. Local and seasonal produce serve as the basis for Bass Oslo's menu of sharing plates. The Bass wine list is a gold mine for fine wine lovers and natural wine enthusiasts alike and while Bass Oslo only opened their doors a few years back, the cellar consists of both young and mature wines. Bass Oslo also has a bar where wine lovers from near and afar gather.

Cru Vin & Kjøkken

Phone: +47 23 98 98 98

Address: Ingelbrecht Knudssøns gate 1, 0365 Oslo

In the west part of Oslo's city center, Cru has gained a reputation as a wine bar with a personal and interesting wine list. Enjoy the relaxed atmosphere in the wine bar section and share a few French bistro courses or go for a full menu of modern British cuisine in the restaurant. Cru has an extensive wine list which goes deep into classical European regions like Burgundy, Mosel and Champagne.

Gaasa

Phone: +47 454 16 469

Address: Storgata 36J, 0182 Oslo

Centrally located in downtown Oslo, you might not expect to find DRC when you enter the wine bar Gaasa from the busy tram street Brugata. With a simple and cool interior, Gaasa is a hidden gem for wine lovers. The wine list covers classic and contemporary producers with a focus on both European fine wines and hipper producers. You won't find much to eat here, but that leaves the wine to speak for itself.

Grand Café & Vinkjeller

Phone: +47 981 82 000

Address: Karl Johans gate 31, 0159 Oslo

Oslo's legendary Grand Café & Vinkjeller is located in Grand Hotel next to the city's main street, Karl Johan. The wine bar downstairs offers a selection of finger food and small plates and among the 16000 bottles and 1500 labels, there should be something for all wine lovers. All main regions are covered on Grand Café & Vinkjeller's wine list which is a textbook in classical wines. Every day there is also a selection of wines by the glass in this perfect hideaway from busy everyday life.

Le Benjamin

Phone: +47 22 35 79 44

Address: Søndre gate 6, 0550 Oslo

Le Benjamin Bar & Bistro is a family-owned bistro with ambiance and a hearty French menu. Have some oysters at the bar or enjoy a full menu in one of the dark leather sofas. The wine list at Le Benjamin is French, terroir driven and packed with top producers.

Pedro's

Phone: +47 974 73 286

Address: Hegdehaugsveien 36C, 0352 Oslo

Pedro's is a tiny wine bar and an eatery, as Pedro Caiado puts it himself. A selection of mostly natural wines can be found by the glass or by the bottle and petiscos, small bites, accompany the drinks.

Radegast

Phone: +47 923 38 293

Address: Nordre gate 2, 0551 Oslo

As you enter the Radegast wine bar at Nedre Foss Gård, you may get the feeling of entering a private wine cellar or a wine club. The temperature controlled glass cupboards are filled with wine bottles and there is plenty to choose from, such as Jura (for once in Oslo, the Jura selection may actually be larger than the Burgundy one), Spain, Italy and South Africa.

Territoriet

Address: Markveien 58, 0550 Oslo

While Territoriet's history only dates back to 2014, it has become an institution in Oslo with its extensive wine list and by the glass policy. The small wine bar is contemporarily decorated and has an intimate atmosphere which allows you to study the wine list in comfortable surroundings. Territoriet has a long wine list which covers most classical wine regions. While Territoriet has a special heart for the classics you will also find contemporary producers from the old and new world. (Photo Copyright Lars Myhren Holand)

Markveien Mat & Vinhus og Vinbaren Dr. Kneipps

Phone: +47 22 37 22 97

Address: Torvbakkgata 12, 0550 Oslo

Perhaps Oslo's first wine bar, Dr. Kneipp´s at Markveien Mat & Vinhus is an institution that continues to attract wine enthusiasts. The atmosphere in both the wine bar and restaurant area is relaxed and the worn dining room bears witness to conversations and bottles shared over three decades. Markveien Mat & Vinhus has a long and classic wine list from regions like France, Italy, Spain and the US. The wine list will also reveal some older vintages rarely found elsewhere.

Smalhans

Phone: +47 22 69 60 00

Address: Ullevålsveien 43, 0171 Oslo

Smalhans is a neighbourhood restaurant in the popular St.Hanshaugen area of Oslo. Perhaps the first restaurant in Oslo to offer a pure naked wine wine list, Smalhans is now well established among the locals as the place to go for for a full "Krøsus" menu, a snack in the bar, a plat du jour or a Sunday burger. The menu is varied and takes inspiration from all the corners of the world, and the wine list features some of the most well known naturalist wine makers of Europe.

TXOTX

Phone: +47 921 69 062

Address: Trondheimsveien 2, 0560 Oslo

Txotx is something as exotic as a Basque pintxos bar in Oslo, the interior is fun and casual, and the wine list is Iberican. Txotx might just have the widest selection of wines from Spain and Portugal available in Norway, with both modern and traditional producers represented. And of course some Txakoli.

Vintage Kitchen

Phone: +47 459 15 625

Address: Lakkegata 55, 0187 Oslo

In the eastern part of Oslo city center, tucked in between new office buildings, an old listed building houses Vintage Kitchen, a restaurant and wine bar. Vintage Kitchen combines the essence of a Danish "kro", offering lavish open sandwiches daytime and a classic kitchen in the evenings. The wine list is extensive and mostly classic, but you will find some hipster wines too. Vintage Kitchen also offers a broad selection of wines by the glass.