Niagara winery restaurants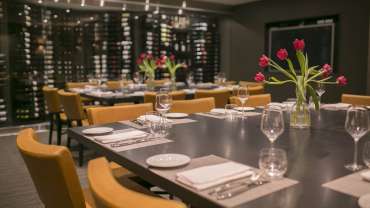 Niagara wine country is blessed with a number of good restaurants that allow wine lovers to enjoy the local wines with food and views of the vineyards. There a number of winery restaurants in Niagara but also independent restaurants for the wine traveler. Here are a number of wineries in Niagara with restaurants, listed from east to west. And to start the list, a Niagara restaurant without a winery!
Treadwell Cuisine

Phone: +1 905-934-9797

Address: 114 Queen St, Niagara-on-the-Lake, ON L0S 1J0

Treadwell Cuisine is located on the picturesque main street of Niagara-on-the-Lake. The cuisine is local with a farm to table philosophy and the wine list continues that approach with extensive local selections and multiple vintages across the wine appellations of Niagara. But there are also wines from other regions such as Burgundy and California on the Treadwell wine list.

Peller Estates

Phone: +1 888-673-5537

Address: 290 John St E, Niagara-on-the-Lake, ON L0S 1J0

Peller Estates, a Canadian wine pioneer, is home to Niagara's only igloo-like lounge where you can taste Icewine at -10 C. Peller's Winery Restaurant offers seasonal menus to be enjoyed with a great vineyard view. Party in the Vineyard at the annual food truck event in spring and country music festival in summer.

Ravine Vineyard Estate Winery

Phone: +1 905-262-8463

Address: 1366 York Rd, St. Davids, ON L0S 1P0

Ravine Vineyard Estate Winery is built on land that has been in the Lowrey family since the 19th century. The viticulture is organic and the winery produces a range of white, red and sparking wines, as well as rosé and icewine. The Ravine restaurant has a patio overlooking the vineyards and serves a seasonal menu based on locally sourced ingredients.

13th Street Winery

Phone: +1 905-984-8463

Address: 1776 Fourth Ave, St. Catharines, ON L2R 6P9

13th Street Winery is located near the town of St. Catherines and has a wide range of wines from Pinot Noir, Gamay, Chardonnay, Riesling as well as Sparkling Wines. The on-site 13th Street Bakery is open daily and offers fresh-baked goods. It is common for visitors to enjoy some baked goodies with the wine and then take some to-go.

Creekside Estate Winery

Phone: +1 905-562-0035

Address: 2170 Fourth Ave, Jordan Station, ON L0R 1S0

Located in Jordan Village, Creekside Estate Winery creates wines which are bold in flavour (the Syrah and Sauvignon Blancs stand out). The atmosphere in the tasting room is fun and relaxed – though the wines are serious, they definitely do not take themselves too seriously here. The new restaurant, called the Deck at Creekside has covered area and a very nice view of the pond and vineyards. In the summer, local artists play live music and there is great BBQ foods to be had. When visiting, we recommend a look into the large underground barrel cellar.

Redstone Winery

Phone: +1 905-563-9463

Address: 4245 King St, Beamsville, ON L0R 1B1

Redstone Winery in Beamsville is named for its red clay soil and large stones found in many of their vineyards. Moray Tawse and the winemaking team of Rene Van Ede and Paul Pender are exploring varieties such as Merlot, Cabernet Sauvignon, Cab Franc and Syrah. The hospitality centre built in 2015 houses a combination tasting room and 80-seat restaurant.