10 great wine places in Aarhus, Denmark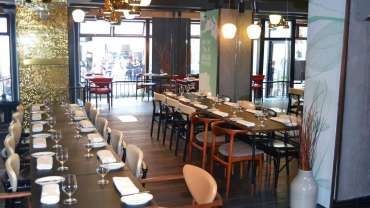 Aarhus is a Danish city with a lively food and wine scene, where you can find everything from Michelin restaurants to small and relaxed wine bars. Here's the guide to the best wine spots in town, selected by Rasmus Lunkov Marquart, Nordic Sommelier Champion and Restaurant Manager at Restaurant Lyst in Vejle.
Phone: +45 61 43 70 10

Address: Mejlgade 35B, Aarhus C

Restaurant Domestic is a one-star Michelin restaurant in the Latin area of Aarhus. The restaurant serves two set menus with ingredients sourced as close to the restaurant as possible. They are focusing on sustainability and making you feel at home as a guest – Domestic has managed to make a restaurant with a very high standard without becoming stiff.

Phone: +45 86 14 22 80

Address: Oddervej 19, Aarhus C

This restaurant is located in the forest of Marselis and is neighbour to the royal castle of Marselisborg, just at the outskirts of Aarhus. The restaurant has one star in the Michelin Guide, with the star-chef Wassim Hallal as the mastermind in the kitchen. The menu is inspired by the nature surrounding the restaurant, and there are two set menus to choose from.

Phone: +45 28 78 16 17

Address: Rosensgade 28, Aarhus C

Gastromé is a small cosy restaurant in the Latin quarters of Aarhus, currently awarded with a star in the Michelin guide. The restaurant offers different tasting menus that combine French and Danish cuisine. Due to the size of the restaurant, it is often fully booked.

Phone: +45 33 13 93 00

Address: Banegårdspladsen 12, Aarhus C

Mash Aarhus is part of the well-known Mash group, which runs several venues around Denmark and Germany. The restaurant was originally a modern steak house, but over the years, it has developed a wider option on the menu.

Phone: +45 86 17 70 99

Address: M. P. Bruuns Gade 31, Aarhus

At Nordisk Spisehus, you will experience Nordic cousin mixed with tastes from around the world. Each season, the restaurant celebrates and showcases either a restaurant or a type of cuisine from a country or region, of course with matching wine pairings. The restaurant is awarded a Good Plate at the Michelin guide.

Phone: +45 22 82 01 15

Address: Frue Kirkeplads 1 A, Aarhus C

Pinot is a combined wine bar and wine shop in the centre of Aarhus. They have a wide selection of wines and spirits from the entire world, from small niche producers to the classics.

Phone: +45 86 13 88 00

Address: Åboulevarden 7, Aarhus C

Restaurant ET is a French-focused restaurant, which shows both in the food and the wine list. On the menu, you will find traditional French dishes mixed with Danish cuisine, and the ambience echoes of a classic brasserie in Paris.

Phone: +45 40 38 40 12

Address: Borggade 16, Aarhus C

Reduktivt is a small cosy wine bar and wine shop in the Latin area of Aarhus. They are exclusively focused on natural wines and are constantly keeping track of the movements in the natural wine world. Reduktivt also has a wine club, where they offer members a monthly shipment of 3-4 bottles to help you explore the world of natural wines. At Reduktivt you will always enjoy good vibes and ambience, and the place is often crowded. Apart from the wine shop, they now and then do pop-up events with both other wine bars and restaurants.

Phone: +45 72 20 66 20

Address: Klostergade 62, Aarhus

S'Vinbar is located right in the centre of Aarhus. It's a well-known wine bar with a wide selection of wines, both by the glass and by the bottle. Apart from the wines, you can also enjoy light bar food and some snacks.

Phone: +45 86 23 04 01

Address: Mariane Thomsens Gade 2 F, 11.1, Aarhus C

Short Wine List of the Year Denmark 2020

A long Aarhus darling, who recently changed location to the new area of of Aarhus in the harbour. The restaurant is located on the 13th floor with a spectacular view of Aarhus. The interior of the restaurant is kept in the same mood as before with inspiration of 1960's clean architectural design. Restaurant Substans had a michelin star at the old address, and nobody would be surprised if they get one again.