Heaven 23 i Göteborg har bästa österrikiska vinlistan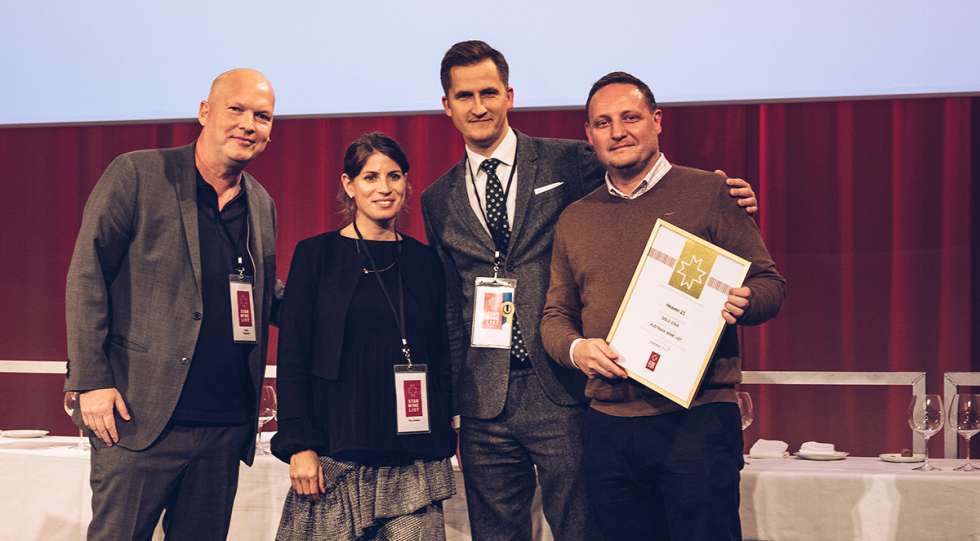 Göteborgska Heaven 23 tog hem kategorin Austrian Wine List på Nordic Star Wine List of the Year 2019. Priset delades ut i samarbete med Austrian Wine.
– Fantastiskt roligt! Både personligen och för oss som team. Jag ser det som ett kvitto på att det vi gör är både intressant och relevant. Det är naturligtvis ett lagarbete, både det rena vinarbetet men även att andra gör sitt så att vi får förutsättningar för att lägga den tid och kärlek på vinet som vi vill. Vår satsning på Österrike är ju dessutom raka motsatsen till en dagslända, vi började det arbetet redan 2006 och det finns ett antal personer som under den tiden varit med och bidragit till att vi är där vi är nu. Ingen nämnd men inte heller glömd, säger chefssommelier Andreas Hiller.
Han hoppas att utmärkelsen ska göra att fler personer upptäcker vinlistan på Heaven 23:
– Kanske framförallt att vi har ett bredare erbjudande än det som många förknippar oss med. Det är naturligtvis också en kick för oss -att vår satsning märks och uppskattas, säger han.
Jurymedlemmen Arvid Rosengren, världens bästa sommelier 2016, säger så här:
– Det här är förmodligen en av de bästa listorna i världen för att dyka på djupet i österrikiska viner. På hemmaplan saknar den motstycke.
Kategorin presenteras av Austrian Wine

Austrian Wine - 7 Elements of excitement
Austria's wines are now highly prized both by wine experts and wine lovers all around the world. As artisanal products crafted by winemakers with a special link to their land, they consistently demonstrate their potential at international blind tastings. There is a distinctive tension common to all these wines which should be emphasised, based on seven factors:
1 THE CLIMATE - THE TENSION OF OPPOSITES
Austria's special geographic setting is the most important factor for the exceptional quality of its wines.
2 THE LAND - BEAUTIFUL LANDSCAPES, DEMANDING SOILS
Austria is a relaxed country with an unmatched quality of life. This is one of the key reasons why Austria has become a globally-renowned tourism destination.
3 THE GRAPES - DOMESTIC AS WELL AS INTERNATIONAL
Internationally successful varieties such as Riesling, Sauvignon Blanc, Gelber Muskateller (Muscat Blanc à Petits Grains), Weissburgunder (Pinot Blanc), Chardonnay, Pinot Noir, Merlot and Cabernet all ripen in particular regions and sites in Austria, producing great wines in their own right, with finesse and regional typicity.
4 THE CULTURE - GREAT TRADITION MEETS WILD ROOKIES
For over two millennia, wine has been a part of Austrian culture. Roman cellars, mediaeval villages, baroque monasteries and castles are all part of the typical landscape of our wine-growing regions.
5 NATURE - PERFORMANCE WITH AWARENESS
Austrians love nature and as a result they treat it with the greatest of respect. Environmental protection, water purity, healthy and GMO-free food, biodiversity, energy and materials efficiency are all treated with the highest priority.
6 VALUE FOR MONEY - HIGH QUALITY, FAIR PRICES
Family farms dominate the Austrian winemaking scene, which is why the focus is not on mass production.
7 THE TASTE - IDEAL MATCH, FROM SCHNITZEL TO SUSHI
Austrian wines have a compact body and climate-driven freshness which makes them an excellent match for an exceptionally varied range of cooking styles and cuisines: from Central Europe to the Mediterranean and beyond to Asian foods, and from ethnic food to fusion.
Read more on <a href="https://www.austrianwine.com/" rel="nofollow">Austrian Wine</a>