The guardian of the cellar in the sky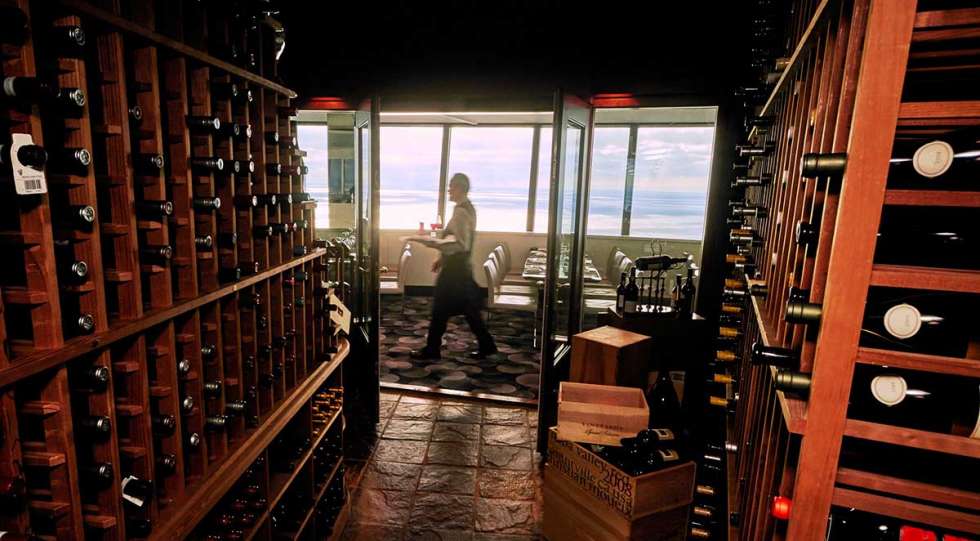 Note: Since this was published, Jascha Baraness has moved to a new position at Barberian's Toronto.
Sommelier Jascha Baraness is the wine custodian of the wine world's most heavenly outpost – the wine cellar at the 360 Restaurant in the CN Tower in downtown Toronto.
"Our wine philosophy is Canada first. We at CN Tower see ourselves as the beacon of Canada and we are the first stop for a lot of tourists. Since I've started we've doubled our Canadian content on the wine list," says Jascha Baraness when we catch him between lunch and dinner service on a busy summer Friday.
Jascha Baraness started as Senior Manager Restaurant and Beverage Services at 360 Restaurant last year. On this Friday, the famous Toronto tower's restaurant had 500 covers for lunch and about 1000 covers booked for dinner, but since the price of the elevator is included in the meal not everyone is there for the gastronomy.
The menu proudly states "Canadian ingredients, Canadian wine, Canadian view" and offers options such as Ontario chicken ballotine with Québec foie gras, with its wine pairing 2014 Bistro Chardonnay from Hidden Bench Winery. Indeed, all menu items have corresponding Canadian wine pairing choices. There are also seafood platters with, you guessed it, all Canadian seafood.
At 351 meters (1151ft), CN Tower's wine cellar with room for 9000 bottles is even higher than the Eiffel Tower. The temperature is kept at 13 degrees Celsius (55 degrees F) and the cellar has held a Best of Award of Excellence by Wine Spectator for 20 years running. The wine list benefits from having been around for a while and among the 500 listings you can find older verticals of both Dominus and Chateau Haut-Brion, but the focus is Canada, with about 120 listings and rising.
"It takes a while to put your own mark on the list. My predecessor was very big on California Cabernet and there were two pages of it when I started and we're down to less than one page now. Our goal is also to make the wines more accessible. Every wine we're selling out of that was more than 200 dollars on our list we're now replacing with something that is under 100 dollars," Baraness says.
At the same time, the older wines on the 360 Restaurant wine list are kept at markups that make them reasonable in price.
"So that guests want to come in and buy a nice bottle of wine, they can get extremely good value. In some restaurants a wine might be 900 dollars but on our list they might be 300 dollars," Baraness says.
At 40, Jascha Baraness has plenty of experience in wine and hospitality. Before CN Tower, Jascha did three years at the wine institution Barberian's Steak House in Toronto. On the CV Jascha also has Splendido, which was one of the top restaurants in Canada before it closed a few years back, and also a stint at a one-star restaurant in Lausanne, Switzerland. Wine came early to Jascha, and the credit goes to his French father.
"There was always wine with dinner and from age 12 my father encouraged me to smell and taste and participate in wine… he understood its role with the meal and explained regions to me."
Which are your favourites in wine now?
"I'm an Old World guy, I drink Burgundy whenever I can afford it. I love Chablis, I love Burgundy, both red and white. I really like Syrah from the northern Rhone, and I think there is a lot of promise in Ontario Syrah as well. Big Head is making a whole cluster Syrah now that is absolutely stunning… Central and northern Italy are very much to my liking and I've met very few Rieslings that I didn't like… I'm pretty much open to anything. Much of what I prefer is to the more elegant side though."
For the restaurant, can you get all the wines you want?
"For most wines we can. All liquor comes in through the Liquor Control Board of Ontario and one wing of that deals with licensees and if there is something that's being released I always try and get ahead of that."
How is the wine scene in Toronto, in your opinion?
"I think Toronto as a wine scene is growing on a daily basis and our sommelier community is very tightly knit here. I had friends in town from Boston recently, friends that I met when I was with Fred (Fredrik Lindfors, Head sommelier at Grand Hotel in Stockholm, editor's note) in New Zealand. They came to spend the weekend and we organized a wine dinner and they had so much fun. They remarked afterwards that there was a camaraderie among the sommeliers here… It's not 'my list is better than yours, or look at these wines that I were able to buy from my list'. It's 'Oh my goodness have you seen the new wines that such and such an agent has and you should really get on them quickly.' We all want each other to be successful."
Which are your favourite wine bars and restaurants in Toronto?
"There's a wine bar that opened recently, the Mad Crush wine bar and there's a great little wine bar called Archive as well," Baraness says, and adds Barberian's, Alo and Edulis as other top wine restaurant tips.
Publicerad 08-juli-2018
Nyheter / Toronto
Premium: Sök bland fler än 1900 vinlistor i över 35 länder