Shannon Tucker on typicity, favorite wines and the California wine scene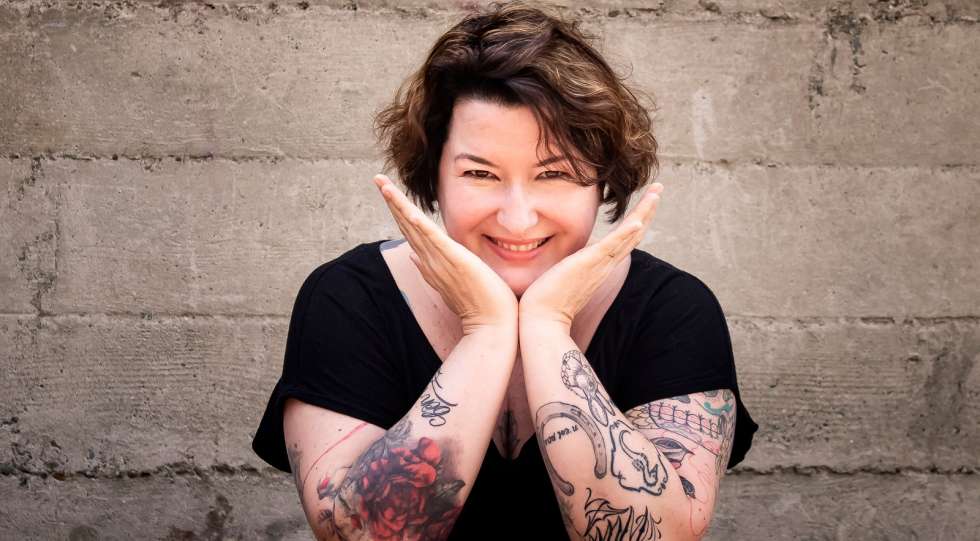 Shannon Tucker runs the wine program at Foreign Cinema in San Francisco, a Mission District institution now in its 20th year of business. Tucker herself is a rare 7th-generation San Franciscan who has lived and worked for the majority of her life in the Bay Area.

(Editor's note: Shannon Tucker has since left Foreign Cinema)
Prior to landing at Foreign Cinema, Shannon Tucker worked at notable establishments like Bar Tartine and Bacar, but it was during the decade of her childhood spent in the United Kingdom — her father's homeland— that she first began to develop her understanding of wine.
Tucker's parents always loved to entertain. They typically included wine with dinner, which Tucker was allowed to taste beginning around the age of 10. By the time she was 12, she was allowed to have her own glass of wine, if she felt so inclined. "It was the 1980s in England, so there was a lot of Bordeaux," she notes.
Tucker's family moved back to California eventually, but her preference for wine remained largely European as she grew into her chosen career. The list at Foreign Cinema boasts robust sections for classic French regions like Burgundy and Rhône but also includes a healthy assortment of Bordeaux, which Tucker admits is somewhat personally nostalgic.
When Tucker began working with wine as a 20-something in San Francisco in the early 2000s, she found it hard to relate to many others in a wine scene that she felt lacked diversity. Just like today, many aspiring wine professionals were training under master sommeliers and aiming for various certifications while working jobs in wine-rigorous restaurants.
"Michael Mina was a great place to learn and has taught a ton of people, but that community mostly centered around the double-windsor, master court, and white bros — which all felt totally inaccessible to me. I was a tattooed Mission lesbian, so they weren't really my people," Tucker says.
She thinks that keeping a distance from predominant wine culture and trends during this time in her career allowed her to form her own style.
I don't like all natural wine, but I like what it's done for the industry
She is grateful that wine culture in the Bay Area seems to have evolved in the last ten years, with many more examples of what it means to be a wine professional.
"It's way more interesting than it was," she says, though she admits it could still be even more diverse.
"I think the natural wine movement has really opened up wine as an option for people who don't want to wear suits or work in the Michelin system; the idea of affordable, accessible wine rather than focusing on trophy bottles. I don't like all natural wine, but I like what it's done for the industry."
When it comes to the idea of "typicity" in wine, Tucker believes that the concept has become more flexible in recent years.
"That is also part of the natural wine movement, where perhaps lack of winemaking can sometimes mute the terroir. The wine is still interesting – and sometimes enjoyable – but isn't as tied to a sense of place."
Tucker describes her own list at Foreign Cinema as leaning "relatively classical with a bit of a weird edge," incorporating a balanced mix of her beloved European wines and new, sometimes quirky, discoveries from elsewhere in the wine world, including home. And yes, some of these wines are natural.
She works with a number of local winemakers who she feels consistently produce natural wines of place — Methode Sauvage, Cruse, Jolie Laide, Martha Stoumen, to cite a few examples. Tucker puts these relative newcomers alongside veteran California producers like Peay, Corison, Sinskey and Ridge, who she notes may not technically qualify as "natural" but still produce wines without much intervention — only at a different level of resources and vineyard control.
"I love that there's room for both. They offer different options for guests, both in style and, often, in price point," she says.
I am getting more and more into trying young and interesting local producers
Although very knowledgeable on the subject, Tucker claims to have only recently garnered any real enthusiasm for local wines.
"California wine had been a bit of a snooze area for me until the last few years. There have always been producers that I admire and wanted to support, but not many I would drink on my own. That is really changing. The swing toward lighter, fresher, lower-alcohol and brighter flavors has been very exciting. Now I do sometimes choose California wine to drink when I'm not working. I still have much more European wine at home, but I am getting more and more into trying young and interesting local producers. Our list at Foreign Cinema is also shifting that way; domestic Cabernet Sauvignon is perhaps the most old-guard section of the list," she says.
Regarding the direction of wine in California, Tucker thinks that the industry is still finding its footing. Beyond the question of what grapes will prevail in various sub-regions or whether California will have a cru system like many European regions, she considers the socio-political aspects of the industry.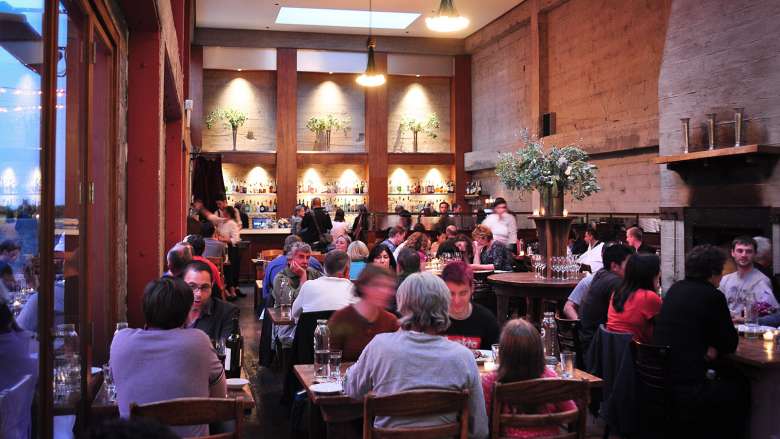 "I think that wine producers are a reflection of a divergence in U.S. society happening right now. The rich have more and more, and the rest have a bit less and less. So you have wineries that make beautiful wines with an unlimited budget and resources, and then there are guys doing it on a shoestring. It's not apples-to-apples to compare winery practices when some are owned by venture capitalist firms and others are owned by one man or woman, maybe with a day job, trying to swing it in a crush facility without access to the resources that get someone vineyards in super-sought-after AVAs," she says, and continues:
"The main point, I guess, is that so many of the new and interesting wineries that are happening in California don't have access to those things. But that's also part of why they are so compelling: the Hardy Wallaces or Laura Brennan Bissells, who travel all over and get grapes and do everything themselves — and then go out and sell the wines. These wines are maybe not as polished and don't have the pedigree of one from Mt. Veeder or Oakville with three years in François Frères barrels, but they are more exciting to discover," Tucker says. "More and more, I'm drawn to buy and drink these more-bootstrap operations — they are more in line with my life."
Do you gravitate towards any particular AVAs or Sub-AVAs when you are drinking California wine or is yours a more producer-based interest?
"I think it's more producer-driven, but I would say that some of the more fringe areas are becoming a theme — or large AVA designates: rather than focusing on Sonoma Coast or Carneros, wine designated simply as California is popping up more. Also, more Sierra Foothills, Sacramento Delta, and other places where grapes are cheaper and more experimentation tend to happen."
How do you usually navigate a trade tasting. Do you have a set strategy?
"I am pretty focused when I go to trade tastings. I generally try to have a plan and really hit the things I need to try that won't be opened again. Then, at the end, I do "free swim" and see what looks interesting. I can get a little socially overwhelmed at them, so I also try to stick to a time frame. I generally also go with our two sommeliers. Sometimes we split up at first and then will have each other try things. I like that because it can be super interesting to see what they're into, including something I might have skipped."
Where do you like to go in the Bay Area for no or low corkage options?
"I have a group of wine friends, and we have periodic dinners where everyone brings a bottle or two. Restaurants Z&Y, Chili House, and Old Mandarin Islamic are all favorites. Other types of places to bring wine are mostly places owned by friends of mine, so they're copacetic about me bringing in some wine — and also buying some."
What is your favorite list in town besides your own?
"I really like Heirloom Café. Loló has some cool natty wines. I drink a lot at Ordinaire and love Quentin's suggestions. Like everyone else in San Francisco, I think the wine at Verjus is pretty rad. Matt always has something super cool stashed. I drink quite a bit of wine at Fool's Errand, as well — especially when the weather is nice."
Favorite city in which to drink wine besides San Francisco?
"Hands down, Paris."
What are the elements of a truly compelling wine list in your opinion?
"Having enough styles and price points that you can find something; not necessarily a big list, but one that makes you want to drink."
What is the most unusual wine list you have ever encountered, either in San Francisco or elsewhere?
"I don't tend to be into lists that are esoteric just for the sake of it; it really is a new way to make people feel like they don't know about wine. It's elitist and opaque. I love the things I find on the list at Verre Volé —that's the kind of unusual I like, where there are wines I've never actually seen in real life but have wanted to try, and a program that I know is well-curated so I'm happy to take a chance."
Did you have a trigger wine?
"A good or bad trigger? A good trigger, a wine that makes me want to drink it when I didn't even think I wanted wine is Champagne. A bad trigger is probably big, oaky, buttery California Chardonnay."
Check out Shannon Tucker's Foreign Cinema wine list by clicking the link below!
Premium - turning into Pro