Search over 1,500 wine lists with our Premium Membership
Today, Star Wine List launches a new Premium Membership for wine lovers. The members can search for their favourite wines in more than 1,500 wine lists around the world, and more benefits are on the way.
SIGN UP TO THE PREMIUM MEMBERSHIP HERE
While wine lists have been searchable before on Star Wine List, there are now hundreds more of them thanks to our new White Star category. All wine lists have been vetted and approved by Star Wine List.
The membership costs 8.9 Euro or 9.9 USD per month, with rebates for yearly subscriptions, sommeliers, organisations and teams.
"The rest of Star Wine List's award-winning content is still open and free for all users, including our articles, guides, info about the recommended venues and their wine lists," says Krister Bengtsson.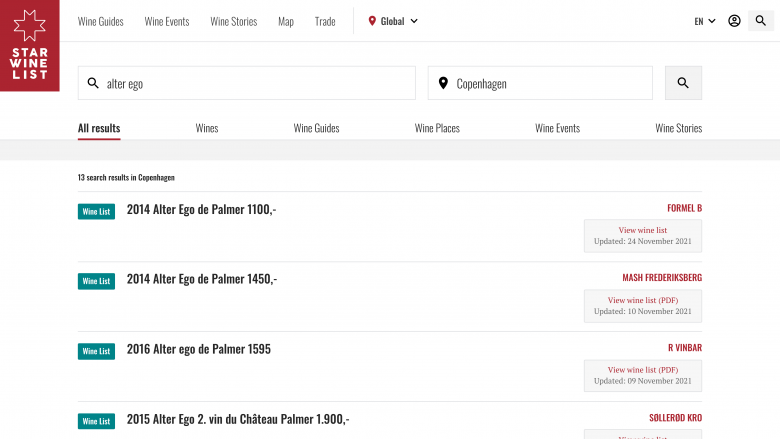 Benefits with the Premium Membership
For wine lovers:
Search for wines and see where they are listed. Whether you are a fan of Ganevat or Harlan, there are wine lists that will make you happy. Find them through Star Wine List first.
For sommeliers:
Search for your favourite wines, benchmark your offering, get inspiration from other sommeliers.
For wine producers and importers:
Search for your wines and see where they are listed Search for other wines in your category and see places that would be interesting for you.
Future: even more benefits
The wine search is a unique feature. But we have even more benefits on our roadmap for Star Wine List's Premium Members.
SIGN UP TO THE PREMIUM MEMBERSHIP HERE
Published 12-December-2021
News