Sarah Heller: "It's an extremely interesting time for the Chinese wine industry"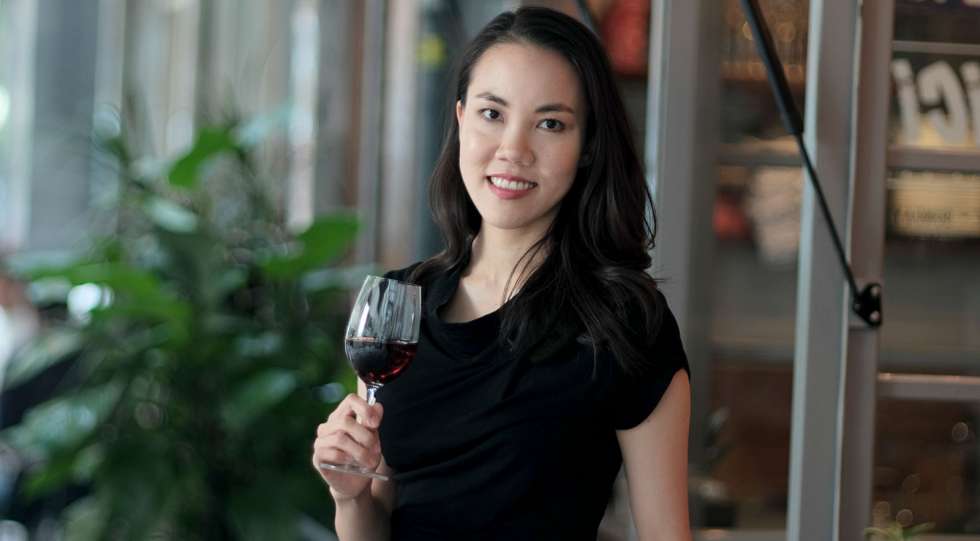 Hong Kong-based wine whiz-kid Sarah Heller – wine communicator, designer and consultant – is one of the brightest stars on the Asian wine scene right now, and has seen both Hong Kong and mainland China grow as wine markets.
"The Hong Kong wine bar scene has matured a lot since I got into the business ten years ago," says Sarah in this interview with Star Wine List's Andreas Grube.
In 2017, at age 29, Sarah Heller became the world's youngest Master of Wine. She's been awarded, among other things, Wineluxe Magazine Wine Person of The Year and Prestige Hong Kong 40 under 40. And, apart from being a sought-after speaker and writer, she's also a partner and buyer for the Central European wine brand Almásy Collection, sits on the faculty of the Vinitaly International Academy, is the wine editor for Asia Tatler, and has created an art series, called Visual Tasting Notes – plus yet some more commitments.
Sarah Heller indeed has a lot going on. But she actually got into the wine biz more or less by accident.
"Around ten years ago, I became very interested in cooking and decided to take some time off from university to work in a kitchen in Piemonte, Italy. My chef was a big wine lover, and we would spend most weekends driving around the countryside visiting wineries. Then when he got sick and couldn't go to Vinitaly, he ended up sending me as the restaurant's 'representative'. Soon I found I was more interested in wine than food," Heller says.
Then she moved back to Hong Kong and started working for legendary Asian Master of Wine Debra Meiburg. And through that, it became clear for Sarah that she wanted to become a MW herself. She graduated in 2017, as the world's youngest Master of Wine at the time.
"I've always been a bit geeky, so that helped, but I also appreciated that rather than focusing on one aspect of wine, say distribution or winemaking, the MW is truly a 360 degree take on the wine industry," she says.
Being based in Hong Kong, Sarah Heller has witnessed the growth of the Hong Kong wine bar scene, as well as the Chinese wine industry, up close. Her opinion is that China has evolved more than anyone would have imagined from an early stage:
"It's gone from this highly immature market to one that remains very stratified: The vast majority of the population doesn't have any familiarity with wine, but a huge contingent of people is drinking wine on a somewhat regular basis – at least 40-50 million people if you believe the research. There is also a top tier of wine experts in China who are truly world-class; because of all the wealth and interest in the market, these relatively newly-minted experts have gotten access to some of the wine world's most exclusive bottles, people and properties," she says and continues:
"The Hong Kong market is in an interesting state of transition from a very traditional, fine wine-obsessed market to one in which there is a richer middle tier with a diverse array of wine styles. The key for future growth will be appealing to younger drinkers with this broader selection because many traditional collectors have increasingly full cellars."
This diversity also applies to the wine bar scene in Hong Kong:
"Most of the places you would call a 'wine bar' used to be based in the large international hotels and everything was extremely expensive. Then we went through a phase where enomatic wine bars became a mini-trend because it was much easier to bring in a large range of wines. But gradually people seemed to grow bored with the concept," she says.
Now, she says, there are​ wine bars for lovers of both "old-school" European producers and natural wine.
"There's also a lot more Coravin-driven wine programs today. Plus the hotels have become much more creative in the way they put together their wine lists; pouring from magnums and more exciting wine pairings, for example."
I think a focus on grape varieties like Marselan, which is becoming a real Chinese speciality, is very encouraging
Also when it comes to the production side of the industry, Sarah believes that China has come a long way, with producers beginning to make more informed decisions about what to plant where, and gaining access to cleaner vine material.
"It's an extremely exciting time for the Chinese wine industry. There's still a lot of work to be done – and vine age to be gained – but I think a focus on grape varieties like Marselan, which is becoming a real Chinese speciality, is very encouraging," she says.
The first time Sarah and I met, we were cramped together in the backseat of a 1920's vintage car, cruising through the Art Deco streets of Napier, New Zealand, during a press trip. One of the things we talked about in that car was that some people tend to, sometimes quite lazily, pair every Asian food with sweet or semi-sweet Riesling – a topic on which Sarah has a lot to say, also today when I remind her about it.
"First of all, Asian food is incredibly diverse — for example, spicy southern Indian coconut curries and sashimi couldn't be more unlike each other — and the other is that Asian peoples' palates are very diverse. Many Cantonese struggles to eat spicy food and prefer super delicate flavours, whereas many Koreans, like my mother, find dishes without chilli, garlic and fermented flavours really dull. So, the question is both who is drinking and what are they eating."
"Sure, Riesling with some residual sugar is a good answer if you want to subdue the spice. Personally, I actually find Sauvignon Blanc with just a tiny bit of RS, (no more than 5-10g/L), and not too much alcohol is amazingly versatile — the sugar stops it from seeming too acidic if there's any sweetness in the food and the flavours are punchy enough not to get lost next to anything super flavourful but aren't so overwhelming that they destroy a delicate dish."
Tell us about your art series Visual Tasting Notes, and how that came about?
"Before becoming a wine person, I studied art at Yale, so I've always been 'visually inclined'. I had seen examples of people using info-graphics and drawings to illustrate the flavours in wine, but they always struck me as too literal to really reflect the way I experienced wine, so I started experimenting. I felt like something a bit more abstract, using colours, textures and shapes to describe the way the wine felt and only showing fragments of identifiable fruit/flowers when it was an apparent flavour, was truer to my experience."
Sarah Heller on:
…what she drinks on a night off:
"Because I started my wine career interning at a natural wine importer in New York, I still have a weakness for orange wine, when it's made cleanly. Some new world examples, like the Pinot Gris from Sato in Central Otago, have a beautiful purity but also give you a range of umami-like flavours that just don't come up in other wines."
…her best advice for strengthening one's wine knowledge:
"The world of wine can seem ridiculously complicated, but if you divide the world into a limited set of say 50 'archetypal' styles, your brain can then process everything else you taste as a version of those archetypes. For example, once you understand what the key features of a Sancerre are, it gives you tools to understand other old-world Sauvignon Blancs. Also, don't over-taste! When I was trying to make sure I understood a particular wine style I made certain that I was only tasting typical examples and not too many different ones, or you can lose sight of the 'essence' of that style."
…the most exciting wine regions in the world right now:
"I'm a partner and the buyer of a brand called the Almásy Collection that sources wine from Central Europe, from Austria as far east as Transylvania in western Romania. This part of the world is super exciting for its exotic grape varieties (even the 'familiar' ones like Harslevelu and Blaufränkisch/Kékfrankos) and extensive history of wine production that is almost invisible out here in Asia. Quality is hugely variable – we've tasted some really awful product in our search for great wines – but I think that's why the micro-negociant model works in this part of the world."
Premium: Search more than 1900 wine lists in 35+ countries