Natural wine champion Alice Feiring's journey through restaurants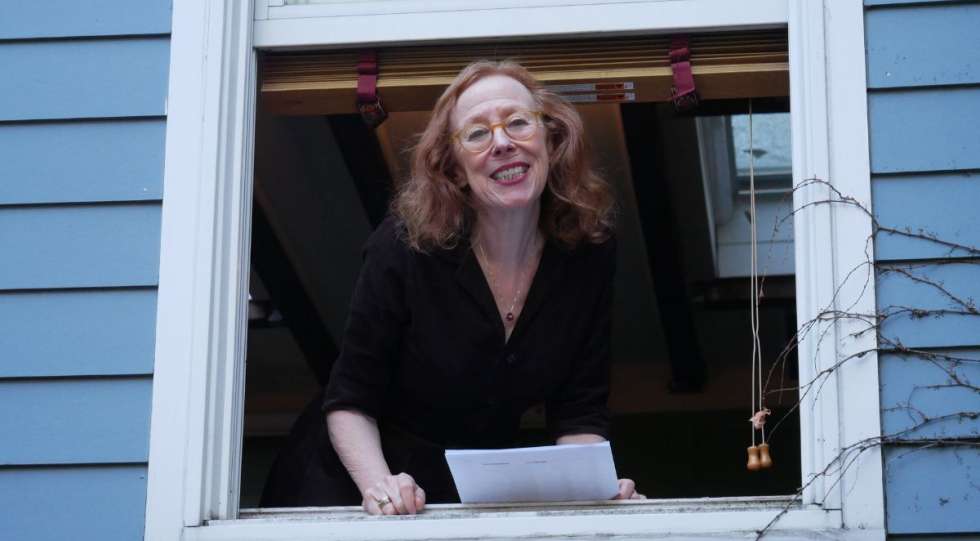 Alice Feiring is one of the most well-known wine writers of her era, thanks to her advocacy for natural wine. But what is her relationship to restaurants? Felicity Carter, a friend of Feiring's, was assigned to find out.
The first restaurants that Alice Feiring ever visited were less like halls of fine dining, and more like subways―places where people screamed and yelled.
Her parents would take her to kosher dairy restaurants like Ratner's and Rapoport's, both on the Lower East Side of New York, where the atmosphere was raucous, the food was Eastern European and the waiters were in charge.
"They were the traditional waiters who would guide you to the best dishes," says Alice. "But as a customer, you had very little choice about what to eat―the waiter would decide for you."
Alice, it has to be said, has taken those early lessons in dining to heart. A recent night out in Verona searching for food meant ducking and weaving around ancient streets, only for Alice to reject the restaurants on offer, one after the other. "No," is all she'd say, after checking the menu. "Let's go somewhere else."
By the time we found an acceptable restaurant, my pedometer had clocked up another 3,000 steps.
It's an uncompromising approach to food and wine that has made natural wine champion Alice into one of the most transformative and polarising wine writers of her era. And an intriguing one, which is why Krister (Star Wine List's publisher), asked me to write this profile―he wants the gossip.
A wine writer is born
At age 17, Alice ran away from home, only to be rescued from the snowstorm by a youth worker she knew. He took her to her first-ever non-kosher restaurant. "I remember being impressed by the quiet. It seemed very hushed and elegant."
Her rescuer asked her if she wanted a glass of wine. "Nobody had ever asked me that before," she says. "I landed on something called 'California Chablis' because I'd read about something called Chablis, not knowing that they didn't make it in California."
But she loved the experience, from the wine glass to the sipping and the sophistication.
I landed on something called 'California Chablis' because I'd read about something called Chablis, not knowing that they didn't make it in California.
During her undergraduate years in New York, she began exploring wine in earnest. "You'd go into wine shops and there were bottles of Bordeaux for $2 a bottle, so you thought, 'why not?'"
Then she moved to Boston to get her Master's, and house shared with someone in the wine business. "Our apartment became the base for twice-weekly wine tastings," says Alice. "I tasted mindlessly for about two years, and then all of a sudden I looked at a wine list, and knew what I was looking at."
The taste experiences kept coming. Alice, a vegetarian, found her first experience of North Indian food at the "low rent" India Sweet House in Cambridge to be "mind-blowing. It was the most amazing culinary experience of my life. I was so high on the spices, I was tripping."
Then there was the Normandy restaurant she visited in 1980, where she watched the woman who ran it pluck an artichoke from the garden and throw it into a pot of vinegar, to get the worms and snails out. It was Alice's first artichoke and "I'd never had anything so delicious in my life."
Or Panache restaurant in Cambridge, Massachusetts, where she had her first morels. "Chef Bruce Frankel was totally about the ingredients, the finesse, the glassware."
Yet it wasn't until 1990 that she read her first wine book. By then, she was set on a writing career and had moved back to New York to be near the centre of publishing, where she concentrated on writing about subjects like architecture. In 1990, she got her first wine writing commission―to write about wine on Long Island in New York, not exactly an epicentre of fine wine production at the time.
But one thing led to another, and in 2001 she wrote a groundbreaking article for The New York Times, about the amount of technological intervention winemakers were using, to try and get coveted points from Robert Parker. The article caused a furor.
Alice, appalled by the high-octane fruit bombs of the Parker era, went on the attack, through books like The Battle for Wine and Love, or How I Saved the World from Parkerization, and Naked Wine: Letting Grapes Do What Comes Naturally, which earned her the title of "the queen of natural wine".
It hasn't been cost-free―Alice can be ferocious when she's riled up, and the backlash she's had to her work has been punishing. For a while she was a lonely voice in the wilderness, a wine Canute attempting to hold back the tide.
Today, however, natural wine and natural wine lovers are everywhere, and Parker's bombs have fallen out of favour. Fine dining wine lists nearly always have something on the natural spectrum available, while life is also easier for vegetarians―even in Paris, where "people aren't going to kick you out any more if you insult the chef by wanting something different".
What's changed in restaurants
Alice says a landmark moment in restaurant wine lists is when Noma in Copenhagen rejected Bordeaux wines. "It was the first time that a major restaurant had the balls to reject what had always been considered untouchable–the crown of wine," she says. "And that opened up a lot of people's eyes."
But as food has become a major cultural force, Alice laments the big money that's moved into New York's restaurant scene, bringing a corporate ethos to dining. The result is a homogenisation of food―"the soft boiled egg and truffle, that's everywhere"―and a sameness to the wine offerings. "Affordable restaurants are harder to find," she says, adding that she prefers going out in Brooklyn because it's cheaper and more inventive."
Alice has also been surprised by the rise of star somms. "When we saw all the star chef stuff happening 15 or 20 years ago, I thought that would never happen in wine, because wine's not that visual," she says.
Other big changes include an improved awareness of ingredients, which Alice thinks has partly been driven by the natural wine revolution―the humble natural wine bar in Paris has had a great influence, she says, because the staff working in natural wine bars knew where their ingredients came from, to the point of building relationships with farmers. "In the past 20 years, there's been far more emphasis among smarter chefs on the ingredient and celebrating the ingredient," she says. "This goes hand in hand with the awareness of the importance of farming."
I won't let you buy that
The Nordic restaurants get that sensibility "perfectly," she says, while Noma also began the trend of bringing fermented foods to another level.
When it comes to fastidiousness about ingredients, though, nobody beats Alice herself. When I stayed with her this year, I watched her spend a full two days thinking about what finger food could supply a drinks party. Alice decided that radishes were essential, so we spent a blustery March morning racing up and down Manhattan, checking out market stalls and ducking in and out of delis.
None of the radishes on offer were good enough. Three hours later, Alice changed the menu, and we headed off on another chase for ingredients.
But that was nothing compared to the time I went clothes shopping, and Alice literally snatched a jacket out of my hands. Red velvet. OK, cheap red velvet, but definitely my colour. "I won't let you buy that," she said, grabbing it from me and handing it back to the surprised sales assistant. "Come with me."
Alice is tiny, like a bird, and can move at incredible speed. She dashed up Manhattan, from one end to the other, to land us at a French boutique where every item cost my entire year's salary. She didn't care that I couldn't afford anything but pulled me into the store. "Feel the clothes!" she said, patting her way through cashmere, wool and silk, to the bemusement of the sales staff. "You have to remind yourself what quality feels like, so you don't get suckered into buying crap."
It was like sitting in one of those kosher restaurants, I guess, where the waiters would tell you what to eat, whether you wanted them to or not. And yet they'd be right.
Alice Feiring's most recent book is To Fall In Love, Drink This, a memoir.
Premium: Search more than 2000 wine lists in 35+ countries. Download an unlimited number of wine lists.