Aldo Sohm: "Making wine made me a better sommelier"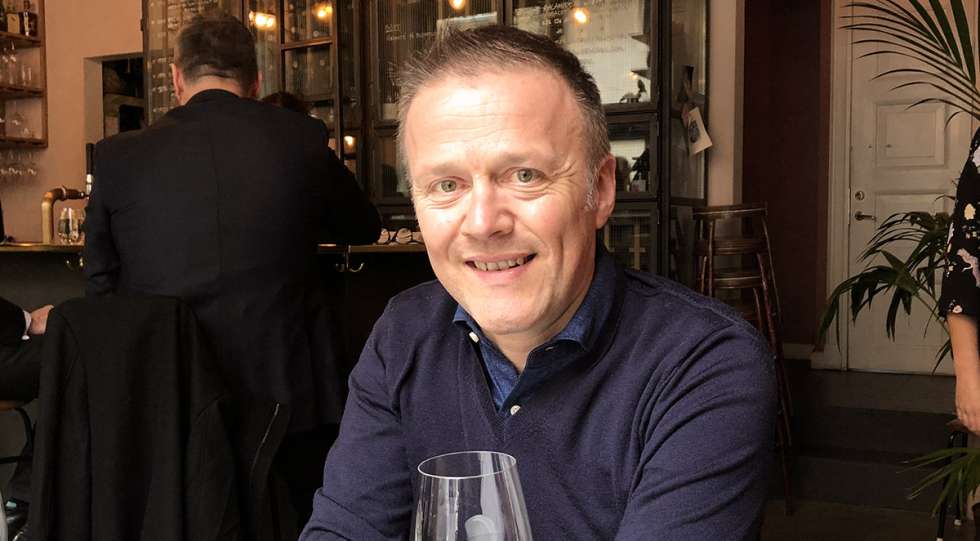 Q: What does the famous New York sommelier Aldo Sohm do when he's on holiday? A: Travel Europe to promote the Grüner Veltliners he makes with fellow Austrian Gerhard Kracher.
"I think Grüner Veltliner deserves a little bit more than to be a certain trend for a while, I think it is much more sophisticated. For our own wines, I have interned with Burgundy producers and I look for that freshness, that drinkability. The best bottle of wine is always the one that is first finished," says Aldo Sohm when we meet him at the wine bar Folii in Stockholm.
It is one of many stops around Europe in a week that also includes a day at the winery where he and Gerhard Kracher make their Sohm & Kracher wines. (To be technical, Kracher makes them, but they meet several times a year and skype every week). All the wines in the four bottle range are dry Grüner Veltliner, but when I compliment the 2017 and 2018 of Sohm & Kracher Lion, their entry level wine, he makes an uncommon comment for a winemaker:
"It is a style of wine I never wanted to make," says Sohm with a smile.
Really?
"Yes, well, listen, this is life. Gerhard pushed me for years because our Israeli and Russian importers asked him to produce a more approachable style. I work in a three Michelin star restaurant, I look for complications..."
At which point we're interrupted by Gerhard Kracher who stops by the table to say hello. Realizing it's an interview, he leaves but asks Aldo to not say bad things about him. They both laugh.
"In eleven years working together we've never had a fight, but we've had different opinions. So Gerhard caught me in a weak moment and I said ok, let's make the wine for those two, only two barrels. Then Gerhard gave a bottle to Michaël Engelman, a friend of mine who is a Master Sommelier (at The Modern, New York, Editor's note) and he said: it's really delicious. And recently Jancis Robinson raved about this wine. It kills me, haha!"
"You know I'm soon 48 and I still work the floor and I enjoy it, and one thing I learned is that the fish has to love the bait, not the fisherman. There is a reason we serve Pinot Grigio and Sauvignon Blanc. Is this the sommeliers' favorite wines? Maybe not. We like high acidity, high mineral, reduction. People in general don't like that. They want to have a good glass of wine, fresh and clean. And that is totally right, there is no point to judge that."
As much as we have to know how to recommend wines, I think what we have to do more is listening
Making wine with Gerhard Kracher has had an influence on Sohm's perspectives as a sommelier.
"You know we sommeliers criticise wine all the time but making it is a whole different story. My dad actually warned me and he said: you might catch some bullets. And I said, dad, I moved to New York, are you kidding me, haha. Making wine is a really humbling experience, it made me become a better sommelier I believe, because you stop being dogmatic about certain things and have a different perspective. You know, I used to take certain positions. I stopped doing that," says Sohm.
Aldo Sohm works both as a wine director at Le Bernardin and the wine bar that bears his name next door in New York. And yes, that means double shifts, five days a week.
"They are very different. Le Bernardin is a French restaurant, three michelin stars, the wine list there is very classic. Very strong emphasis on Burgundy. I call Le Bernardin a little bit like it's not the normal world. In the wine bar I can go much more eclectic. It's two different audiences also, and it completes me as a sommelier. There are very few people who drink Beaujolais at Le Bernardin but at the wine bar much more. I can bring Canary Island wines for example, I like to be unpredictable, I like to surprise people in a positive way."
Isn't one of the dividers or the tensions in wine, by the way, whether to go 100% for your own philosophy or to listen more to the guests or the customers?
"Of course you have to have an idea, a certain philosophy. But ultimately, you have to read the customer. You don't want to drink every day the same thing. Neither do I. And look, as much as we have to know how to recommend wines, I think what we have to do more is listening: Where is that person today? In what condition is that person? Are you coming from work? Are you here on vacation or in a business meeting? Did you have a terrible day and just need a glass of wine, or are you celebrating something?"
"I have a small little window as a sommelier. I have to listen to that, and I have to read that. They all require different things. There is no standard thing," says Aldo Sohm.
By Krister Bengtsson
The Sohm & Kracher wines are not everywhere but search for sohm & kracher in the search field above to find the wines in wine bars and restaurants near you. To browse Aldo's wine list at his Aldo & Sohm winebar - see the link below.
Fact: Sohm & Kracher
Sohm & Kracher make four wines, all dry Grüner Veltliner grown in Weinviertel. The wines are made at the Kracher winery in Illmitz. The wines are: Lion, Alte Reben, St Georg, Single Vineyard.
Published 25-April-2019
Interview / New York City