Viblioteca
Wine Bar, Restaurant
Barcelona, Spain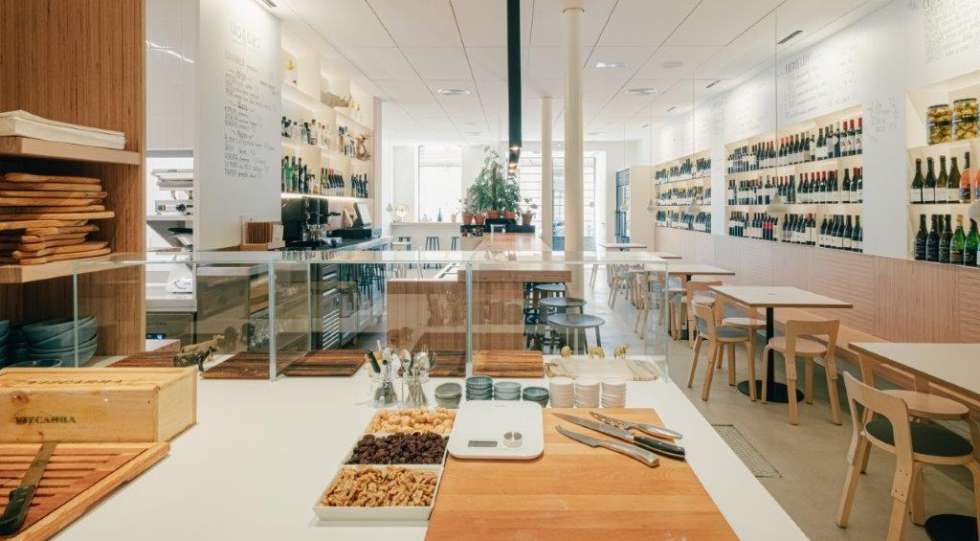 About Viblioteca
In a charming street in Gràcia, Carrer Guilleries, there is a charming wine temple which opened its doors in 2008. Small, with very careful attention to detail and a totally white decoration, it invites us to enter through the door because to discover is its motto.
Its name leaves no room for doubt: 'vi' is 'wine' in Catalan, and it plays with the concept of a library, which is the translation for "biblioteca". It is a place where wine and cheeses are kept in order and classified, just as in a library. Instead of having books, however, we are lucky enough to be able to enjoy authentic offerings of wine and cheese delicacies.
They have 160 references in their catalogue and change the wines by the glass every month. The rest of the details are equally dynamic: new references are usually added, along with new wineries too, etc. The rules are always the same: small wineries, small production and, above all, projects with a lot of soul and little intervention.
If you visit the premises, you will be attended by Yolanda or Mauieu, two charming sommeliers who live the day-to-day life of this place. Yolanda is the soul of the place and will be delighted to offer a perfect pairing between one of their many wines and dishes. She is followed by Carme, Mireia and Sara, who provide support both in the kitchen and in service and who will also help to make it a most pleasant visit.
If they had to choose a wine to taste at the moment it would be an Arbois AOP from Domaine Rolet and surely they would accompany it with one of their cheese boards, always 100% personalised to the taste of the guests. I would also order a truffled sandwich, which in my opinion, never fails and makes studying in this authentic wine library a total delight.