MASH Düsseldorf
Restaurant
Düsseldorf, Germany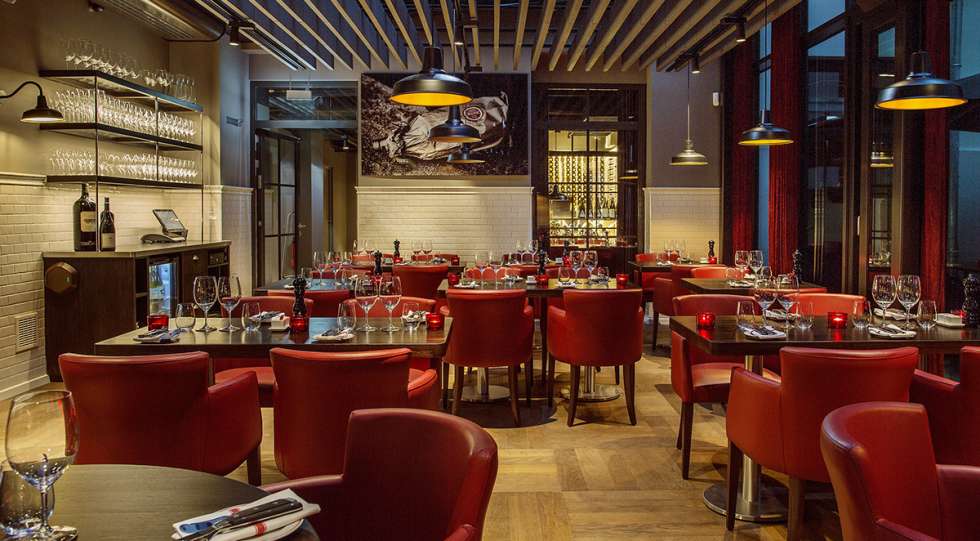 MASH Düsseldorf Wine List
About MASH Düsseldorf
MASH is a classic American steak house featuring the typical red leather upholstery and large wine cellar. It brings to mind steak houses from the heyday of American industry, offering a prohibition-era cocktail program with a massive selection of hard to find Bourbon and Whiskey. The food menu features steaks from around the world, including top-quality Kobe, German, American, Uruguayan and 90-day dry-aged steaks from Denmark. Meat is the focus here; the staff can tell you the difference in flavour, cattle breed, marbling and rearing.
It is a business-friendly restaurant with an international clientele catering to lovers of fine wine & steak. Offering chic design with the large glass wine cellars and lots of terrace dining for the warmer season. Located in the historic courthouse in the Altstadt neighbourhood​ next to the Hyatt House hotel. MASH is very good for celebrations or special occasions. And, it's open on Sundays for Prowein & during important fairs.
About the MASH Düsseldorf Wine List
The wine list at MASH is extensive, offering the largest selection of American wine in Germany and perhaps one of the biggest in all of Europe. The American selection offers approximately 300 positions with many library bottles brought over directly from the wineries. In addition to the American selection,​ the list offers Bordeaux, Burgundy, German Riesling, Italy and all the classic wines you expect to find on a well-stocked steak house list.
The by the glass program offer wineries such as Piedrasassi, Silverado, J.J. Prüm and André Clouet. The list in total has around 700 positions from around the world, offering a very large selection of otherwise hard to find wines in all price ranges.
(Star Wine List's Düsseldorf ambassador Rienne Bilz is the General Manager and Beverage Director at MASH Germany, Editor's note)