16 wine places in Norway that celebrated "13 the lucky number" 2021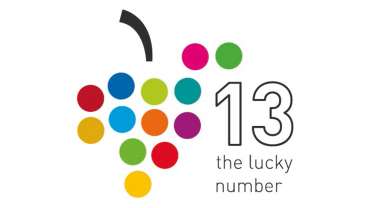 "13 the lucky number" was celebrated during two weeks in August, (18-28 Aug 2021). Riesling and other German grapes from the 13 German wine regions was celebrated all around Norway, with pairing menus, tastings, events – and of course a whole lot of German wines. Here are the venues in Norway that participated in the celebration of "13 the lucky number" 2021! (Sponsored by Tysk Vininformasjon Norge)
Phone: +47 22 11 08 00

Address: Pilestredet 27, Oslo

Beijing Palace might be more famous for their wine list than their food. The blue suede sofas gives a warm touch to the otherwise clean and simple interior right in the middle of Oslo city center. The Chinese menu is long, but it is the simple and sublime dim sum that attracts Oslo's wine enthusiasts.

Phone: +47 400 02 455

Address: Torgallmenningen 2, Bergen

Bare is a fine dining restaurant in the city centre​ of Bergen. It is located in an old stock exchange building, and a meal here often starts with a few appetizers in the beautiful bar with mirror walls. The meal then continues in the dining room where contemporary meets classic, both in terms of decoration and the wine list. The food is based on seasonal and local produce.

Phone: +47 22 42 60 88

Address: Christiania Torv 4, Oslo

Few places in Oslo have such staying power as Brasserie Hansken. Established in 1997 it's still extremely popular with locals as well as travellers and has a longstanding reputation for quality. Located in the picturesque Christiania Torv, it's surrounded by some of the oldest buildings in Oslo. The waterfront is just a quick stroll away, and in the summertime, the outdoor terrace is a bustling, busy sight. The cuisine, as well as the interior, is classic French with a Scandinavian flair, and the staff is both service-minded and experienced, making it a favourite venue for business lunches as...

Phone: +47 23 98 98 98

Address: Ingelbrecht Knudssøns gate 1, Oslo

In the west part of Oslo's city center, Cru has gained a reputation as a wine bar with a personal and interesting wine list. Enjoy the relaxed atmosphere in the wine bar section and share a few French bistro courses or go for a full menu of modern British cuisine in the restaurant. Cru has an extensive wine list which goes deep into classical European regions like Burgundy, Mosel and Champagne.

Phone: +47 55 90 16 00

Address: Kong Oscars gate 44, Bergen

Colonialen 44 Restaurant and Food Bar is located in Bergen city centre and consists of a restaurant and an adjacent food bar. There is an open kitchen, yet a comfortable and intimate feel to the dining rooms with its stylish and balanced interior decoration. The restaurant serves set menus with local produce and sometimes international flavours with good wine pairings. In the food bar, you can have small plates with an extensive range of wines by the glass.

Phone: +47 981 82 000

Address: Karl Johans gate 31, Oslo

Oslo's legendary Grand Café & Vinkjeller is located in Grand Hotel next to the city's main street, Karl Johan. The wine bar downstairs offers a selection of finger food and small plates and among the 16000 bottles and 1500 labels, there should be something for all wine lovers. All main regions are covered on Grand Café & Vinkjeller's wine list which is a textbook in classical wines. Every day there is also a selection of wines by the glass in this perfect hideaway from busy everyday life.

Phone: +47 56 53 10 00

Address: Uttrågata 3, Voss

International Grand Prix, presented by Austrian wine 2021

Park Hotel Vossevangen is not a place visited for its convenient access – it is a place worth traveling for. Located in a village in the Western part of Norway, at least the road trip from Bergen can be spectacular. At Park Hotel Vossevangen it is possible to attend tastings in the wine cellar or try their restaurant Elysée which offers a classic menu.

Phone: +47 22 69 60 00

Address: Ullevålsveien 43, Oslo

Smalhans is a neighbourhood restaurant in the popular St.Hanshaugen area of Oslo. Perhaps the first restaurant in Oslo to offer a pure naked wine wine list, Smalhans is now well established among the locals as the place to go for for a full "Krøsus" menu, a snack in the bar, a plat du jour or a Sunday burger. The menu is varied and takes inspiration from all the corners of the world, and the wine list features some of the most well known naturalist wine makers of Europe.

Phone: +47 923 38 293

Address: Nordre gate 2, Oslo

Austrian Wine List of the Year Norway, presented by Austrian Wine 2020

As you enter the Radegast wine bar at Nedre Foss Gård, you may get the feeling of entering a private wine cellar or a wine club. The temperature controlled glass cupboards are filled with wine bottles and there is plenty to choose from, such as Jura (for once in Oslo, the Jura selection may actually be larger than the Burgundy one), Spain, Italy and South Africa.

Phone: +47 22 69 50 00

Address: Universitetsgata 12

In the middle of Oslo, Katla is a recently established restaurant and wine bar, with the chef joining from Pjoltergeist. In the restaurant an eight-course menu is served, while the wine bar has a menu served a la carte. The kitchen presents an eclectic set of dishes inspired by Iceland, Asia and South America.

Phone: +47 21 60 01 01

Address: Maridalsveien 15a, Oslo

South African Wine List Of The Year Nordic, presented by Libertas Vineyards and Estates 2019

Kontrast is located in the culinary area of Vulkan which used to be an industrial area by the Akerselva river. The Michelin starred restaurant offers the best produce of the season in both tasting menus and a la carte with beautiful presentations. If you choose one of the wine pairing menus you might be surprised by the modern touch to it, but Kontrast's wine list is also worth a serious study before you dig in.

Phone: +47 993 16 810

Address: Frognerveien 33, Oslo

Kolonihagen Frogner is a hidden gem in an old building in the beautiful Frogner area. Simple and organic is the core theme of the restaurant which goes for the wine list as well for the menu. Daytime it is more like a café, but in the evenings, people gather around small dishes with locally sourced produce - in the atmospheric building. The wine list is European centred, medium long, but to the point.

Phone: +47 974 32 020

Address: Henrik Ibsens gate 60a, Oslo

Best Short List of the Year Norway, in cooperation with Norges Beste Vinkart 2020

When Vinoteket opened in 2018, it gained instant fame for three things: the ridiculously low-priced wine list, the innovative pizzas and the fact that former European Sommelier Championship winner Robert Lie was general manager. Today the wine prices are a bit more normal (albeit still cheap), the pizzas are as good as ever,​ and the wine list continues to evolve and grow. While the combination of great pizza and a kick-ass wine list has been seen before, it's unusual to find such a relaxed and friendly venue in an area of Oslo known just as much for its poor taste as it's wealth and lavish sp...

Phone: +47 919 14 912

Address: Dronningens gate 26, Trondheim

Spontan is one of those places where you just keep on coming back. The kitchen is invigoratingly care-free and works only with good produce prepared in the best possible manner. Sometimes it is as classic as grilled langoustines, and the next day you could get the juiciest steamed wontons you have ever had. With practically all the waiters also being trained sommeliers, any wine lover is in good hands. The menu is composed of several small dishes perfect for sharing, or as a four-course for one.

Phone: +47 73 80 08 00

Address: Dronningens gate 5, Trondheim

The Wine Bar at the Britannia Hotel also functions as the main cellar of the hotel and is the heart of wine for all its food and beverage outlets. With an intimate atmosphere and an almost sacral feel to it, this is heaven for any wine aficionado. Whether you want to sample wine by the glass or by the bottle, rest assured that the skilled staff will do their best to guide you. If you start to feel a bit peckish; fear not, as they also function as a delicatessen with high-quality ham, cheeses, olives, caviar and more.

Phone: +47 22 83 31 00

Address: Myntgata 9, Oslo

In the old part of Oslo city Center, Restaurant Festningen is seated close to Oslo Fortress and overlooks the port of Oslo. The restaurant is elegant with a touch of rusticness, and the food is classic with a modern touch. The restaurant can easily seat larger groups, yet manages to keep its cozy ambiance whether you are in a party of two or forty. The wine list of Festningen is long, classic and dominated by French wine, but you will find something from all corners of the world.