The DRC Guide – here you'll find DRC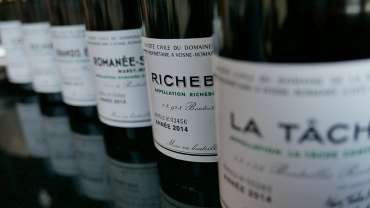 DRC is one of those loved producers that is described in many ways in wine lists in wine bars and restaurants. Therefore Domaine de la Romanée-Conti is slightly harder than other wines to search for in our wine-search above. So to make it easier for you to book a DRC dinner, we have gathered the venues that list DRC in this guide. Cheers! (The map starts in Stockholm but as you move through the list, Gothenburg and Växjö will appear as well)
Gastrologik & Speceriet

Phone: +46 8 662 30 60

Address: Artillerigatan 14, 114 51 Stockholm

Gastrologik is another one-star in Stockholm that would have earned more stars had Michelin used the same assessments as in France. Nordic produce delivered in 20 mesmerizing servings that change daily. The wine list focuses on classics in Europe with guest stars from the rest of the wine world. The sister restaurant Speceriet serves simpler dishes at the highest level and has 10 wines on its list that changes daily. Guests at Speceriet can also order wines from Gastrologik's main wine list.

Brasserie Bobonne

Phone: +46 8 660 03 18

Address: Storgatan 12, 114 51 Stockholm

French and Swedish classics are expertly cooked in a French way by Roger Lindberg and Ingela Persson at this cosy little Östermalm bistro. The wine list is short but filled with splendid Bordeaux and Burgundy and bits and pieces from other wine countries.

AG

Phone: +46 8 410 681 00

Address: Kronobergsgatan 37, 112 33 Stockholm

For years, AG has been one of the best steak restaurants in Sweden. It also boasts a lively tapas bar and a wine list featuring 1000 wines with large chunks of Burgundy, Piedmont and California.

The Burgundy

Phone: +46 8 506 400 85

Address: Yxsmedsgränd 12, 111 28 Stockholm

In the Leijontornet gastronomic block in the Old Town of Stockholm, The Burgundy is the wine bar with wine friendly bistro food. The Burgundy wine list by the glass is wide reaching and you can also order wines from Djuret's massive wine list – and despite the name, The Burgundy does not only pour Burgundy wines!

Djuret

Phone: +46 8 506 400 84

Address: Lilla Nygatan 5, 111 28 Stockholm

Djuret (The animal) is always evolving and it is therefore a good idea to check their website to see what the kitchen is up to at the moment. Whatever it is, it will be tasty and comfortable. At the bar the menu is a la carte and specials often including great wine deals. The wine cellar is legendary, good value and its wines can also be ordered from the sister venues Flickan and The Burgundy.

Farang

Phone: +46 8 673 74 00

Address: Tulegatan 7, 113 53 Stockholm

Farang takes guests on a journey to Southeast Asian cuisines. The restaurant is located in an old factory hall and the rustic backdrop contrasts with the warm atmosphere. The wine list at Farang is particularly impressive for an Asian restaurant with many classical districts represented. The focus is on Riesling and Pinot Noir.

Grand Hôtel

Phone: +46 8 679 35 00

Address: Södra Blasieholmshamnen 8, 103 27 Stockholm

The grandest hotel in the city also boasts one of the grandest wine cellars, including a bottle from the year the hotel opened, 1874. The wine list is accessible in the hotel's classic Veranda restaurant and Cadier bar, as well as in the Mathias Dahlgren restaurants Rutabaga and Matbaren.

Griffins Steakhouse Extraordinaire

Phone: +46 8 519 422 70

Address: Klarabergsviadukten 67, 111 64 Stockholm

The rather angular exterior of the Waterfront Building does little to prepare you for the warm atmosphere you find inside. Among mismatched velvet chairs, deep sofas and a lively bar, grilled food and great wines are to be had. Griffin's wine list has classics from Bordeaux and Burgundy but also a good selection of California wines. Champagne lovers also have plenty to choose from on the Griffins wine list.

Operakällaren

Phone: +46 8 676 58 00

Address: Operahuset, Karl XII:s torg, 111 86 Stockholm

Operakällaren in Stockholm's Opera House is probably the most beautiful dining room in Sweden. And the service is like a scene from the Opera stage, professional, classic and warm. The menu is French-inspired, classical and executed at the highest level (one Michelin star). The wine list is massive, classical and carries over 1500 listings.

Riche

Phone: +46 8 545 035 60

Address: Birger Jarlsgatan 4, 114 34 Stockholm

The restaurant has been named Riche since 1893 and carries the Swedish gastronomic legacy from master chef Tore Wretman. The cuisine is classically Swedish and the wine list boasts over 900 listings with the majority coming from classic French districts. The US, Italy and Germany are also represented.

Rolfs Kök

Phone: +46 8 10 16 96

Address: Tegnérgatan 41, 111 61 Stockholm

When winemakers arrive in Stockholm, this is one of their favourite addresses. The hearty French-inspired classical bistro cuisine is very wine-friendly and the wine list is wine lover-friendly, with an emphasis on classical wines from classical wine regions in France, Italy and the USA.

Sturehof

Phone: +46 8 440 57 30

Address: STUREPLAN 2, 114 35 Stockholm

Sturehof, founded in 1897, is one of Stockholm's most classical brasseries and it has become an institution, serving fish and seafood 365 days per year to a mixed crowd in the heart of Stockholm. The wine list is classical with a special love for Burgundy.

Teatergrillen

Phone: +46 8 545 035 65

Address: Nybrogatan 3, 114 34 Stockholm

Teatergrillen opened in 1945 and is the sister restaurant of Riche, they also share the wine list. The dining room is one of the most beautiful in Stockholm and the classical cuisine and service are impeccable. Chances are you might notice one or two Swedish celebrities at any given night. The wine list boasts one of Stockholm's heaviest Burgundy selections but with 900 listings, there is plenty of choice.

Barsac

Address: Viktoriagatan 8, 411 25 Göteborg

The wine bar and restaurant Barsac in Gothenburg has a relaxed atmosphere, attracting both dinner guests and wine lovers on their way home from work. A massive bar gives space for spontaneous mini-tastings by the glass, while tasty bistro dishes are served from the kitchen. The wine list has many Old World gems, not least from Burgundy, but also more modern bottles worth seeking out.

PM & Vänner

Phone: +46 470 75 97 00

Address: Storgatan 22-24, 352 31 Växjö

PM & Vänner is a gastronomy hotel and an ambitious bistro where Småland meets France. The PM wine list aims to embrace the greatest wines of the world with an open mind to the always changing wine scene. PM Wine list currently offers as selection of 4,200 different wines covering a wide variety of styles, prices, regions, producers and vintages. PM wine list highlight wines that reach maturity and are ready to drink.

Sjömagasinet

Phone: +46 31 775 59 20

Address: Adolf Edelsvärds gata 5, 414 51 Göteborg

Sjömagasinet in the harbour is one of Gothenburg's most classical venues. Here, restaurateur Ulf Wagner and head chef Gustav Trägårdh present innovative and classic seafood dishes. The airy restaurant has a relaxed atmosphere, and service is impeccable. The wine list is extensive, with a focus on Old World classics. Don't miss their selection of Burgundies.

Upper House

Phone: +46 31 708 82 00

Address: Gothia Towers, Mässans gata 24, 402 26 Göteborg

Exclusive simplicity is the theme of Upper House Dining, the restaurant at the top of hotel Gothia Towers in Gothenburg. Awarded a Michelin star, and with a great sense of detail, guest are presented tasting menus featuring playful and innovative dishes from the best seasonal produce. The wine list is extensive with a wide range of styles, regions, producers and vintages – ranging from natural wines from Beaujolais to iconic Napa Cab-producers. As of recently, you can also enjoy small dishes from the star kitchen in the lounge at Upper House.

Villa Fridhem

Phone: +46 11 622 00

Address: Getå Villa Fridhem, 616 90 Åby

In the woods of Kolmården and with views over Bråviken, Villa Fridhem houses not only a fine restaurant but also a romantic hotel. Well known architect Ferdinand Boberg designed the villa in 1909. The wine cellar holds famous names along with smaller artisanal producers.

Hillenberg

Phone: +46 8 519 421 53

Address: Humlegårdsgatan 14, 114 46 Stockholm

Hillenberg mixes Scandinavian and Southern European influences in a large but cosy setting close to Stureplan in central Stockholm. Hillenberg's wine list mixes classic wine regions like Champagne, Burgundy, Piedmont and Bordeaux with newcomers like Oregon and California. If you're just in the mood for a glass, the wine bar Helga has recently opened in a part of the restaurant.

Lammet och Grisen

Phone: +46 280 210 90

Address: Fjällvägen 21, 780 67 Sälen

Lammet och Grisen (=The lamb and the pig) has served hungry and thirsty skiiers in Sälen since 1991. The menu has a trilogy of filets (lamb, pork and beef) at the centre. The wine list is massive with a thousand listings. The classical wine regions of Italy and France are well covered, including mature vintages, from Champagne, Bordeaux, Burgundy, Piedmont, Tuscany and Veneto. There is a vertical of Mas La Plana going all the way to 1970. And newer wine countries like South Africa, Australia and USA are also well represented on the Lammet och Grisen wine list.

Högfjällshotellet

Address: Sälens Högfjällshotell, 780 67 Sälen

Högfjällshotellet dominates the ski resort Sälen with its 13 restaurants and bars. Three of its restaurant has been ranked in the top five in Dalarna by White Guide. Högfjällshotellet's wine list has an impressive number of wines from many classical wine regions such as Burgundy, Mosel and Wachau.