The best International Short lists 2021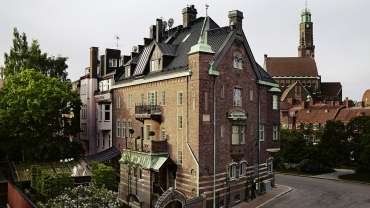 Here is the guide to the best wine places around the world with short wine lists – less than 250 different labels. These venues were all finalists in Star Wine List of the Year International 2021. Check out all the venues and the winning wine lists!
In partnership with Austrian Wine

The Austrian Wine Marketing Board is based in Vienna, and is a national service body for the Austrian wine industry. The aim is to strategically support, coordinate and maintain quality and sales.

Read more about Austrian Wine

Phone: +46 8 20 05 90

Address: Sköldungagatan 2, Stockholm

International Best Short List of the Year 2021

Ett Hem is the exclusive hotel with a homely feel that also houses a fine restaurant. The orangerie in the courtyard gives you a feeling of being at Fäviken in the middle of a city. The wine list is curated at the highest level with Burgundy, Jura, Italy, USA and many other gems. Please note that you cannot drop in to the restaurant, you have to make a reservation in advance.

Phone: +45 33 33 79 73

Address: Admiralgade 26, København K

Best Medium-Sized List of the Year Denmark 2021

Admiralgade 26 is a restaurant by Christian Nedergaard and Sebastian Nellemann, who also run an amazing wine bar in Copenhagen – Ved Stranden 10. In fact, the two places are located just around the corner from each other. At Admiralgade 26, the wine is accompanied by a cuisine that is low-key but with an edge.

Phone: +852 2152 2872

Address: 1st Floor, 1-5 Elgin Street, Central

International Best Short List of the Year 2021

Belon is a 1-star Michelin French restaurant in Soho area in Central. Also on the list of Asia's Best 50 restaurant, Belon serves delicate and fancy French dishes.

Phone: +31 20 623 8244

Address: Prinsenstraat 22, Amsterdam

Best Short List of the Year Netherlands 2021

Right in the middle of the picture-perfect Jordaan district, Cafe de Klepel defines the Dutch concept of "gezelligheid" (cosiness, to translate approximately) with its welcoming, intimate interior. You have to reserve well ahead to score one of the precious tables, but there's also a prominent bar with seating for couples or latecomers in search of a glass or two of the good stuff. Klepel is really all about the wine – the food is classic French bistro fare, well-executed but designed not to take centre-stage. The cheese selection is one of Amsterdam's best. The staff here can recite lists of...

Phone: +44 20 7254 8805

Address: 60 Broadway Market, London

Best Short List of the Year UK 2021

A unique venue – a whole carcass, rare breed butchers shop by day that turns into a neighbourhood restaurant and wine bar by night. It's tiny inside with bar stools around a perimeter dining ledge and the shared table/butcher's block in the centre. Unsurprisingly it's meat-focused with a selection of tasty, seasonal sides and snacks. It's an original and ideal spot for an informal but quality-driven supper. The simple yet skilful cooking allows the unexpectedly brilliant wine list to shine. A real gem.

Phone: +43 1 5122229

Address: Dominikanerbastei 17, Wien

Best Short List of the Year Austria 2021

Konstantin Filippou is a Greek-Austrian Michelin star chef, and you can taste his roots on his plates, mainly focusing on fish and seafood. The passion you feel in his dishes, combined with the service-team around sommelier Steffi Wiesner, will guarantee you a beautiful lunch/dinner. Konstantin Filippou won gold for best Short Wine List and silver in Grand Prix in Star Wine List of the Year Austria 2021.

Phone: +41 22 342 37 61

Address: Rue Ancienne 64, Carouge

Best Short List of the Year Switzerland 2021

A venue that was the first one in Geneva to do the plate-sharing concept. The dishes are listed on a big blackboard, and the cuisine is contemporary with a blend of classic French, Asian and Nordic influences. Usually around 8-10 dishes to choose from and the menu changes often, and you can also get some charcuterie and cheese from their shop.

Phone: +49 234 97645666

Address: Alte Hattinger Straße 31, Bochum

Best Short List of the Year Germany 2021

Zum Grünen Gaul is a lovely, cosy and rustic wine bar located in the heart of Bochum in the "Ruhrgebiet", created by Five and Franz Ferdinand - the owners of the Livingroom. Zum Grünen Gaul means "The Green Horse" and the interior is modern and chic, but still not too ostentatious. The dark colors and the dimmed light create a cosy atmosphere. The food served in the bar is local, organic German dishes in a bar format – what we love to call German soul food!