The best International Austrian wine lists 2021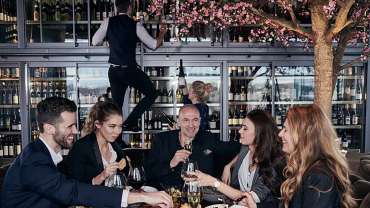 Here is the guide to the best wine bars and wine restaurants around the world when you want to drink Austrian wine. These venues were all finalists in Star Wine List of the Year International 2021. Check out all the venues and the winning wine lists!
In partnership with Austrian Wine

The Austrian Wine Marketing Board is based in Vienna, and is a national service body for the Austrian wine industry. The aim is to strategically support, coordinate and maintain quality and sales.

Read more about Austrian Wine

Phone: +46 31 750 88 05

Address: Mässans gata 24, Göteborg

International Austrian Wine List of the Year, presented by Austrian wine 2021

Heaven 23 has much more to offer than just the stunning view from the Gothia hotel restaurant's 23rd floor. Here you'll find the iconic King Size shrimp sandwich (over one million served) but also plenty of other tasty dishes with locally sourced produce.

Phone: +31 10 268 7010

Address: Gelderseplein 49, Rotterdam

Grand Prix Netherlands, presented by Austrian Wine 2021

Unarguably amongst the three best wine restaurants in The Netherlands is the contemporary Michelin-starred restaurant Fitzgerald in the centre of Rotterdam next to the famous Rotterdam foodcourt (markthal) and cubic houses. This well-designed restaurant is a combination of a classy-chique and comfortable warmth. Owner and host Danny Gonzalez, who has been named host of the year by GaultMillau, is a true wine fanatic. No matter who you are, he always finds the perfect wine for you in every style or pricerange. Fitzgerald is on the one hand a great place for business meals for those who want to...

Phone: +45 69 96 00 20

Address: 8, Per Henrik Lings Allé 4, København Ø

Grand Prix Denmark 2021

Geranium is the only three-star Michelin restaurant in Denmark and with Chef Rasmus Kofoed in the kitchen, you are set for an experience. Rasmus Kofoed is the only chef in the world who has received bronze, silver and gold at Bocuse D'Or. The restaurant is situated on the 8th floor in Fælledparken (Common Gardens) in the center of Copenhagen.

Phone: +49 89 242249504

Address: Ledererstraße 8a seperater Eingang, München

Austrian Wine List of the Year Germany, presented by Austrian wine 2021

This is pretty much the only wine bar on a more world-class level in town, with a great wine list and fair prices. The bar is always packed and bustling, a great ambience. If you go there on Mondays, you'll find a lot of people from the industry sharing bottles and stories. The food is a kind of very elevated bar food, with small plates and charcuteries. The place is run by two Austrian kids who are very interactive, fun and good looking. Just a great place to hang out!

Phone: +47 479 78 087

Address: Sankt Olavs Plass 2, Oslo

International Austrian Wine List of the Year, presented by Austrian wine 2021

Happolati is a modern restaurant with a fun Asian inspired menu based on seasonal produce. The dining room feels light and open, and the elegant furniture balances the art of being trendy, yet comfortable and warm.

Phone: +44 20 7249 2177

Address: 5 Dalston Lane, London

Austrian Wine List of the Year UK, presented by Austrian wine 2021

Newcomer is the home, shop and wine bar of Newcomer Wines, an importer of largely new wave Austrian wine producers, peppered with a few from Germany, Switzerland and France. The drink in and takeaway list is fleshed out further with wines from other importers. The interior and set up is functional and low key, with a small patio garden space for al fresco drinking when the British weather allows. They serve top quality cheese and charcuterie style snacks and often have guest chefs hosting dinners or cooking for a stint.

Phone: +41 81 384 26 00

Address: Voa davos Lai 27, Vaz/Obervaz

Austrian Wine List of the Year Switzerland, presented by Austrian wine 2021

Restaurant La Riva was the winner of Best Austrian Wine List in Star Wine List of the Year Switzerland 2021. "This wine list really covers everything when it comes to styles, regions and price levels. What was really interesting to me was the red wine selection that covered not only the classical Austrian varieties like Zweigelt and Blaufränkisch but also international varieties like Pinot Noir. I was also very impressed by the selection of sweet wines," said jury member Raimonds Tomsons about the winning list.

Phone: +853 8803 7878

Address: 南灣葡京路新葡京酒店43樓

International Grand Prix, presented by Austrian wine 2021

When you take the elevator up to the 41st floor of Grand Lisboa Hotel and step out, you can immediately see the 19th century Steinway Grand Piano with this stunning Austrian crystal chandelier above. The cuisine is traditional French, and besides signature dishes like foie gras with roasted guinea fowl or the Kagoshima​ beef, there are also many other highlights such as the bread, cheese and dessert trolley.

Phone: +358 9 61285300

Address: Eteläesplanadi 14, Helsinki

German Wine List of the Year Finland, presented by Wines of Germany 2021

​This legendary establishment in Helsinki opened in 1937 and is considered to be one of the top-notch restaurants in Helsinki. The restaurant is located on the 8th floor in the middle of Helsinki, where you can enjoy the beautiful view of the town while eating one of Savoys's classical dishes or a more modern version of what the kitchen has to offer. Savoy is truly a piece of culinary history where you can enjoy both high-end food, and a wide range of wines above the rooftops of Helsinki.