Stockholm's best wine bars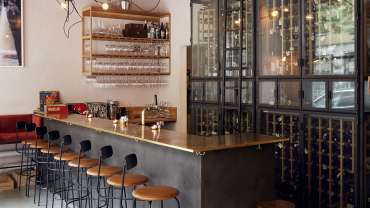 Stockholm is experiencing a boom in wine bars and it's a boon for wine lovers. You will find a wide range of wine scenes in the wine bar scene in Stockholm, all the way from the strictly natural wine bars to classical wine bars with Bordeaux, Champagne and other classical wine regions. The range in wine lists goes from just a board on the wall in some wine bars to the full blown wine list catalogue. Here are our favourite Stockholm wine bars, in no particular order.
Babette

Phone: +46 8 509 022 24

Address: Roslagsgatan 6, 113 55 Stockholm

As the name implies, the Stockholm restaurant and wine bar Babette is a feast in itself. A place for lively discussions over delicious small plates and tasty pizzas. As for the wine, the staff is very knowledgeable. The list is headlined by France and Italy with spices from many other winemaking countries. Check out the daily menu in the instagram feed below.

Tyge & Sessil

Phone: +46 8 519 422 77

Address: Brahegatan 4, 114 37 Stockholm

Tyge & Sessil is a new busy wine bar near Stureplan in central Stockholm but with a more casual manner than many of the other local hangouts. Delicious small dishes are delivered by the little kitchen. Natural wines from all over the world are on the wine list, and the bar is especially highlighting the New World as well as the New Europe.

The Burgundy

Phone: +46 8 506 400 85

Address: Yxsmedsgränd 12, 111 28 Stockholm

In the Leijontornet gastronomic block in the Old Town of Stockholm, The Burgundy is the wine bar with wine friendly bistro food. The Burgundy wine list by the glass is wide reaching and you can also order wines from Djuret's massive wine list – and despite the name, The Burgundy does not only pour Burgundy wines!

Folii

Address: Erstagatan 21, 116 36 Stockholm

Experienced sommeliers Béatrice Becher and Jonas Sandberg opened the Stockholm wine bar they wanted to visit themselves in this eastern Södermalm block. There is a varied and very interesting mix of older vintages, regions and types on the Folii wine list. Folii uses Coravin to offer almost any wine by the glass. The name plays on the French word for madness, Folie. As you'll see on the interior, it's loosely related to Territoriet in Oslo.

Grus Grus

Phone: +46 8 610 66 00

Address: Karlbergsvägen 14, 113 27 Stockholm, Sverige

Grus Grus is the new wine bar opened by Tranan just next door on Odenplan in Stockholm. Snacks, small dishes and larger dishes to share are served in the cosy space. The Grus Grus wine list offers mostly wines from small-scale producers, often with an organic and natural focus. But be sure to check out the shelves in the wine fridge, where unlisted treasures from the Tranan "secret" wine cellar can be found at very attractive prices.

Bar à Vins

Phone: +46 8 121 465 84

Address: Narvavägen 32, 115 22 Stockholm

Philippe Simon transformed a little post office into a French oasis in 2013. Both neighbours and tourists enjoy French cuisine, music and of course wines in this wine bar in the Östermalm part of Stockholm. Monsieur Simon imports his own wines and only list a handful of them on the blackboard – preferring to explain the rest to any curious visitor. All of France is represented but Bar à Vin's specialty is Jura.

Combo Vinbaren

Phone: +46 8 522 256 52

Address: Odengatan 52, 113 51 Stockholm

A wine bar in the Vasastan area of Stockholm with classic dishes, warm atmosphere, and a very wide range of wines on the wine list. And with a twist – the wines are all served by the glass and not by the bottle (most of the time).

Café Nizza

Phone: +46 8 640 99 50

Address: Åsögatan 171, 116 32 Stockholm

Café Nizza is one of Stockholm neighbourhood Södermalm's hottest restaurants and wine bars, serving a menu of delicious food with French and Italian influences. The bistro also has a bar and from the wine cellar flows mostly natural wines with one or two classical cousins in the mix. Café Nizza's wine list is mostly sourced from the Old World's wine regions.

Savant Bar

Address: Tegnérgatan 4, 113 58 Stockholm

Savant is a wine bar in Stockholm that changes profile during the day. From early morning it's a café and later in the day it turns into a neighbourhood wine bar with charcuteries and some small dishes. Everything is built around sustainability and the wines, that don't have a list, are in the natural style. Photos: Dan Lepp, Sandra Backlund

19 Glas

Phone: +46 8 723 19 19

Address: Stora Nygatan 19, 111 27 Stockholm

Both a wine bar and a cosy little restaurant with an organic and natural focus in Stockholm's Old Town. One of the longest lasting and most influential wine bars in Stockholm, led by Peter Bennyson. The wine list covers a lot of wines and is both deep and varied with older vintages. It represents a variety of countries and wine regions like Jura, Hungary and the USA.

Vina

Phone: +46 70 406 66 26

Address: Sofiagatan 1, 116 40 Stockholm

Vina is a cosy wine bar on Södermalm in Stockholm that likes to serve wines from small producers who care for the nature. Many of the wines are served by the glass as well as by the bottle and if you're hungry, the little kitchen produces pintxos, cheese and charcuteries as well as main dishes. The Vina wine list is heavy on the French side but there are also listings from countries like Spain, Italy and Austria.

Hornstulls Bodega

Phone: +46 8 22 00 21

Address: Hornsbruksgatan 24, 117 34 Stockholm

When the experienced sommeliers Robert Andersson and Fredrik Iveskär planned the wine bar Hornstulls Bodega in Stockholm, they said they wanted something messy. It might not sound that nice but messy is actually a code word for "non-formal, busy, great wines and great ambiance". And that's exactly what they built. The Hornstulls Bodega wine list reaches from classic greats to the latest cool. Nowadays Andersson and Iveskär have moved on to their own wine import firm, but the ambiance and ambitious wine selection remain.

Vinköket

Phone: +46 8 518 040 00

Address: Brunnsgränd 2-4, 111 30 Stockholm

Vinköket or the Wine Kitchen is the cosy back pocket wine bar to Le Rouge in the Old Town of Stockholm. The small dishes mix memories from the Mediterranean with Swedish traditions. The wine offering mixes natural and classic wines with a knowledgeable service.

Dryck Vinbar

Phone: +46 76 128 91 87

Address: Swedenborgsgatan 1, 118 48 Stockholm

Dryck Vinbar (Beverage Wine bar in Swedish) greets guests with warm colours and well stocked wine fridges in the Södermalm part of Stockholm. The bar menu lists small dishes along with cheese and charcuterie and the Dryck Vinbar wine list has informative explanations next to he many wine listings. The wine list has wine regions ranging from classics like Bordeaux and Burgundy to the US, Austria and Australia.

Ambar

Address: Tomtebogatan 22, 113 38 Stockholm, Sverige

Ambar is the Stockholm wine bar that likes to serve orange wines and beverages, hence the name that plays on amber. But there are plenty of other colours and types on the wine list. If you are hungry, there are delicious small dishes with touches of Japanese cuisine.

Blanche & Hierta

Phone: +46 8 578 828 60

Address: Brunkebergstorg 6, 111 51 Stockholm

Blanche & Hierta is the wine bar at hotel At Six in central Stockholm. The wine bar shares its ambitious wine list with the restaurant at the hotel: At Six Dining. Blanche & Hierta is open seven days a week and you can also get breakfast and coffee here. In summer there is an outdoor terrace to take a break in the middle of the city center.