Söder's best wine bars and wine restaurants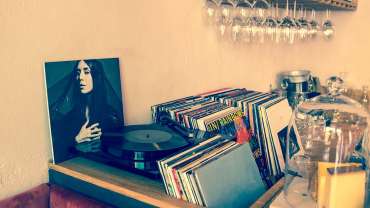 In Stockholm's hipster central Södermalm, you can find more than beer and beards if you know where to look. Here are our favourite wine bars and wine restaurants south of Slussen and south west of Södermalm.
Paradiso

Phone: +46 8 720 61 51

Address: Timmermansgatan 24, 118 55 Stockholm

The local bistro Paradiso's cuisine is rooted in French cooking with produce for the season. The dishes are medium-sized and there is a four-course menu that the chef chooses for the evening. The wine list is also based in France with additions from other wine countries and contains both natural and classical listings.

Woodstockholm Matbar

Phone: +46 8 36 93 99

Address: Mosebacke torg 9, 116 46 Stockholm

Woodstockholm is both a local bistro and a furniture producer, hence the name. The bistro is small, cosy and serves top quality food with different themes throughout the year. The wine list has its edges in France and Spain and even lists one or two older Burgundies.

Folii

Address: Erstagatan 21, 116 36 Stockholm

Experienced sommeliers Béatrice Becher and Jonas Sandberg opened the Stockholm wine bar they wanted to visit themselves in this eastern Södermalm block. There is a varied and very interesting mix of older vintages, regions and types on the Folii wine list. Folii uses Coravin to offer almost any wine by the glass. The name plays on the French word for madness, Folie. As you'll see on the interior, it's loosely related to Territoriet in Oslo.

Café Nizza

Phone: +46 8 640 99 50

Address: Åsögatan 171, 116 32 Stockholm

Café Nizza is one of Stockholm neighbourhood Södermalm's hottest restaurants and wine bars, serving a menu of delicious food with French and Italian influences. The bistro also has a bar and from the wine cellar flows mostly natural wines with one or two classical cousins in the mix. Café Nizza's wine list is mostly sourced from the Old World's wine regions.

Hornstulls Bodega

Phone: +46 8 22 00 21

Address: Hornsbruksgatan 24, 117 34 Stockholm

When the experienced sommeliers Robert Andersson and Fredrik Iveskär planned the wine bar Hornstulls Bodega in Stockholm, they said they wanted something messy. It might not sound that nice but messy is actually a code word for "non-formal, busy, great wines and great ambiance". And that's exactly what they built. The Hornstulls Bodega wine list reaches from classic greats to the latest cool. Nowadays Andersson and Iveskär have moved on to their own wine import firm, but the ambiance and ambitious wine selection remain.

Aloë

Phone: +46 8 556 361 68

Address: Svartlösavägen 52, 125 33 Älvsjö

One of Sweden's best restaurants is hidden behind a furniture store in a Stockholm suburb and that is perhaps why it took Michelin a few years to award it a star. If you can find it, you're rewarded with a very original and sometimes spicy cuisine with influences ranging from Japan to North Africa. To the set menu you can drink a wine pairing or browse the Aloê wine list where France leads the numbers before the US and Italy.

Nook

Phone: +46 8 702 12 22

Address: Åsögatan 176, 116 32 Stockholm

Nook is an ambitious local bistro with a European background and Asian influences. The two three-course menus to choose from are real bargains and it's a very popular hang-out on Eastern Södermalm. If the reservations are full, don't despair, there are drop-in places available. The nice wine list is grounded in the old world.

La Vecchia Signora

Phone: +46 8 644 45 85

Address: Åsögatan 163, 116 32 Stockholm

The Old Lady (yes, a Juventus connection) is still going strong on the east side of Södermalm. After a proper dish of pasta, you can work through the grappa selection in the bar. The wine list holds 200 Italian listings.

La Colline

Phone: +46 8 642 00 60

Address: Götgatan 29, 116 21 Stockholm

Södermalm's new brasserie La Colline became an instant hit, sitting on the highest point of Götgatan. La Colline serves Mediterranean food in a brasserie setting, with an experienced team from the brasserie Tranan at Odenplan (the two venues share ownership). Sommelier Anna Mellfors' expertise in natural wines is on full display with a ton of wine to go with the delicious food.

Dryck Vinbar

Phone: +46 76 128 91 87

Address: Swedenborgsgatan 1, 118 48 Stockholm

Dryck Vinbar (Beverage Wine bar in Swedish) greets guests with warm colours and well stocked wine fridges in the Södermalm part of Stockholm. The bar menu lists small dishes along with cheese and charcuterie and the Dryck Vinbar wine list has informative explanations next to he many wine listings. The wine list has wine regions ranging from classics like Bordeaux and Burgundy to the US, Austria and Australia.

Vina

Phone: +46 70 406 66 26

Address: Sofiagatan 1, 116 40 Stockholm

Vina is a cosy wine bar on Södermalm in Stockholm that likes to serve wines from small producers who care for the nature. Many of the wines are served by the glass as well as by the bottle and if you're hungry, the little kitchen produces pintxos, cheese and charcuteries as well as main dishes. The Vina wine list is heavy on the French side but there are also listings from countries like Spain, Italy and Austria.